Bobbi Kristina Brown 'Awake' and Taken Off Life Support? 'God is Good, Thanks for Prayers' Says Aunt Who Confirmed She 'Woke Up'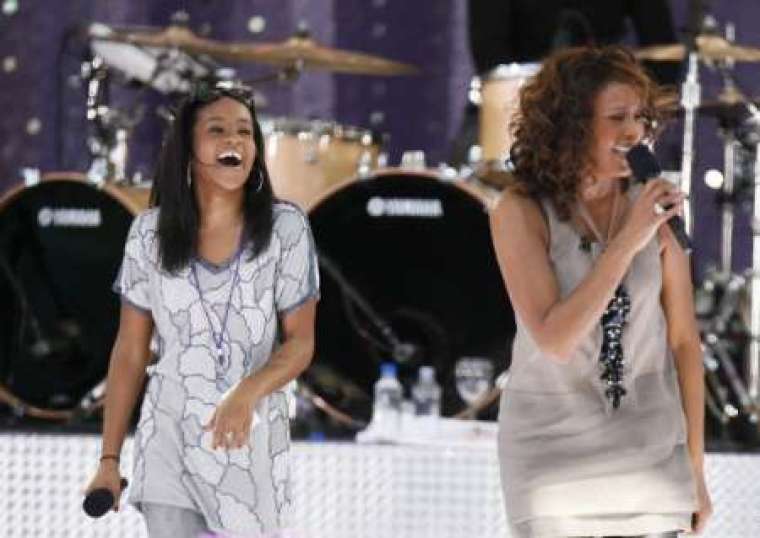 Update: Sources connected with the Houston Family told gossip site TMZ.com on Monday that despite statements made by the Brown family, Bobbi Kristina's condition has not changed. "She's in the exact same condition she was in when she went into the facility," a source said adding that there is "minimal reaction." 
Bobbi Kristina Brown, the only daughter of the late Whitney Houston, has reportedly been taken off of life support nearly three months after she was found unresponsive in a bathtub and her family is praising God and thanking the public for sending prayers.
On Saturday, Brown's father, Bobby Brown, told a Dallas crowd that the 22-year-old actress is "awake" and the next day his sister reportedly announced via social media that her niece is "no longer on life support."
"I can say today Bobbi is awake. She's watching me," the "Every Little Step" singer told the crowd at the Verizon Theatre in Grand Prairie while performing at a Frankie Beverly concert.
Fans immediately began speculating what exactly the statement meant and while some were initially skeptical, most were hopeful, particularly yesterday when Bobbi's aunt, Tina Brown, shared a heartfelt Facebook post.
"So many messages, sorry can't answer them all right now but I will get to them later.." Tina wrote. "Just allow me this time with my family,,yes,she woke up and is no longer on life support!!!!!:):)God is good!!thanks for your prayers,,still a process,but she is going to be ok:):):):)."
On Jan. 31 Bobbi was placed in a medically-induced coma and then put on life support after she was found unconscious by her boyfriend, Nick Gordon, at her Roswell, Georgia home right outside of Atlanta.
Details regarding what exactly occurred in the events leading up to the reality TV star being found face-down in a bathtub remain murky. She was reportedly involved in a car accident just days before the incident.
Bobbi's loved ones continue to ask the public for prayers, despite reports that she is making progress.
"Please don't stop praying for Bobbi Kris even though she is off life support and she has woke up," another family member wrote on Sunday. "We are decreeing life in her body and healing and we want to pray that God restore her body and everywhere that she hurts and we want god to mend her broken heart and make her whole all over again."
Bobbi was initially transported to North Fulton Hospital in Roswell, Georgia, and days later her family moved her to Emory University Hospital in Atlanta where she remains.
Police in Roswell, Georgia, reportedly launched a criminal investigation into Bobbi's case amid concerns of "foul play" among Brown's family members.
In 2012 Bobbi's mother Whitney was found dead in a hotel bathtub in Beverly Hills.