Boko Haram Agrees to Free Over 200 Kidnapped Schoolgirls; CANAN Wants 'Proof' of Their Well Being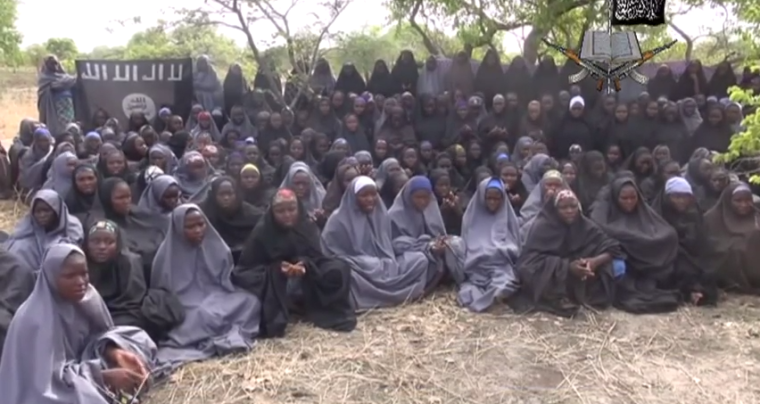 The Nigerian government reached a deal with Islamist Militants, Boko Haram, on Friday for the release of more than 200 schoolgirls kidnapped earlier this year.
President Goodluck Jonathan's Principal Secretary, Hassan Tukur, reportedly confirmed that after three days of talks with the jihadist group, Nigeria agreed to a ceasefire. The terrorist group gave assurance that the kidnapped girls are "alive and well."
"I wish to inform this audience that a ceasefire agreement has been concluded," said the head of Nigeria's military, Air Chief Marshal Alex Badeh.
Government spokesman Mike Omeri said Boko Haram, which translates as "Western education is sinful," assured "that the schoolgirls and all other people in their captivity are all alive and well."
Pastor Laolu Akande, the executive director of the Christian Association of Nigerian-Americans, remains skeptical but hopeful that reports of a release are indeed true.
"This is not the first time that we are being given this kind of indication," Pastor Akande told The Christian Post exclusivley adding that he is taking the news with "caution" because in the past all hopes for the girls' release have been "dashed."
Pastor Akande pointed out that despite the statements coming directly from the Nigerian government, there is still no proof that any reports are true.
"Let's just say that this is indeed realistic news, the question arises 'are we sure that the so called militants that have been talking with the government – are we sure that this is actually Boko Haram?'" he said. "Are we going to get any proof? Do we actually know what has happened to [Boko Haram leader] Abubakar Shekau? Is he dead? Is he alive? We see conflicting news stories all the time. Just today I heard that he had agreed to the ceasefire, yet I heard previously that he has long been dead. So these are questions that raise doubt."
In April, the militant sect abducted 276 female students from Chibok, Borno and First Lady of the United States Michelle Obama led the way in launching the global "Bring Back Our Girls" campaign in the fight for their safe return.
For five years Boko Haram has wreaked havoc in Northeastern Nigeria and killed thousands of innocent civilians, mostly Christians, in the name of terrorism. Experts say the group, which advocates a strict form of sharia law, is the second deadliest terrorist group in the world after Afghanistan's Taliban.
Pastor Akande said he hopes that the Nigerian government has plans in place to support the girls should they be released anytime soon.
"If indeed the government is involved with negotiations, have they made any arrangements to take care of those girls once they're released? Is there any plan for traumatic therapy [or] where they'll be housed? These girls have been away for such a long time that you can't release them without providing psychological support," he explained. "We're not opposed to a political solution [but] until we see those girls released to their parents safe and sound, we will hold our peace."