What Drives Teenage Girl Suicide Bombers? Captive Reveals How Boko Haram Conditions Victims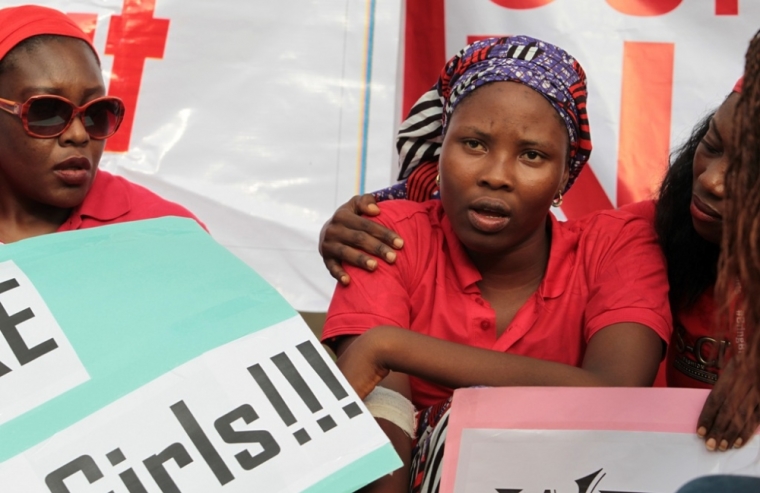 A teenage girl in Nigeria who was held by Boko Haram and almost persuaded to become a suicide bomber has revealed some of ways the terror group conditions its victims, including offering "spiritual help."
BBC News reported the story of one girl, aged between 17 to 18, identified only as Hauwa, who was held at a Boko Haram camp in Dikwa for more than a year, and was being groomed to carry out a suicide attack for the terrorists back at the same camp.
"I said 'No,' since my mum is residing in Dikwa, I won't go and kill people there. I would rather go and stay with my family, even if I die there," she explained.
Hauwa then said what eventually led to her joining the militants was "I had spiritual problems and so the Boko Haram told me they could help get rid of them."
The teenage girl said she was lured by Boko Haram's promises to help her, and described a regular day at one of the terror camps: "We were living in grass-thatched houses. When my husband was around, I cooked three times a day ... the men would steal meat and bring it for us to cook."
Hauwa was married twice, but after her second husband ran away she refused a third marriage, Boko Haram suggested that she sacrifices her life by carrying out a suicide attack.
She refused and sneaked out in the early morning before the attack on the internally displaced persons camp in Dikwa was scheduled to take place, but before she could warn her families and others, two other suicide bombers — also teenage girls — arrived before her and carried out the blasts.
The bomb blasts on Feb. 9 killed 58 people at the Dikwa camp, one of many such attacks in the past year where Boko Haram has used female jihadists.
Such attacks have continued despite President Muhammadu Buhari's promises to put an end to the terror group.
Boko Haram had kidnapped thousands of women and children across the northern parts of Nigeria, including in the town of Chibok where it kidnapped over 200 Christian schoolgirls in April 2014.
Back in January, the town suffered yet another attack where six male and female suicide bombers killed 16 people in total at a weekly vegetable market.
The reports of numerous female suicide bombers have caused victims returning home to be rejected by their own communities, a report by UNICEF and International Alert warned in February.
The human rights groups also warned that females were facing both social stigma due to the sexual violence they have suffered, but also fears and suspicions that they have been radicalized by the Islamic terrorists.
"As they return, many face marginalisation, discrimination and rejection by family and community members due to social and cultural norms related to sexual violence," read the 28-page report about the freed women.
"There is also the growing fear that some of these girls and women were radicalised in captivity. The children who have been born of sexual violence are at an even greater risk of rejection, abandonment and violence."