Bono Tells Trump: Gender Equality Must Be Your Priority; Condemns 'Misogynistic, Violent, Impoverished' Path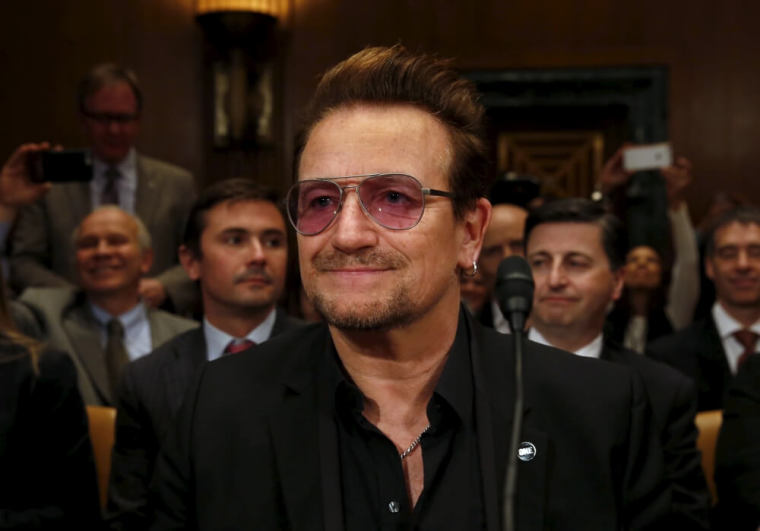 Rock star icon Bono has addressed U.S. President-elect Donald Trump while accepting Glamour magazine's inaugural Man of the Year award in Los Angeles, by urging him to make gender equality a priority.
"I say to the president-elect: look across to women, make equality a priority, it is the only way forward," Bono said, according to BBC News.
He added: "As my daughter Jordan says, there is nowhere on earth where women have the same opportunities as men."
The U2 lead singer continued: "Unless we address this problem, both men and women together, the world will continue down this misogynistic, violent and impoverished path.
"The train is leaving the station, be on it or be under it."
Bono received the reward for his One Campaign, which launched a "Poverty is Sexist" movement in 2015.
Trump was accused in October by multiple women of sexual assault, which along with recordings of past disparaging remarks toward women, threatened to derail his presidential campaign. The Republican businessman denied all allegations of assault and apologized for the tape, however, claiming that "no one respects women more than I do."
Still, over 700 Christian women banded together to condemn what they called Trump's misogynistic behavior, and said in a joint statement that the now President-elect must show genuine remorse for his past behavior.
"Christian leaders cannot condone such violent speech about women as a minor mistake or an innocent attempt to be 'macho,'" the letter read. "These excuses teach our young people that such language is acceptable and do further harm to those who have been abused."
Conservative evangelical women, such as Chelsen Vicari, the Evangelical Action Director at the Washington-based Institute on Religion and Democracy, also voiced their disgust with their male counterparts who defended Trump.
"For anyone calling themselves a Christian, 'locker room talk' and 'macho talk' is no defense for degrading, abusive remarks against women," Vicari said in a statement to The Christian Post at the time.
Bono has been highly critical of Trump, and in September said that his campaign was "the worst idea that ever happened to America."
"America is like the best idea the world ever came up with, but Donald Trump is potentially the worst idea that ever happened to America," Bono warned in an interview with CBS's Charlie Rose in September. "He could destroy it."
Melania Trump, America's First Lady-to-be, defended her husband in a CNN interview in October, and suggested that the women making sexual misconduct allegations against him were not trustworthy.
"This was all organized from the opposition. And with the details ... did they ever check the background of these women? They don't have any facts," she said in the interview.
Melania Trump added about her husband: "He's raw. He will say it as he feels it. So you know, I know he respects women. But he's defending himself because they're lies."