'Bringing Up Bates' Parents Share Reason for Going Public, Address Key Family Struggles Ahead of TV Premiere (Video)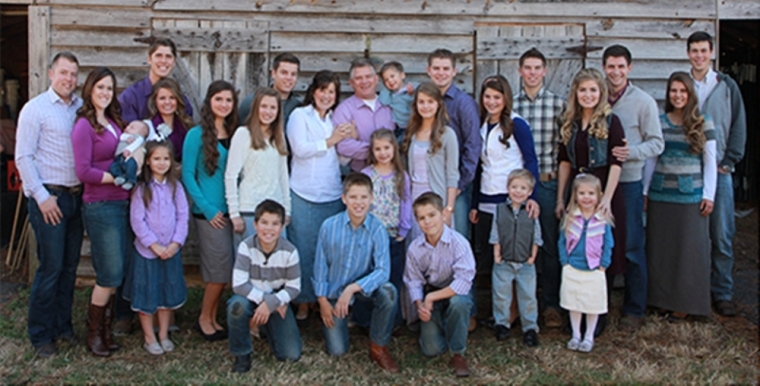 Gil and Kelly Jo Bates are the proud parents of 19 children and are the stars of a new series on UP TV, "Bringing Up Bates." The parents spoke with The Christian Post about their family values, why they embarked on the path to reality TV, and what they hope audiences take away from their family's story.
In the premiere episode, which airs on New Year's Day, viewers will see the family plan a baby shower for son, Zach, and his wife, Whitney. While it's a celebratory occasion, their daughter, Erin and her husband, Chad, are still in mourning for the loss of her pregnancy. The siblings were expecting their first children around the same time, making it an even more emotional situation for Erin and Chad. Erin seemingly copes by doing all she can to make sure Whitney has a special shower.
"It was something that was very difficult for both of them," Kelly Jo said. "They had the one miscarriage and that was followed by two others. When the film crew asked them if they felt comfortable sharing that, they both prayed about it and they realized that there are a lot of people that have experienced the same thing, the same heartache, the same struggle, and they felt like if they are sharing and opening up their hearts and their struggles … if that could help another person realize [they're] not alone and can get through it with faith in the Lord, then it was worth doing. The thought of helping others gave them purpose in what they were going through."
The family was hesitant at first to invite cameras into their home, filming every aspect of their lives, both the good and the not-so-good. One struggle has been that since filming started, daughter Alyssa has become pregnant, leaving Erin to continue on in her own journey to motherhood. Thankfully, the situation has brought Erin and Chad closer together as a couple and in their own relationship with the Lord.
"It is something that we prayed about as a family for a while when we were first approached, and it was a goal of ours to be involved in ministry in some way and we felt like this is a way we could encourage other families. We know how much we have been encouraged from people coming in and seeing other families going through their struggles, their challenges, maybe getting advice from them. And so, we thought this would be a way to encourage families not to give up, to put your priorities where they need to be. Our priorities are God, family, and our relationships," Kelly Jo explained.
Gil added: "We never really thought about taking our family public. After praying about it, we said that we did have a lot of stuff to work on, but we wanted to encourage. It was a big risk but we looked at all the people who helped us through the years and we're grateful to hopefully be a blessing to others and give back."
Since filming, the family has grown; Whitney and Zach welcomed a healthy baby boy named Bradley. And Chad and Erin continue to be supports for their families, showing strength beyond measure, Gil said. He works as a pastor at the Bible Baptist Church, which is a small church in the Southern Baptist tradition, and the entire family helps with the ministry. It's a growing church bringing people and families together.
"We're all learning together," Gil said.
Watch the premiere episode of "Bringing Up Bates" on UP TV on Jan. 1, 2015, and see a trailer below: