British Parliament Votes Against Military Action in Syria, Obama Undeterred and Willing to Act Alone
The British parliament has voted against joining any military intervention in Syria in a narrow 285-272 vote on Thursday night.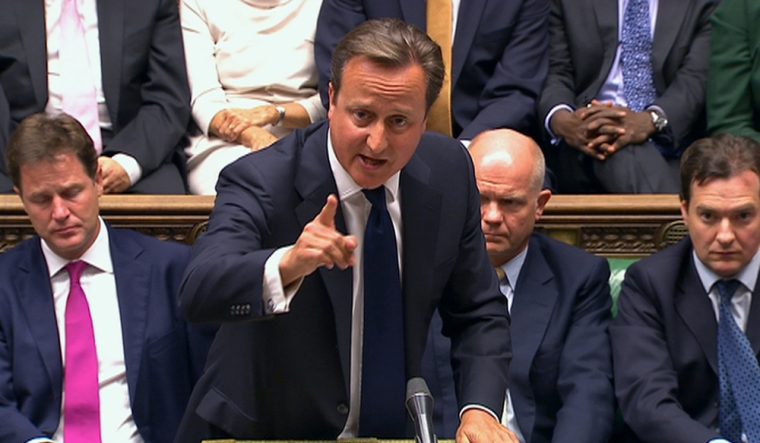 The move will be a blow to President Barack Obama, as Britain was seen as the closest ally to the United States in any potential move for military action in Syria.
However, despite the clear set back, the Obama administration has indicated that the U.S. would still be willing to take action against Syria on its own, even without an international coalition.
Following the vote in London, White House spokesman Josh Earnest said, "The president of the United States is elected with the duty to protect the national security interests in the United States of America."
Earlier on Thursday, Syria issued a warning to the British parliament saying that any Western military action could provoke a war throughout the entire Middle East and "dwarf the terrible human suffering we have already seen."
In an open letter to Speaker of the House of Commons John Bercrow, Syria's Speaker of the People's Assembly, Jihad Allahma asked Britain to consider the countries' "common humanity" when considering whether or not to use military force against the country.
"We write to you as fathers and mothers, as members of families and communities really not so different to yours. We write to you as fellow human beings for, if you bomb us, shall we not bleed?" Allahma wrote.
Allahma argued that Britain should look to history, mentioning World War I and the wars in Afghanistan and Iraq, and recall that "local tragedies become regional wars that explode into global conflict," and remember the thousands of Brits that had lost their lives in conflict zones in the past 10 years.
At times, the tone of the letter was deferential to Britain, even to the point of flattering the country, referring to it as a "model" for Syria and asking for its help "to build a stable, just and fair democracy in Syria." However, Allahma was explicit in the outcomes he wanted out of the letter and in his conviction that Britain had no legal basis for using force on his country.
He argued that Syria was a sovereign state and did not "pose any threat" to the United Kingdom and that the U.N. Security Council had not authorized an attack.
Most critically, Allahma reminded, the U.N. chemical weapons report had not yet been published, while the U.N. had "already concluded" that there was very strong evidence that an Al-Qaida group had used these weapons earlier this summer, reminding Britain that it should have no interest in "aiding and abetting Wahhabi rebels." The latter point, according to The New York Times, was "apparently a reference to unsanctioned remarks several months ago by Carla Del Ponte, a United Nations official not directly involved in the investigation."
Allahma asked Members of Parliament to visit Syria while the United Nations investigation on the chemical attack was concluding, offering that British should bring its own experts to compare against the U.N. conclusions.
The letter also maintained that Syria "condemned" the chemical attack "atrocity," and was "co-operating fully with the UN Investigation Team," and was also performing an investigation of its own.
Whether the open letter had any affect on the British parliament is insignificant now, but the Syrian regime will be feeling much more comfortable following Thursday's vote in London.
Meanwhile, on Thursday the White House stepped up its efforts to consult with Congress in advance of any U.S. military intervention in Syria.
According to reports, private communications were held between Obama and House Speaker John Boehner, and a separate conference call was held for congressional leaders with senior administration officials.
Even though Boehner has not himself called for a vote, more than a quarter of the 435-member House has signed a letter calling on the president to seek congressional authorization before taking any action on Syria.
The Obama administration has said though that it has already concluded the Syrian regime was behind the recent chemical attack that left hundreds dead. The stance is identical to the one promoted by British Prime Minister David Cameron earlier on Thursday to Parliament, which laid out the government's legal position, claiming that "military intervention to strike specific targets" would be "legally justifiable."