Prison officials deny retaliating against woman who complained about male 'satanist' watching her shower
"We need the Body of Christ to act,' advocate says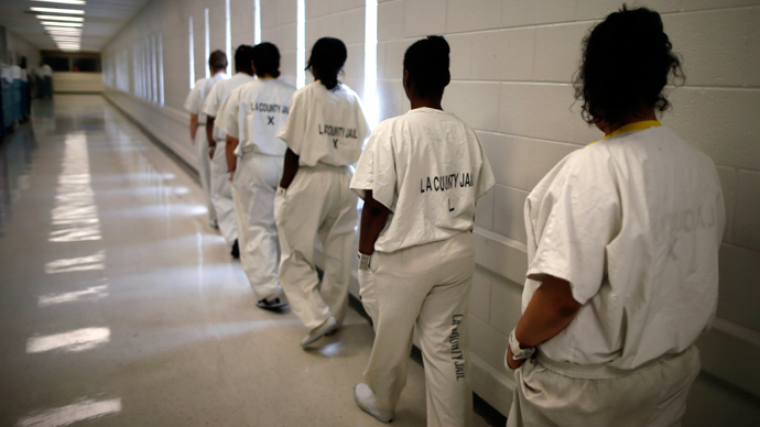 Are female inmates in California facing physical and legal repercussions — including having parole dates moved — for complaining about a state law that allows men to be housed with women?
Amie Ichikawa, who served five years in a California state prison and now heads the Woman II Woman prison advocacy group, was a panelist for CP's "Unmasking Gender Ideology" event in March, where she revealed how a new state law could be placing female inmates at increased risk for sexual assault.
While conceding that prison was "not wonderful" prior to the 2021 implementation of California's Senate Bill 132, which allowed trans-identified men to request to be transferred to women's prisons, Ichikawa said since then, conditions at Central California Women's Facility (CCWF) in Chowchilla have deteriorated rapidly.
Cathleen Quinn, a female inmate who has been incarcerated for over 20 years, filed a complaint in February 2022 prior to her parole board hearing in which she told commissioners with the California Department of Corrections and Rehabilitation (CDCR) that she feared for her safety following the implementation of SB132.
According to the complaint obtained by The Christian Post, Quinn saw a trans-identified male inmate, who goes by the name Eva Reeves (formerly Michael Contreras) and was convicted of murder in 1982, entering a dayroom restroom area and watching her as she used the facility. 
Quinn filed the complaint after seeing Reeves ignore signs that the restroom was being used on two separate occasions, attorneys said.
As one example, Quinn pointed to a situation in which she referred to someone's "correct pronouns," said Ichikawa, who added that Quinn has been "retaliated on ever since."
A separate rules violation report (RVR) filed by another inmate in July 2022 alleged in a second incident that Reeves had walked in on Quinn while she was showering, even though she hung a towel on the outside of the enclosure.
The complaint added, "This practice communicates to one's roommates that the shower is being used," which Reeves allegedly "ignored."
The complaint added that the information was provided by an "inmate advisory council representative who indicated the roommate in question did not want to be identified for fear [of] reprisal.
"I can't blame that roommate for having that fear."
That complaint also referenced a March 2022 article written by Reeves for an outlet called the San Francisco Bay View National Black Newspaper, in which Reeves — who Ichikawa described as a "self-proclaimed satanist" — acknowledged that "consensual sex takes place" between trans-identified biologically male inmates and female inmates.
Reeves also said those trans inmates in the women-only prison facility "have a penis and get erections."
The article also identified Ichikawa and other activists by name as proponents of so-called "hate propaganda."
"Haters of [trans-identified men] at the prison complain that some [trans-identified men] there have a penis and get erections," wrote Reeves. "Again, the sexualization, the genitalization, the degradation of people into sex organs, is the very same way that these women of hate and evil complain of being regarded as c—s. 
"This is the nature of hate."
Despite the commission initially granting Quinn parole, that decision was subsequently questioned by one of the commissioners, leading to a full board review hearing, according to Ichikawa.
At that hearing, commissioners vacated Quinn's parole grant over new findings they cited, including an RVR for false reporting and harassment.
"They vacated her parole suitability prior to these write-ups being adjudicated, so she had not yet been heard," explained Ichikawa. "There was no guilty or not guilty on anything, and they still vacated her parole suitability."
Quinn was later found not guilty of harassment and the false reporting was dropped, said Ichikawa, who believes Quinn's faith was a factor in the charges.
"I don't think it's any coincidence that she's a Christian conservative either," Ichikawa said. "She's been too committed to standing firm on her values and she's not bending, so I really feel like she's the lynchpin for the whole game plan here."
In response, CDCR spokesperson Terri Hardy told CP the agency is "unaware of any incarcerated individuals receiving disciplinary action as a result of misgendering another person." 
Hardy cited California Code Title 15, Section 3004, which, said Hardy, "outlines the expectation that incarcerated people and parolees are to treat employees and others respectfully, impartially and fairly" and will not discriminate on the basis of "race, religion, nationality, sex, political belief, age, or physical or mental handicap."
The code does not make reference to gender identity as one of the protected classes.
Ichikawa told CP that she believes CDCR's statement is "not very accurate of what's happening" inside CCWF, which is said to be the largest women's prison facility in the world.
"Does this apply to incarcerated women? Because that's not how I would describe the environment in there," she said.
Even if more inmates were to file complaints, Ichikawa added, the official paperwork wouldn't show any "misgendering" violation because following the incident at Chowchilla and a "handful of others," inmates aren't even filing any complaints "because they're so afraid of this retaliatory kind of action."
According to state estimates, there are more than 1,700 inmates in the California state prison system who identified as transgender, non-binary and intersex as of March of this year.
Under SB132, if an inmate who is housed with a trans-identified inmate "raises concerns for their health or safety at any time, their housing and placement is to be reassessed," according to CDCR. 
While CDCR may deny a housing request based on "management or security concerns," the agency "must give serious consideration to the perceptions of health and safety of the person making the request, and under no circumstances can the denial be based on any discriminatory reason, including anatomy, physical characteristics, and sexual orientation," according to a public records request.
CDCR said as of March 13, there have been six inmates who have "voluntarily transferred back to a male institution" after being transferred to a women's facility under SB132.
Quinn's 2022 complaint was later echoed by the Women's Liberation Front (WOLF), which, along with Ichikawa, sued CDCR over allegations from seven different women inside CCWF that at least one woman and "possibly more" were impregnated after being housed with a male inmate following SB132.
Under the bill — known as the "The Transgender Respect, Agency and Dignity Act" — male inmates can transfer to women's facilities even if they do not claim to have a female "gender identity," meaning those who identify as "non-binary" or "gender-fluid" are also eligible. 
Inmates who are biologically male and transferred into women's prisons are not required to take hormones or have surgery, according to WOLF.
It appears CDCR was aware of the potential harm that could result from SB132's implementation: the state's prison administration began handing out contraceptives to female inmates in July 2021, which WOLF called a "tacit admission" that California officials understood the threat SB132 posed to women.
While Ichikawa is no longer a party to the WOLF suit, she warned that the ACLU has tried to intervene on behalf of male inmates who want to be housed with women.
"This is serious," she said. "They have a strong defense, they have very high-powered lawyers and it's extremely intimidating, so more than anything, we really need prayer."
She urged Christian congregations to start filing FOIA requests, learn more about the chaplain teams in state prisons, and even work toward sending a team into these facilities to see the plight of these women firsthand.
Since SB132, Ichikawa said she has personally heard from some 200 women who "need to talk to someone," so she provided her personal cell phone number for them to contact. 
And while she and her formerly incarcerated partners remain dedicated to the cause, she's calling on Christians and non-believers alike to get involved.
"This is a huge injustice, because no matter what these women have done, under no circumstances should they be further subjected to this kind of cruel and unusual, very intentional punishment and erasure," she said. 
"We need the Body of Christ to act as if part of their own body is in prison because it is, and it is being fiercely persecuted."