California Cannot Force Pro-Life Centers to Advertise Abortion Services, Supreme Court Rules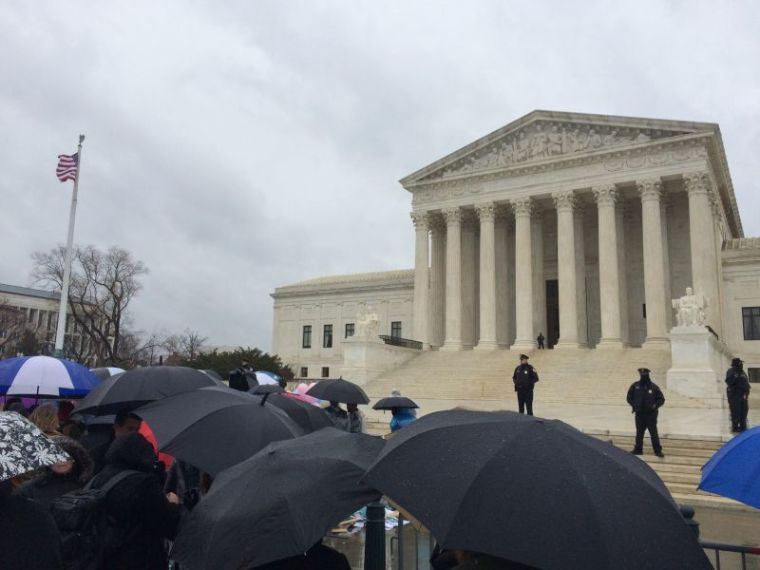 The United States Supreme Court has ruled that a California law that compels pro-life pregnancy centers to advertise abortion services is unconstitutional.
In a 5-4 decision authored by Justice Clarence Thomas and released Tuesday, the high court ruled in National Institute of Family and Life Advocates v. Becerra that the Reproductive Freedom, Accountability, Comprehensive Care, and Transparency (FACT) Act "unduly burdens protected speech."
"The unlicensed notice imposes a government-scripted, speaker-based disclosure requirement that is wholly disconnected from California's informational interest," wrote Justice Thomas.
"California has offered no justification that the notice plausibly furthers. It targets speakers, not speech, and imposes an unduly burdensome disclosure requirement that will chill their protected speech."
Thomas also wrote that the law not only forced pro-life centers to promote abortion, but to do so while diminishing their own message on pregnancy care.
"As California conceded at oral argument, a billboard for an unlicensed facility that says 'Choose Life' would have to surround that two-word statement with a 29-word statement from the government, in as many as 13 different languages," continued Thomas.
"In this way, the unlicensed notice drowns out the facility's own message. More likely, the 'detail required' by the unlicensed notice 'effectively rules out' the possibility of having such a billboard in the first place."
Thomas was joined by Chief Justice John Roberts, Justices Anthony Kennedy, Samuel Alito, and Neil Gorsuch. Justice Stephen Breyer wrote a dissent and was joined by Justices Sonia Sotomayor, Ruth Bader Ginsburg, and Elena Kagan.
In 2015, California passed Assembly Bill 775 or the FACT Act. The law mandated that all licensed pregnancy health centers, among other things, include a sign that refers patients to abortion clinics.
"The notice shall state: 'California has public programs that provide immediate free or low-cost access to comprehensive family planning services (including all FDA-approved methods of contraception), prenatal care, and abortion for eligible women,'" read AB 775.
Failure to comply with the law could result in a $500 fine on the first offense and then a $1,000 fine for each offense thereafter.
In Oct. 2015, the Alliance Defending Freedom filed a complaint in district court against California over the law on behalf of a few California-based pregnancy care centers.
In Oct. 2016, a three judge panel of the Ninth Circuit Court of Appeals upheld the law, agreeing with a lower court decision that the FACT Act "survives any level of scrutiny" and "does not discriminate based on viewpoint."
"Instead, the Act applies to all licensed and unlicensed facilities, regardless of what, if any, objections they may have to certain family planning services," read the Ninth Circuit opinion.
In March 2017, the ADF filed an appeal with the U.S. Supreme Court. Last November, the high court agreed to hear the appeal, with oral arguments being held in March.
"Even if you are not pro-life, do you want the government setting up its own advertising mandates for nonprofit organizations and then punishing any who disagree?" stated ADF CEO Michael Farris following oral arguments.
"The First Amendment does not allow the government to force you to speak its message. That's especially true when you are pursuing a religious mission of simply providing resources and support to women free of charge."