California Fires 2013 MAP: Idyllwild Wildfire Spreads to 23,000 Acres, Thousands Under Evacuation, Palm Springs Under Threat (VIDEO)
The California wildfires have continued to devastate the state on Thursday, with it spreading across Idyllwild, Fern Valley, Palm Springs and Mountain Center, according to the latest updates. An updated map of the spreading fire shows the huge area that the blaze has now consumed, which is now thought to be over 23,000 acres.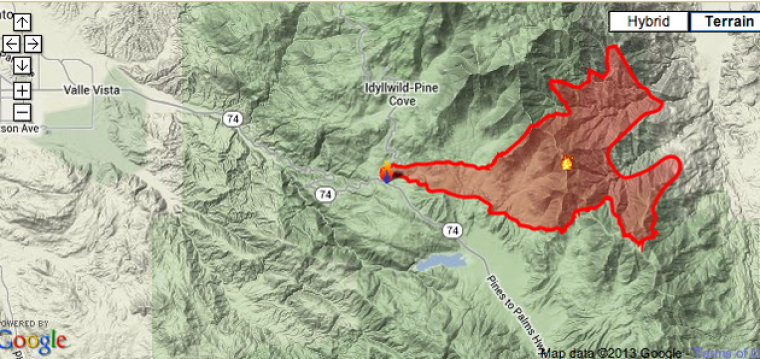 Thousands of residents are now fleeing the path of the fire, with those in the San Jacinto Mountains being rushed out of the area, and Idyllwild being under a mandatory evacuation order on Thursday morning. The wildfire has grown to more than 35 square miles by early Thursday, according to officials.
More than 3,000 firefighters have been battling the massive fire, but they have been unable to prevent the fire from spreading in extremely dry conditions. More than 6,000 residents have been told to evacuate in Idyllwild, Fern Valley and nearby wilderness areas including Mount San Jacinto State Park.
In addition, Forest Service spokeswoman Melody Lardner has said that about 2,200 homes were evacuated and 4,100 residences including hotels, condominiums and cabins were threatened.
"This fire is moving pretty fast and we're getting such strange winds and weather that they're changing on us frequently," Incident Commander Jeanne Pincha-Tulley said. "We're erring on the side of caution to get people out as soon as we can."
Already on Wednesday night, there were fears for the safety of those in Palm Springs, where nearly 50,000 people live, as the fire became visible to those in the city as the fire closed in.
Palm Springs is nearly 12 miles from where the fire is thought to have originated from, revealing the huge distanced covered by the quickly advancing blaze.
Dennis Burns, a fire behavior analyst has said, "Up on the ridge, you're seeing 40- to 60-foot flame lengths. And when you have flame lengths that large, the crews can't engage directly on the fire because the intensity is just too high."
There will be no immediate let up as conditions for the coming few days will highly favor the fire's spread, with temperatures expected to linger near 100 degrees, and low humidity also being expected.
Here is a video showing the California Idyllwild fire:
San Jacinto / Idyllwild Fire 2013 day 3