'Call it fate or God': Hero cops who stopped Nashville shooter detail confrontation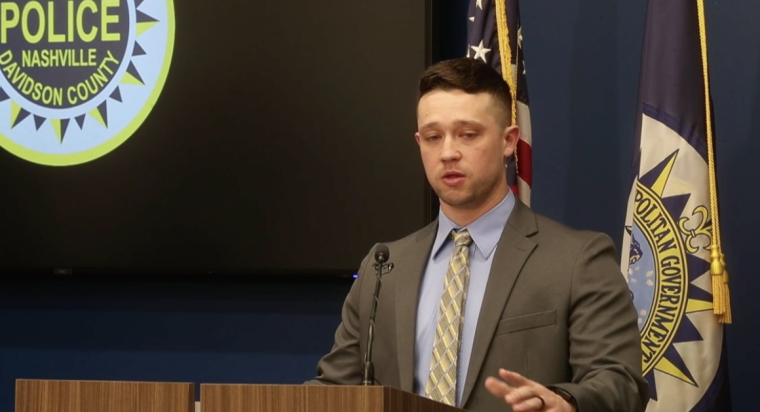 The Nashville police officers who have been widely hailed as heroes after promptly ending the mass shooting at a private Christian school that left six people dead are crediting their training for their swift response. 
Det. Michael Collazo and Officer Rex Engelbert of the Metro Nashville Police Department fired the fatal shots, killing 28-year-old Audrey Hale, after she opened fire at The Covenant School on March 27. The officers killed Hale, who self-identified as male, about 14 minutes after the initial 911 call was received.
Collazo and Engelbert were joined by Det. Sergeant Jeff Mathes at a press conference Tuesday in which they offered condolences to the families of victims Evelyn Dieckhaus, 9; Mike Hill, 61; William Kinney, 9; Katherine Koonce, 60; Cynthia Peak, 61; and Hallie Scruggs, 9. 
Engelbert, who first fired fatal shots at the shooter, said he was en route to the Metro Police Academy to complete some administrative tasks when he heard a call that prompted him to go to The Covenant School, a parochial school affiliated with the Presbyterian Church in America.
"I couldn't get to it fast enough," Engelbert said.
"I really had no business being where I was," he added. "You can call it fate or God or whatever you want. I can't count on my hands the irregularities that put me in that position when the call for service went out for an active deadly aggressor at a school."
Engelbert teamed up with Mathes and others when he arrived on the scene and heard gunshots. Later in the day, Engelbert said he was told to sit in his car after he was relieved from duty.
"That was pretty difficult to do because I could tell there was more work to be done," the officer said.
Upon entering the school through shot-out glass doors, Collazo witnessed custodian Hill lying on the floor, as he recounted. Although he communicated the information about Hill over the radio, Collazo realized he needed to keep moving. With other officers, Collazo proceeded to clear rooms on the first floor as they began to hear gunshots.
"That's when everything kinda kicked into overdrive for us," Collazo said. 
Collazo and his team managed to bypass a locked door, enabling them to reach the second floor. As they hurried towards the sound of gunfire, they encountered another victim, whom they rushed past. Collazo noted that Engelbert took the lead without any hesitation as they advanced toward the shooter. After neutralizing the shooter, their focus shifted to other objectives.
"It clicked for every officer that was on scene that it was time to start trying to render aid to the victims and trying to evacuate the school," Collazo said.
Approximately 200 officers reached the scene, many entering the school as they cleared room after room, while many others supported their efforts.
Nashville Police Chief John Drake said some officers responded so quickly that they weren't able to put on ballistic gear to keep themselves safe.
"Those officers immediately went in," Drake said. "They just wanted to save kids."
Nashville Police also applauded Covenant School staff for their courage and adherence to training, which they had recently undergone.
"The teachers had gone through active aggressor, active shooter training recently," Drake said. "Their efforts also saved lives. They knew how to have kids on the wall away from the windows, out of the hallways, where we could have had a lot more casualties, they were able to protect these kids as well."
The police thanked the community for their support, emphasizing the importance of a good support system as they grapple with the events of March 27.
"I know a lot of people have reached out to myself, Officer Rex, Sergeant Mathes, our teammates as well," Collazo said. "There's been an outpouring of support from the community, from other agencies throughout the nation and through the world, and I just want to tell them we greatly appreciate that but also hope that they, along with all of us, remember the victims."
Authorities revealed Monday that Hale fired off 152 rounds and plotted the massacre for months in writings found inside her car and home. Police said Hale's writings were turned over to the FBI's Behavioral Analysis Unit in Quantico, Virginia.
"The investigation shows that Hale fired a total of 152 rounds (126 5.56 rifle rounds and 26 nine millimeter rounds) from the time she shot her way into the school until she was killed by police. Two officers fired on Hale. Officer Rex Engelbert discharged a total of four 5.56 rounds from his rifle; Officer Michael Collazo discharged a total of four rounds from his department-issued nine-millimeter pistol," police said.
On the day of the shooting, Drake said Hale left behind a "manifesto" that was being studied by detectives. But its contents haven't been made public.
Following the shooting, parents gathered at Woodmont Baptist Church, about two miles from The Covenant School, waiting to reunite with their children. 
On Sunday, Nathan Parker, senior pastor at Woodmont Baptist Church, reflected on the events of the past week.
He fought back tears as he preached a Palm Sunday sermon focused on grieving with hope.
"We didn't ask to be the reunification site here for anxious and grieving families to reconnect, but we're honored to have played our part in that process. That part really was simple, Christian hospitality, opening our doors, welcoming people who needed a refuge in making them feel as comfortable as we possibly could, praying for them, making them feel welcome," he said. 
"To all who are weary and need rest, to all who mourn and long for comfort, to all who fail and desire strength, to all who sin and need a Savior, this church opens wider doors once again with a welcome from Jesus," Parker told his congregation.
After the service, Parker greeted people by saying, "How are you? Not OK? Neither am I," NPR reported.
"For us to say we're OK, not only is that not true because of the trauma, but it's also not true theologically," he told the outlet. "We come broken and with nothing to offer of our own righteousness but fully dependent on God's good grace."