Candace Cameron Bure on Acting: 'I Want to Honor Christ in All That I Do' (INTERVIEW)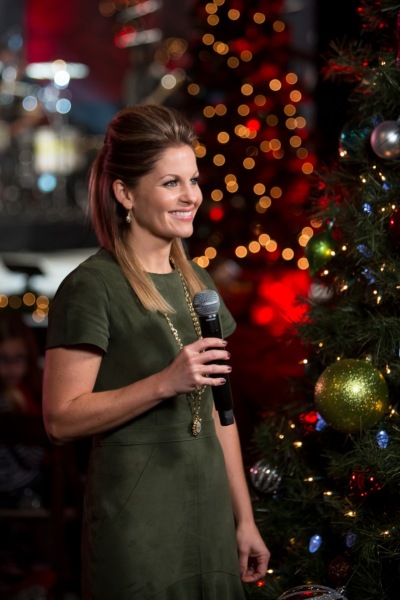 Actress and author Candace Cameron Bure has been able to fulfill all of her aspirations as an actress in Hollywood because of her undeniable faith in God and her willingness to never conform to what she deems unsuitable to her values as a wife, mother, and Christian woman.
Bure chatted with The Christian Post about her family life, what she's been up to lately, "Full House," and her uncanny ability to be involved with anything Christmas.
Last night Bure hosted UP Network's Christmas special, K-Love Music City Christmas, where a number of contemporary Christian music's biggest artists performed Christmas classics and originals including TobyMac, Kari Jobe, Matthew West, and more.
Bure also recently starred in the Christmas movie "Let it Snow," which is on constant rotation on the Hallmark Channel. In 2011, she appeared in The Heart of Christmas, and in 08, starred in Moonlight & Mistletoe.
When asked about her frequent involvement in Christmas projects, she laughed and offered an explanation.
"Christmas is one of the most important holidays in my life, maybe because I love what Christmas represents, and the magic of Christmas, and the giving and the heart of Christmas, I don't know! I kind of feel really honored that I am a safe with Christmas at least within Hollywood," Bure said.
Aside from acting and hosting, she just released her second book, Balancing It All-- "that's my stories of juggling purpose and priorities," she revealed, before adding that another movie is in the works for next year.
Bure enjoys the roles she picks to get involved in because they are something she can show her whole family, and other people can enjoy without the fear of having something inappropriate in the film.
"I've passed on many roles and auditions just walking through the door because of content and knowing where I draw my lines and boundaries. I'm doing the very things I want to be doing," she shared. "Hallmark and the UP Network are the places I wants to be."
Part of her strive for family friendliness and moral values filled projects is her relationship with Jesus, and being a Christian in a notoriously unstable work environment for someone of faith.
"Being a Christian affects every aspect of my life. It plays a part in all the roles and projects I choose to be a part of. I want to honor Christ in all that I do, and that's why it's important to stay in the family friendly role of television and movies," said Bure.
Hosting the music show yesterday, Bure was asked whether she had any talent for music, since most know about the acting bug that runs in her family. She quickly turned down any hope of her being a musical entertainer.
"Nobody has asked me to sing along with them as a backup singer or in a choir. I will definitely stick with just hosting. Music is one of my favorite things in my life, and I am definitely not tone deaf, and can actually play the piano a little bit," she said. "I can hear music well but I don't have a pretty singing voice. Although, my daughter does. I will live vicariously through her and probably become a terrible stage mother in advancing her musical career within the church. I love listening to her, but as a proud mom I want her to utilize her voice."
Perhaps what Bure is most known for is her role as DJ Tanner in late '80s into the '90s family sitcom "Full House." This show is undoubtedly one of the most popular shows of all time and still runs in syndication all over the world on multiple channels.
Bure spoke on how as a kid auditioning, she never knew how this little try out would change her life forever. Her brother, Kirk Cameron, was already an established child actor playing Michael Seaver on "Growing Pains," but this chance was all hers.
This year another popular '90s family show, "Boy Meets World," will make a comeback in the form of a spinoff, Girl Meets World. Recently, rumors have been spreading of a spinoff involving the "Full House" cast, but unfortunately Bure said those were just rumors.
"I have not given a new show any thought if they were to bring it back," she said regarding what she would envision a possible "Full House" spinoff would be like. "Anything with 'Full House' I love it. Just proud to have been a part of it. I love everything it represents. It really was family programming, and those are the things in my life that I choose to do with being in family friendly entertainment, and so if they brought it back, I'd go for it."
Bure also revealed that she is still very much in touch with her "cast family" and frequently reunites with them for parties and get-togethers. She encourages her fans to follow her on Twitter and Instagram to see the pictures.
When asked about what "Full House" taught her about family, "'Full House' taught me that you always have to hug each other within 30 minutes. So we do a lot of hugging in our family. Lots of great takeaways from that show, but even more so with my real family."
Candace Cameron Bure can currently be seen on "Let It Snow," showing on the Hallmark Channel and encore showings of K-Love Music City Christmas. Her book, Balancing It All, can be purchased wherever books are sold.
Read Part 1 of Candace Cameron Bure's interview with the Christian Post here, where she speaks about K-Love Music City Christmas, celebrity, and being a host.