'Captain Planet' Mod Recreated in 'Grand Theft Auto 5' (VIDEO)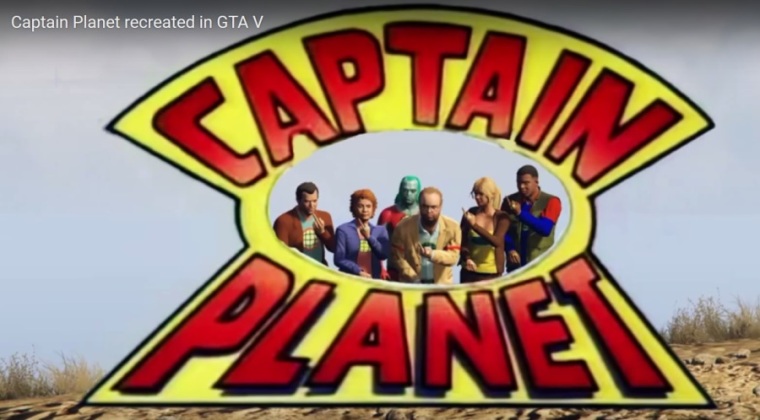 An intro scene from the "Captain Planet" cartoon show was recently recreated using a "Grand Theft Auto V" mod.
YouTube user Merfish adapted the 90's children's TV cartoon show "Captain Planet" using a "Grand Theft Auto V" mod, utilizing a variety of camera skills, model imports, and textures to create an accurate intro scene.
The 1990s edutainment cartoon, "Captain Planet and the Planeteers," followed by "The New Adventures of Captain Planet," was an animated environmental advocacy show for children, demonstrating the consequences of damaging nature.
In the show, the titular Captain Planet hands down five powerful rings to earth kids and assigns them to prevent bad guys from polluting the environment. Each of the rings gives the kids individual powers, but became even more powerful when they are combined to call upon the green-haired Captain Planet to help them ward away polluting evil doers.
Merfish recreated the cartoon show's intro not only accurately, but also comically, substituting some objects that weren't available via Rockstar Games' video editing tools.
While Merfish's recreation wasn't as well-applauded as the Pokemon intro he created back in August, it is speculated the "Captain Planet" mod will make additional appearances in the game, particularly with footage showing him engaging in both superhero and super-villain activities.
Merfish described the tools and methods he used to recreate a "Captain Planet" mod in a post on GTA5-Mods, including the addition of skin textures for 10 story characters. Merfish used Trevor as Captain Planet, Amanda as Gaia, Franklin as Kwame, Michael as Wheeler, Tracey as Linka, Patricia as Gi, Lester as Ma-Ti, Stretch as Duke Nukem, and Molly as Dr. Blight.
Modders looking to create a "Captain Planet" machinima of their own will need a number of "GTA V" tools, including Simple Trainer, Script Hook V, the Iron Man Mod to allow the character to fly, OpenIV for addition and modification, and the "Captain Planet" textures to superimpose over Trevor's skin.