Carly Fiorina Defends Videos Exposing Planned Parenthood at GOP Debate: 'Facts Have Not Changed'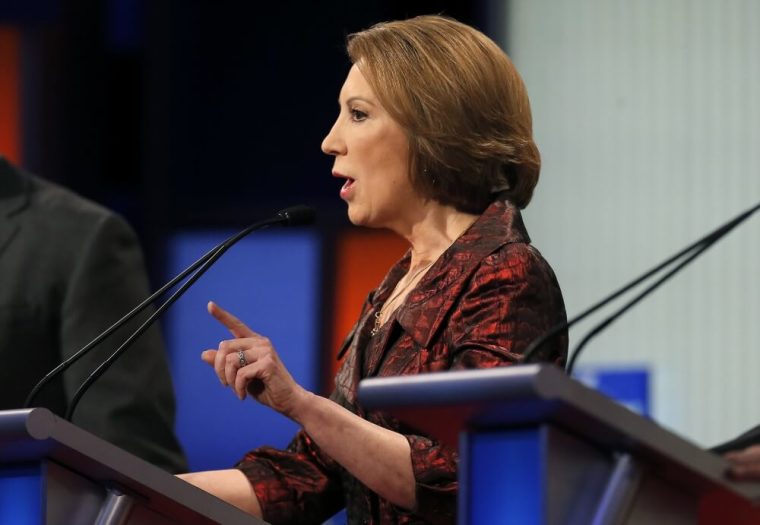 Republican presidential candidate Carly Fiorina defended the indicted producers of the undercover Planned Parenthood videos during Thursday night's undercard debate in Iowa, saying that the disturbing facts behind the nation's largest abortion provider have not changed.
Fiorina, the former CEO of Hewlett Packard, has long cited the Center for Medical Progress' investigative videos from last year that expose atrocious realities behind Planned Parenthood's aborted baby compensation practices throughout her campaign to call for the defunding of Planned Parenthood and the passage of other pro-life measures.
But after Planned Parenthood was cleared by a grand jury in Texas earlier this week and CMP founder, David Daleiden, and one of his associates were indicted on felony charges, Fiorina was asked during the Fox Republican debate in Des Moines whether she had any regrets about citing the Planned Parenthood videos to voice her pro-life message.
"You know, Hillary Clinton hasn't been indicted yet either," Fiorina responded, referring to the former Secretary of State's use of a private email server to handle classified information. "So, that tells us a lot about our justice system in this country.
"Look, the facts of Planned Parenthood have not changed, folks. And, I will not be rendered silent on this issue or any other issue and it doesn't matter what stage I am on.
"Here are the facts — Planned Parenthood engages in partial birth abortion, late-term abortion. They alter their abortion techniques to harvest and sell body parts. They have admitted that they are not going to accept compensation for this anymore," Fiorina added. "The reality is most Americans find this practice horrific."
Fiorina continued her attack on the Democratic frontrunner by claiming that Americans find her views on abortions extreme and horrific.
"Most Americans find it horrific that Hillary Clinton's position on this is, 'It's not a life until it's born,'" Fiorina argued. "Most Americans find horrific Hillary Clinton's position or the Democratic Party's position that a young woman does not need her mother's permission to get an abortion, but if you are 13 years old you can get an abortion but you can't go to a tanning salon without your mother's permission."
Fiorina also vowed that if she was elected president, she would pass a 20-week abortion ban.
"In a president Fiorina budget, there will not be one dime for Planned Parenthood, although there will be a lot of money for women's health. And, we will finally pass the Pain-Capable Unborn Child Protection Act," Fiorina asserted. "I will always stand for life and religious liberty because this is about the character of our nation."
As Fiorina participated in and spoke at last week's March for Life in Washington D.C. despite the threat of Winter Storm Jonas, fellow Republican candidate and former Pennsylvania Sen. Rick Santorum was asked why he did not participate in last year's march.
"I have been to the March for Life for about 25 years. I think that is a pretty good record. I have spoken at it a few times and have shepherded every piece of pro-life legislation that has passed over the last 25 years," Santorum explained. "We have an election going on and we had some snow coming and so, I decided it would be better for me to get out and do some campaigning and not be stuck, as my wife and kids were for a week piling out of two and a half feet of snow."
Fiorina came to Santorum's defense claiming that it is "outrageous" that Fox News would question Santorum's pro-life record, as she made a point of criticising the mainstream media's coverage of the 2016 election throughout the debate.
"Can I just say that we have been talking tonight about a lot of issues and, frankly, we've been talking about how the game is rigged and the media has a lot to do with that," Fiorina said. "It is outrageous, frankly, that Fox News and you would question the pro-life credentials of Rick Santorum. That is outrageous."
Contact: <ahref="mailto:samuel.smith@christianpost.com">samuel.smith@christianpost.com,
@IamSamSmith
(Twitter)