Catholic Church's Top Exorcist Dies at 91; Priest Claimed to Send 160,000 Demons Back to Hell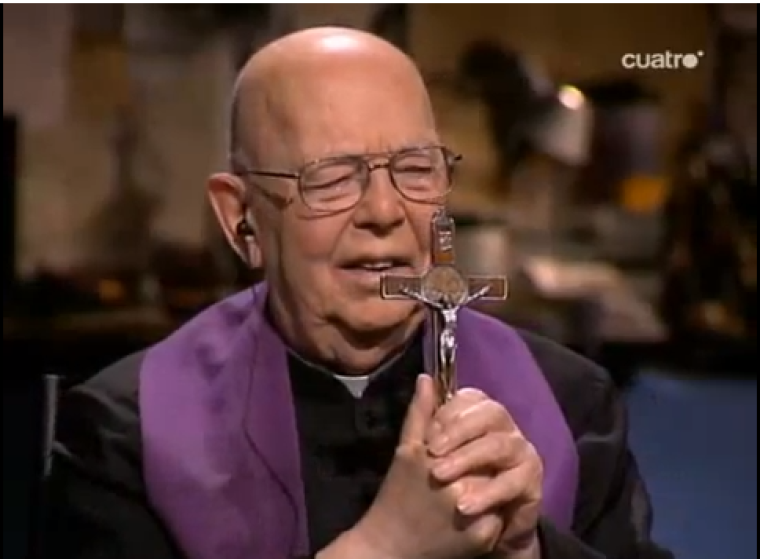 Father Gabriele Amorth, the Catholic Church's top exorcist who claimed to have sent 160,000 demons back to hell, has died in a Rome hospital at the age of 91.
Pauline Father Amorth, who was appointed the exorcist for the diocese of Rome in 1985, has died after suffering from a pulmonary illness, according to National Catholic Register, which reported that he was admitted to the hospital a few weeks ago.
Amorth, who headed the International Association of Exorcists, said in 2013 he would ask Pope Francis to allow all priests the right to do exorcisms without the church's approval. He explained that he was inspired to make the request after watching the pope perform what he insisted was an exorcism on a man "possessed by four demons" in St. Peter's Square.
An 84-page update of exorcism rites compiled in 1614 and drawn up in 1998 stipulates how Catholic priests trained as exorcists should operate. According to the guidelines established by the church, they have to follow a ritual known as "De exorcismis et supplicationibus quibusdam," or "Of exorcisms and certain supplications."
Amorth was also an outspoken critic of yoga and Harry Potter books and dismissed them as ungodly hobbies.
"Practicing yoga brings evil as does reading Harry Potter. They may both seem innocuous but they both deal with magic and that leads to evil," he once said.
Referring to Harry Potter, he also said, "People think it is an innocuous book for children but it's about magic and that leads to evil. In Harry Potter the Devil is at work in a cunning and crafty way, he is using his extraordinary powers of magic and evil… Satan is always hidden and the thing he desires more than anything is for people to believe he does not exist… He studies each and every one of us and our tendencies towards good and evil and then he tempts us."
Amorth also insisted that both Hitler and Stalin were possessed by the Devil.
During the papacy of Benedict XVI, Amorth said that the sex abuse scandals which engulfed the Catholic Church were proof that the Antichrist was waging a war against the Holy See. "The Devil resides in the Vatican and you can see the consequences," he said, according to The Telegraph. "He can remain hidden, or speak in different languages, or even appear to be sympathetic. At times he makes fun of me. But I'm a man who is happy in his work."
Describing people possessed by evil, Father Amorth once said, "From their mouths, anything can come out – pieces of iron as long as a finger, but also rose petals… When the possessed dribble and slobber, and need cleaning up, I do that too. Seeing people vomit doesn't bother me. The exorcist has one principal duty - to free human beings from the fear of the Devil."
Last year, at a conference in Rome, Amorth said "ISIS is Satan," referring to the Islamic State terror group, which is also known as ISIL or Daesh.
ISIS, a Sunni group, wants to create a caliphate in the Levant region and beyond, and controls parts of the territories of Iraq, Syria and Libya. Religious minorities, including Christians, are among its main targets.
Father Amorth said that the political world, "which today seems to lack a response in face of the massacre of Christians, will also have to fight ISIS and it will do it in a different way. If it advances as it seems to be doing, we ask ourselves what has the West done over the course of the last decades."