Catholic School That Threatened Covering Prom Dresses With 'Modesty Ponchos' Responds After Outrage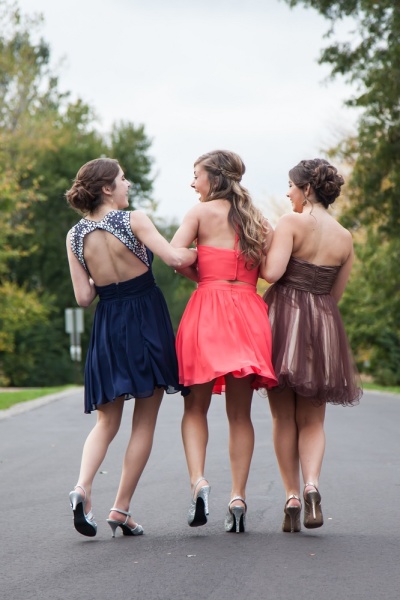 A Catholic high school in Dearborn, Michigan, said that its much-criticized "modesty poncho" that was designed for those who wear revealing prom dresses is not actually intended to be used on students, following social media outcry.
Erin Wade, a student at Divine Child High School, posted on Twitter last week a photo of a pink "modesty poncho for prom" that was put up at the school, along with a note warning that it will be used on those who fail to meet the dance dress requirements.
The story garnered much media attention and controversy, before Principal Eric Haley sent out a letter to parents on Tuesday from the Archdiocese of Detroit looking to cool down fears.
"Like a majority of private and public schools, we ask that students and parents follow the dress code when they are purchasing Prom attire, just as they would follow the dress code for daily classes and other school events," the principal said in the letter, which was obtained by WXYZ.
"Our intention with displaying the poncho was never to make students feel uncomfortable, but to remind all students and parents of our formal Prom dress policy, which has not changed for several years."
He clarified that the poncho will not be passed out at the prom.
"It was on display to proactively remind students of our dress code policies and eliminate any confusion prior to this special event. We recognize that it has done the opposite for some members of our community and draws away from our goal of having students adhere to the dress code policy."
Still, the principal said that the school may still have to hand out wraps and shawls to students who do not adhere to the dress code policy, as it has done so for years.
Some DCHS students, such as junior Abigail Witten, had said that they were left "really upset" by the poncho display.
"I felt it made too quick a judgment of our character and made the assumption that we would all show up in violation of the (dress code) policy," Witten told TODAY Style.
"I thought it was also unfair to certain girls, as most dresses made available by the fashion industry do not allow them to fit their body types without them being in violation of the dress code."
Theology teacher Mary Pat O'Malley told Fox2 that she came up with the poncho idea, and said that she had good intentions.
"We are trying [to] focus on the inner beauty and not draw attention to something that doesn't need attention drawn to it," O'Malley said. "It was really intended as a deterrent and a light-hearted one at that."
One parent, who chose to not be named, argued that the ponchos would have been targeted at female students, however.
"It's a method of shaming, a method of building and degrading to females [in] its interpretation [of] what's modest and what isn't," the parent insisted.