Cav's George Hill Says It Sometimes Feels Like Jesus Drops Stephen Curry's Shots in Basket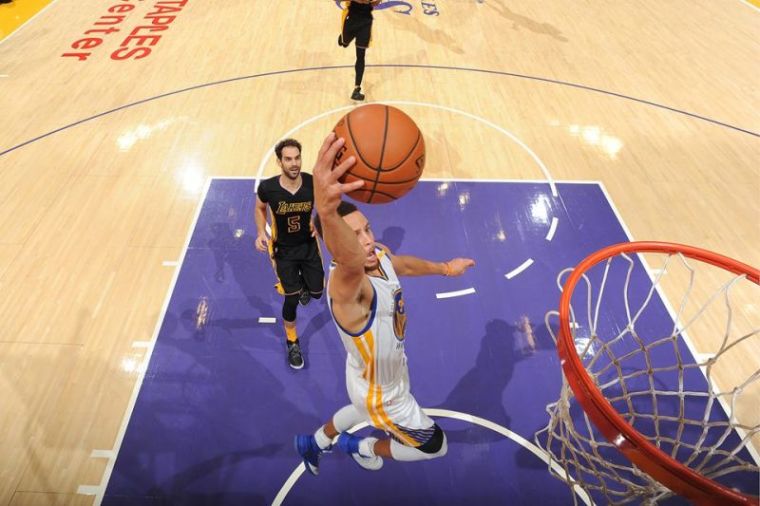 When Golden State Warriors' All-Star point guard Stephen Curry drilled home what some say was a "miraculous" three-point shot against the Cleveland Cavaliers in Game 2 of the NBA Finals on Sunday, Cleveland point guard George Hill said he felt like Jesus was giving Curry a little help.
With the shot clock running down in the fourth quarter and facing pressure from Cleveland center Kevin Love, Curry fumbled the ball but then just tossed it up while fading away to make the impossible bucket.
"You can play good defense. Just like, for instance an example, Kevin Love guarding Curry the one time, shot clock's going out, he turns, picks it up, fades, shoots it up to Jesus and Jesus drops it in the rim," mused a stunned Hill after the game.
And on Wednesday night, even though Curry's performance was not as spectacular as his Sunday night special, the Golden State Warriors still galloped to a 3-0 lead over the Cleveland Cavaliers thanks to amazing teamwork and small forward Kevin Durant who racked up 43 points  in the Warriors' 110-102 victory.
While Curry works hard to ensure he delivers his best performances every time he steps on a basketball court, he's also powered by his faith in Scripture.
More than a decade ago before his first college basketball practice, ESPN said his mother Sonya texted him her favorite Bible verse, Romans 8:28, to help him guard against doubt and fear and encouraged him to find his own Scripture.
Curry chose Philippians 4:13: "I can do all things through Christ who strengthens me."
Ever since then, he has been writing a variation of each Bible verse on his sneakers just before taking the court.
"It's a mantra that I live by and something that drives me every single day," Curry told ESPN. "It'll hopefully inspire people to find something that drives them, whether that's a verse or some other motivating force that keeps you hungry and keeps you driven. That's mine, and you can pick whatever yours is and let that drive you, too, as you continue with basketball or whatever field you're in in your life."
Curry's signature sneakers made by Under Armour bears a gap of space at the front of each shoe for him to write the Scriptures before each game. The version of his shoes sold in stores has the "I Can Do All Things..." message pre-printed on the midsole, ESPN said.
If the Warriors win Game 4 in Cleveland on Friday night they will complete a sweep of the Cavaliers to win the NBA Finals.