Challenges of Intercountry Adoption Highlighted by 'Little Couple' Reality TV Stars at CCAI Gala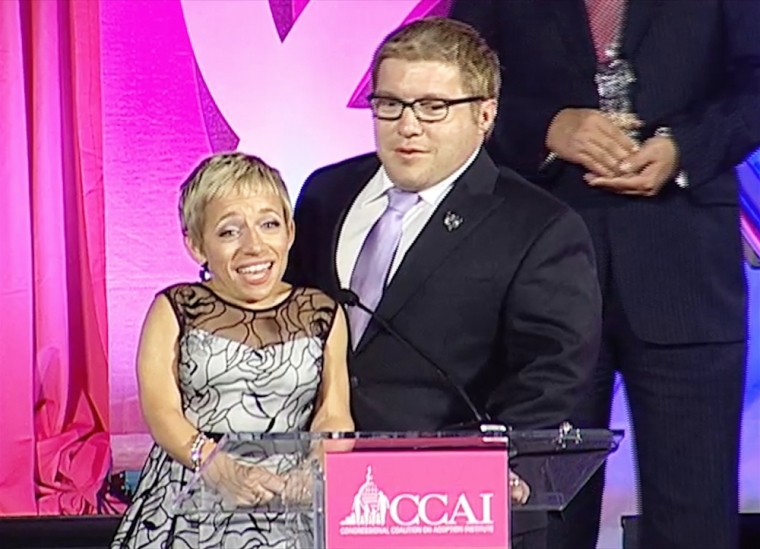 Dr. Jennifer Arnold and Bill Klein, stars of TLC's reality TV show, "The Little Couple," described the challenges of intercountry adoption and urged reforms of the system as they received an "Angels in Adoption" award Wednesday at the Congressional Coalition on Adoption Institute's annual gala.
The gala is "one of the happiest nights in Washington, because there is no gridlock, no argument. Democrats and Republicans come together from the House and the Senate to celebrate so many of our constituents who are doing wonderful work around the country," Sen. Mary Landrieu, D-Louisiana, explained in a video call interview with The Christian Post.
Senators and Congresspersons honored 122 "Angels in Adoption" at the gala.
Landrieu, for instance, presented her award to Chad and Marsha Hardbarger. Chad is pastor of Emmanuel Baptist Church, Shreveport, Louisiana, which has a ministry to raise awareness and provide support for foster and adoptive families. Chad and Marsha were also foster parents for 14 children, six of whom they adopted.
In their acceptance speech, Bill Klein noted that their two adopted children, Zoey from India and Will from China, had to remain in institutionalized care for an unnecessarily long time due to bureaucratic red tape.
"There is a loving child out there, waiting for someone, and they're waiting a little bit longer because of some extra paperwork or because two countries can't get along or explain the logistics of paperwork to expedite this process," he said. "This is paperwork shuffling and we get lost in this minutia, and in the meantime there's a child that's starving or that's not getting medical care or that's not with their forever family a little bit sooner."
Landrieu sponsored legislation, Children in Families First, aims to prioritize the notion that children belong in families, not institutions, as a matter of U.S. foreign policy. Part of that bill, if passed, would help to streamline the intercountry adoption process.
All of the "little hurdles" in the adoption process, Klein said, means that "there will be a child there, waiting for you, in an institution that may or may not be taking as good a care of them as you would like to have them receive."
You can watch the full interview with Sen. Landrieu, and Jen Arnold and Bill Klein accepting their award, below: