Chance the Rapper leaves the US to 'learn the Word of God,' plans to read 'five or more' books of the Bible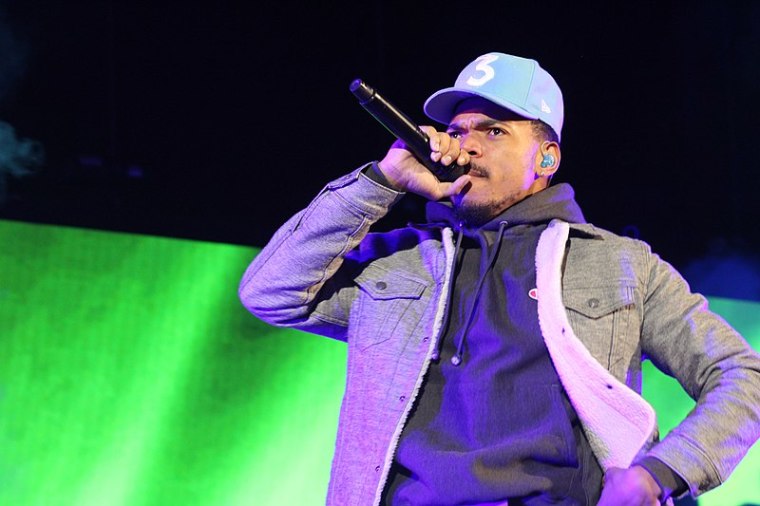 Chance the Rapper has announced he's leaving the country to "learn the Word of God," admitting that while he was raised in a Christian home, he's mostly "unfamiliar" with the Bible.
"I'm on a plane headed out the country on my first sabbatical," the artist wrote in a recent Instagram post. "I'm going away to learn the Word of God which I am admittedly very unfamiliar with. I've been brought up by my family to know Christ, but I haven't taken it upon myself to really just take a couple of days and read my Bible. We all quote scripture and tell each other what God likes and doesn't like, but how much time do we spend as followers of Jesus to really just read and KNOW His Word. I'm definitely guilty of not devoting time to it."
The Chicago-based rapper went on to explain that he made the decision to take a sabbatical following the birth of his nephew, Charlie Matthew.
"He's the first boy of the next line and he needs his uncle to be educated," he explained. "So don't bother me, I'll be back soon enough, with five or more books from Bible read."
In a follow-up Instagram post, the Grammy Award-winning rapper shared a photo of John Baillie's "A Diary of Private Prayer." The text reads in part, "GOD my Creator and Redeemer, I cannot go into this day unless you accompany me with your blessing."
Over the weekend, Chance also posted a photo of his 3-year-old daughter, Kensli, walking into a church. In the caption of the photo, he wrote, "Train up a child in the way she should go," a reference to Proverbs 22:6.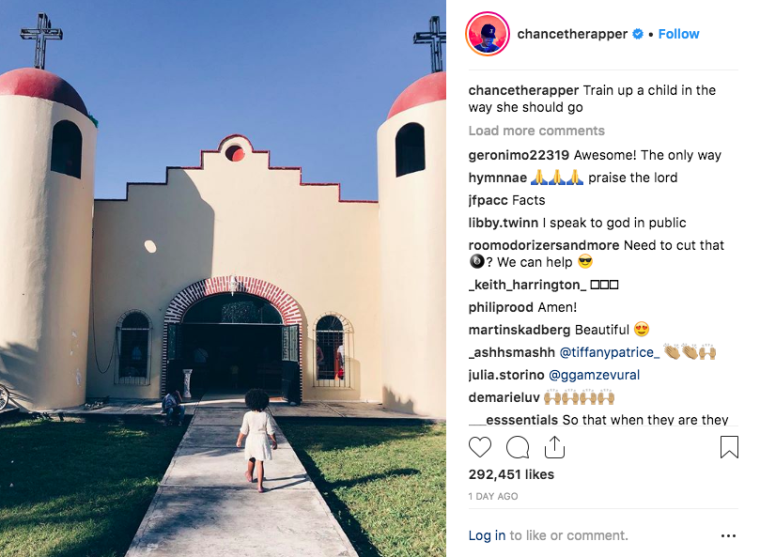 The rapper frequently uses his platform to share his faith and previously revealed that the number "3" emblazoned across many of the hats he wears while performing stands for the Holy Trinity, his family, and the three hits on his mixtapes.
During an interview with CBS' "This Morning" co-host Gayle King in February, Chance declared, "I love God. I love Jesus. And I'm super cool with saying that."
Along with his Christian faith, Chance said Kensli is also a great inspiration to him and gives him a purpose in life.
"My life used to be a whole bunch of little dots on a timeline," the singer said. "After I had Kensli, it was like all of that became one dot. And it's like my new life is, you know, so much better and so much more eventful and, like, purposed."
In an interview with Teen Vogue last year, the 25-year-old artist clarified that his songs are not Christian rap but said he does consider himself a Christian rapper.
"One of my biggest fears with [my album] Coloring Book was that it would be labeled. I hate labels, I never sought out for people to recognize it as a gospel album. I don't make Christian rap, but I am a Christian rapper," he said.
"When I was going out and trying to fully give glory to God, in my setting, I feared that people would be dismissive of it, like, 'This is Christian rap, I'm not trying to hear it.' But it's the total opposite: People were very accepting of it," he added.