Charles Ramsey Signs With Firm That Represented Every Former President Since Reagan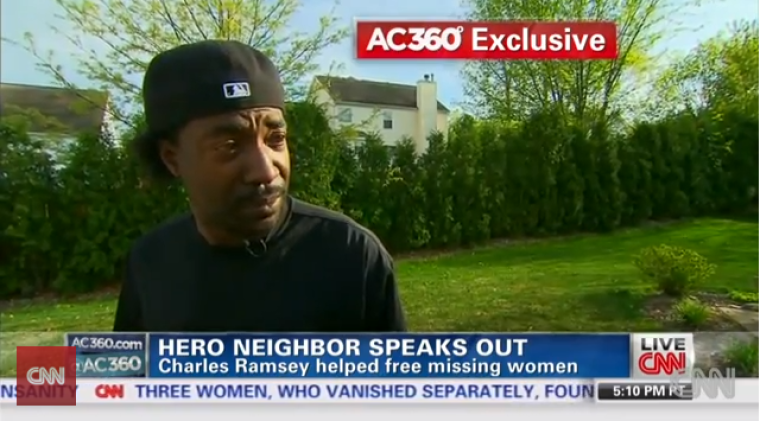 Former dishwasher turned real-life hero Charles Ramsey could soon start living the lifestyle of the rich and famous after a company that has represented every former president since Ronald Reagan, signed him up to do speaking engagements where he could command fees of $10,000 a gig.
Ramsey's star has been rising ever since he helped rescue three women and a young girl from the house of a former neighbor, Ariel Castro in early May and then gave dramatic accounts of his deed to national news outlets. After nearly 10 years of captive living as sex slaves, Amanda Berry, 27, Gina Dejesus, 23, Michelle Knight, 32, and Amanda's 6-year-old daughter, Jocelyn, are now free partly because of Ramsey's bravery.
According to an earlier report, the company, Bruce Merrin's Celebrity Speakers & Entertainment Bureau signed a deal with Ramsey that will see him delivering speeches, engaging in question and answer sessions, and making personal appearances for about $10,000 per engagement.
"Charles' story touched my heart. When he heard Amanda Berry screaming and crying out for help, he immediately jumped into action. He forcibly kicked the front door open, and assisted Amanda and her baby to freedom. They both called 911. Charles Ramsey is a true hero to me. I admire and respect him," Merrin said in a statement announcing the deal on Thursday.
"I believe that Charles has a story that will impact audiences' lives! His spirit moves me."
Along with the former presidents, according to the report, Merrin's firm has represented motivational speakers like Dr. Wayne Dyer, Jack Canfield, Michael Beckwith and Bob Proctor.
This deal represents Ramsey's first paid venture since he became an Internet celebrity and the outspoken hero has acquired a group of lawyers from Ohio to help protect him from businesses and individuals who have been trying to cash-in on his image.
Addressing an online game, Ramsey's lawyers, Walker & Jocke of Medina, Ohio, told The Christian Post on Thursday that he has nothing to do with the game called Charles Ramsey's Burger Bash.
"I want everyone to know that I have nothing to do with this trash," said Ramsey. The game, a poor quality animation produced by a Taiwanese company, depicts Ramsey and the alleged captor of the hostages throwing hamburgers at one another.
The statement also notes that Ramsey does not endorse the group of Northeast Ohio restaurants that are offering "Ramsey Burgers" or who are promoting that Ramsey can receive free burgers from them for life.
"I never told these people they could use my name for this," Ramsey is quoted in the statement.
Among the restaurants that introduced the "Ramsey Burger" was Hodges and Pura Vida in downtown Cleveland where Ramsey worked as a dishwasher, according to one report.
Last Friday, the restaurant noted in a statement, "The Ramsey burger was named to honor an employee at a time he indicated he would be returning to his job at Hodge's. It was not developed to generate additional revenue for the restaurant – nor has it. We are saddened to hear that Chuck did not take this – or the offer of so many Cleveland restaurants to give him free meals – in the spirit we intended."
According to the statement from Ramsey's lawyers, Ramsey has also not authorized any merchandise and he has no website or social media accounts established at this time.
He encourages people to do things to help the victims.