Charlie Sheen and Jerry Lewis to Be American Idol Judges?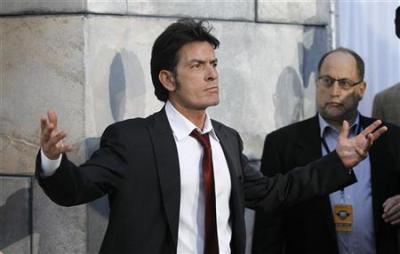 American Idol producer Nigel Lythgoe has reportedly listed Charlie Sheen and Jerry Lewis on his wanted list for new judges on the next season of Idol.
The news comes despite neither of them being a singer nor a music industry expert, leading many to believe that Lythgoe is simply joking, and perhaps maybe after a bit of free publicity. According to TMZ, Lythgoe and Idol bosses are currently lining up who they want on the judging panel for Season 12, and are planning to make some changes to freshen things up.
Season 11 of American Idol saw Jennifer Lopez, Steven Tyler and Randy Jackson act as the three judges, however, according to reports none of them have yet been signed up for Season 12. It has already been touted that the judging trio will not survive another season, and Lopez even came out publicly on the Ellen DeGeneres Show in May to say she probably will not be in the Season 12 judging panel.
Lopez told DeGeneres: "I don't know if I can go for a third year. I miss doing other things."
However, as the Hollywood Reporter points out, that is very similar to what she said at the end of Season 10. But despite saying she was unlikely to appear in Season 11, Lopez did indeed turn out and bagged herself a huge salary increase in the process; it has been reported by various media outlets that the New York City born singer was paid approximately $20 million for Season 11.
Charlie Sheen would certainly ruffle some feathers on American Idol, and the actor is well known for speaking his mind. However, he is of course an actor, and nothing to do with the music industry, and so placing him as a judge would surely undermine the value of the reality TV singer contest. Sheen, who was fired from hit TV sitcom Two and a Half Men following a very public rant that went on for weeks against show producers, recently launched his new show on FX called "Anger Management."
American Idol 2012 Winner - Phillip Phillips (Home)