Chick-fil-A Day 'Beyond Anything I Could Have Imagined,' Says Huckabee
Former Arkansas Gov. and Fox News analyst Mike Huckabee said Wednesday's "Chick-fil-A Appreciation Day" exceeded his wildest expectations.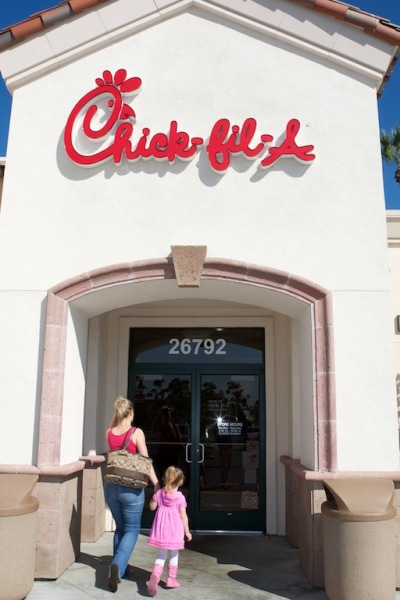 "It's gone beyond anything I could have imagined," Huckabee told Fox News. "Every one of [the stores] that I know have reported record, historic sales yesterday. ... A lot of the stores ran out of chicken before the end of the day."
Dr. Richard Land who heads up the Ethics and Religious Liberty Commission for the Southern Baptist Convention, walked into a Chick-fil-A in Brentwood, Tenn., after he flew in from Washington on Wednesday evening. Unfortunately, there was not much left on the menu to choose from.
"They were out of just about everything but chicken soup," Land told The Christian Post. "One married couple standing behind me said they had been there for breakfast and lunch and were returning for their third meal of the day, but it was more like a light snack."
The "appreciation day" was the brainchild of Huckabee after gay activists encouraged people to once again boycott the fast-food chain over pro-family comments made by the chain's president, Dan Cathy.
What he called "economic bullying," was yet another reason that brought tens of thousands out to the chain's 1,608 locations.
Several mayors of large cities had also indicated they would work to prohibit the Atlanta-based company from expanding with their city limits – a move even the ACLU said is unconstitutional and indefensible in court.
"What government authority gave them the right to censor commerce in their area when they disagreed with them," asked the one-time 2008 presidential candidate.
But Huckabee was also critical of people and organizations who routinely call for boycotts simply because they disagree with the statements or actions of the company and/or their executives.
Although Cathy and Chick-fil-A have supported pro-family and Christian organizations, the executives at Starbucks, Amazon and Apple have given large sums of money to homosexual causes. This is where Huckabee sees a huge disconnect.
"I still drink Starbucks, I use my iPhone and iPad and I orders things off of Amazon," said Huckabee in the Fox News interview. "I'm not buying their politics, I'm buying their products."
In addition to Huckabee, other politicians took advantage of the opportunity to make appearances at their local Chick-fil-A or to have their pictures taken holding a drink or sack from the chain. Sen. Lindsey Graham was photographed in his Senate office with a Chick-fil-A meal on his desk.
"As a long time Chick-fil-A fanatic, I stand with Chick-fil-A," Graham wrote. "We had it for breakfast today, but my usual order is the #1 combo with slaw and a Coke Zero. Can't beat it."
Over 21 million people visited the Facebook page Huckabee started a couple of weeks ago to support the company. Huckabee also said he had no contact with the company or Dan Cathy since he did not want people to think the day was anything less than a grassroots effort.
"It is the hypocrisy and bigotry toward Christians that is motivating people to support the chain," he said. "If they can tell Dan Cathy to shut up and mayors can keep the chain from expanding, then what comes next?"
Chick-fil-A Appreciation Day Traffic