Chick-fil-A Ranks as America's Top Fast Food Restaurant for Customer Satisfaction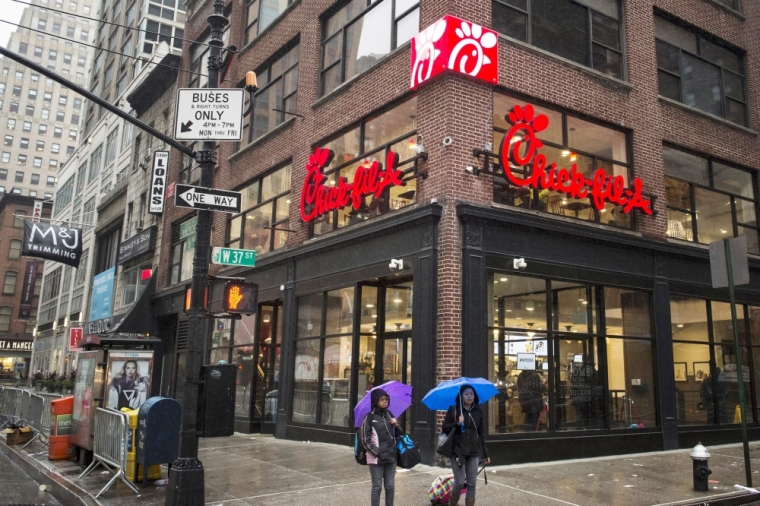 The annual survey released recently by the American Customer Satisfaction Index  pertaining to restaurants reveals that Chick-fil-A has again emerged as the top-rated fast food joint.
Chick-fil-A finished with a score of 87 on ACSI's 100-point scale, placing it well ahead of its competitors, including Panera Bread which was given a score of 81 and Subway, which was the only other fast food chain to break into the 80s.
Rounding out the rest of the top five in the customer satisfaction rankings for fast food establishments are Arby's at 79, Starbucks and Dunkin' Donuts. Starbucks and Dunkin' Donuts received similar marks of 78.
For Chick-fil-A, finishing atop the ACSI's customer satisfaction ratings is nothing new.
The chain was also the leader in the rankings last year and in 2016, notching a score of 87 both times.
The last time Chick-fil-A finished with a score lower than 87 was back in 2015, which coincidentally was the same year the chain first made an appearance in ACSI's rankings. At the time, the 86 mark was the highest ever achieved by a fast food restaurant.
The ACSI credits Chick-fil-A's "product focus" as something that has been beneficial to its success.
Along with providing customers with satisfying food, many people have speculated that the chain's adherence to Christian values has enabled it to resonate with diners.
Founder Truett Cathy instilled his values into the company and members of his family have been carrying on his legacy for more than 70 years. That includes keeping in place the company policy of closing stores on Sundays — something put in place by Cathy so that employees could spend the day to rest and worship if they are so inclined.
Overall, customers are expressing more satisfaction with their trips to fast food restaurants, with the ACSI noting that the score for the industry as a whole jumped up by 1.3 percent and now currently sits at 80.
Meanwhile, when it comes to full-service restaurants, Texas Roadhouse is the overall leader, finishing with an ACSI score of 83. Tying for second place among full-service restaurants are Cracker Barrel and Darden's Longhorn Steakhouse. Both restaurants scored 81 on ACSI's survey. Olive Garden is the only other full-service restaurant to have an ACSI score of at least 80 for this year.
The 2018 ACSI restaurant survey takes into account the responses provided by 22,522 diners. The survey was conducted between June 19 of last year and May 29 of this year.
More news about Chick-fil-A should be made available in the near future.