Chick-fil-A 'Tastes Like Hate' Vandal Arrested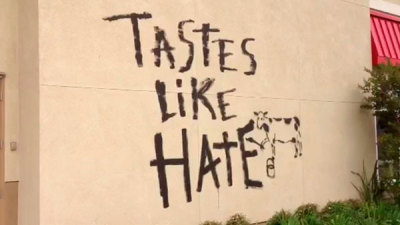 A gay artist who claims to be Christian was arrested this week after painting "Tastes Like Hate" on the wall of a Southern California Chick-fil-A restaurant.
Manuel Castro, 30, had stepped forward last week as the one responsible for the vandalism which included a painting of Chick-fil-A's signature cow. The message was painted on the eve of last Friday's "National Same-Sex Kiss Day" which was organized in response to Chick-fil-A President Dan Cathy's recent remarks in support of traditional marriage.
Castro told The Huffington Post that he was against what the fast-food chain stood for and that his vandalism was nothing more than "paint on a wall."
"It got removed in less than an hour. It's not that much of a crime – it's a protest," he told the publication, adding that his message was not born out of hate but rather out of frustration.
"It was meant to further a discussion about tolerance and acceptance. My Facebook wall was simply not large enough to do this," he added. "Contrary to popular belief, I am a proud Christian and I wholly subscribe to the verse: 'Let he who is without sin, cast the first stone.'
"I didn't use violence. I used paint."
Torrance police are still investigating the case, according to The Los Angeles Times. They are searching for a second suspect.
Chick-fil-A, which has more than 1,600 locations, has been at the center of a national debate since its president and COO, Cathy, said last month that he supports the biblical definition of the family unit and that America was "inviting God's judgment" for saying "we know better than you as to what constitutes a marriage."
The comments prompted protests from the gay and lesbian community, which led last week's "kiss-in" at Chick-fil-A restaurants. Just a few days before that event, however, supporters came out in droves to provide their patronage to the company on "Chick-fil-A Appreciation Day."
It was reported as a record-setting sales day.
According to a new Rasmussen Reports poll, 31 percent hold an unfavorable view of the restaurant while 61 percent hold a favorable one.
Chick-fil-A Appreciation Day Traffic