China Releases Christian Human Rights Activist from Prison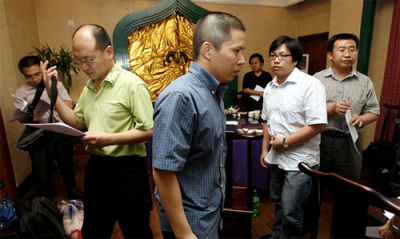 A leading lawyer and activist, Xu Zhiyong, who is a Christian, was released by the Chinese authorities Saturday as he completed a four-year prison sentence. However, it is still not clear if he would be allowed to live as a free man.
Xu, the founder of "New Citizens' Movement," which seeks to promote citizens' rights and fight corruption, was released from his jail on Beijing's outskirts Saturday morning, and was in good health, according to Reuters.
The 44-year-old activist's supporters fear that the authorities will keep him under close watch or effective house arrest, even as some social media posts said security guards and plain-clothed officers barred people from visiting him at his home after his release.
"I hope he will be completely free," Xu's lawyer, Zhang Qingfang, was quoted as saying.
When Xu hear about the recent death of fellow activist and Nobel Peace Prize laureate, Liu Xiaobo, he was upset, Zhang said.
The communist government detained Xu in 2013, and a court later convicted him of "gathering a crowd to disturb public order."
Xu had refused to defend himself in court, as he said the trial had been rigged. Foreign diplomats and journalists were not allowed to attend his trial.
At the end of his trial, Xu gave a speech, in which he also talked about his Christian faith.
"Freedom, justice, and love, these are our core values and what guides us in action," he said in the speech. "You may find my ideas too far-out, too unrealistic, but I believe in the power of faith, and in the power of the truth, compassion and beauty that exists in the depths of the human soul, just as I believe human civilization is advancing mightily like a tide."
He said, "My decision comes at a time when my child has just been born, when my family needs me most, and when I yearn to be there by their side. After years now of witnessing the bitter struggles of the innocent and downtrodden, I remain unable to control my own sorrow — or, try as I might, to remain silent."
He added, "Do not say you're constrained by the bigger picture, because the bigger picture in China is not an order from above, but the letter of the law. Do not say you merely follow the logic of laws as you sentence me, and do not forget those sacred rights afforded all by law. Do not say this is just your job, or that you're innocent, because each and every one of us is ultimately responsible for our own actions and we must at all times remain faithful to our own conscience."
After the sentencing, Maya Wang of Human Rights Watch said, "Xu Zhiyong was very moderate, and was accused of bending over backwards to meet the other side. This heavy sentence will be seen as a slap in the face for that group of activists who have tried to put out a moderate message."
Spokesman Nolan Barkhouse of the U.S. Embassy also released a statement at the time, saying, "We are concerned that today's conviction is retribution for Xu's public campaign to expose official corruption and for the peaceful expression of his views."
The Chinese government also routinely arrests and cracks down on Christians.
Bob Fu, founder and president of China Aid, an organization that documents persecution of Christians in China, earlier told The Christian Post that "the top leadership is increasingly worried about the rapid growth of Christian faith and their public presence, and their social influence. It is a political fear for the Communist Party, as the number of Christians in the country far outnumber the members of the Party."