China's Persecuted Churches Forced to Hand Over Donations to Communist Regime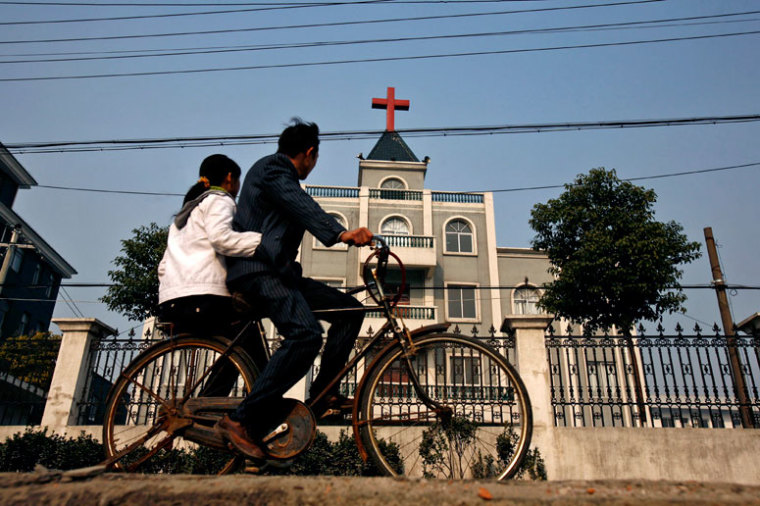 The Communist Party in China's coastal Zhejiang province is forcing persecuted Christian churches to hand over all of their tithes and donations to government officials, reports have said.
Many of these same churches that have had their rooftop crosses forcefully removed are now being forced to display the Communist flag where the crosses once stood.
China Aid, which has been reporting on the ever increasing persecution against churches in the past few years, said the government's orders are part of a move to crackdown on Christians by imposing regulations.
The watchdog group explained in its report late last week that the Communist government has been forcing houses of worship to implement its "five transformations" plan, which consist of "localizing religion (through adopting local architectural styles for church buildings), standardizing management, indigenizing theology (by contextualizing sermons), financial transparency and adapting Christian teachings," to reflect the desires of the ruling Communist Party.
Churches in Pingyang County, Wenzhou, have additionally been told that they must submit all of their donated money to state officials.
One local Christian who wasn't named said government officials are interfering with church affairs, managing the donations they receive and taking over large-scale projects.
"We have to obtain their (the government's) permission if we would like to buy equipment or decorate the church. We will have to ask for permission for any expenses more than a few thousand yuan ($300)," the Christian said.
What is more, government officials have been demanding to speak to congregations during church services, and for churches to set up tables for them.
The Chinese government has been engaging in the past couple of years in an ongoing church rooftop cross demolition campaign, and has brought down thousands of such crosses, insisting the decisions are made in order to force churches to comply with building safety codes.
Hundreds of pastors, human rights lawyers, and Christian church members have been arrested for protesting against the campaign, and accuse the government of trying to suppress the growth of Christianity in the country.
Some human rights advocates who have been released from prison have spoken out about the abuse they suffered at the hands of Chinese authorities, with 52-year-old Gao Zhisheng revealing in a memoir earlier in June that it was his Christian faith that gave him the strength to survive.
Zhisheng, who spent nearly three years in solitary confinement for standing up against the government's various human rights abuses, explained in his memoir that it was "his Christian faith and his unwavering hope for China that sustained him in that period of isolation."