Chivalry Is Not Dead; Girls, Don't Let Men Disrespect You in Relationships, Says for King & Country Joel Smallbone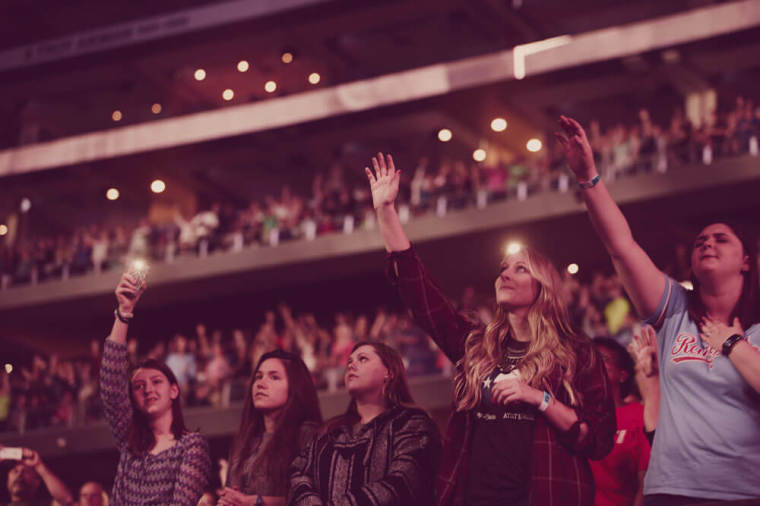 ANAHEIM, California – for King & Country's Joel Smallbone decided to leave the stage to wade through the crowd of thousands of people just to exhort the men to treat the women in their lives with respect during a performance at Harvest SoCal Friday night in Angel Stadium.
While singing their hit song "It's Not Over Yet," Joel Smallbone began walking on top of the dugout to address some 32,000 attendees in a more up-close-and-personal way (brother Luke remained and sang from the stage).
Both men are particularly interested in reviving chivalry among men.
"One of the things that we share every opportunity that we can is to you girls here tonight, young and old: Girls, know that you deserve to be treated with the utmost respect and honor. Don't let anybody disrespect you in your relationships," Smallbone told the crowd.
He then had a word for the men.
"Fellas, I remind myself and each of you tonight," he continued, "[the view] has become prevalent that women are objects that it is ok to give in to any and every physical impulse...but I want to challenge us in this: Men, let's not love ordinarily, let's love extraordinarily."
"Chivalry is alive and well!" he declared to thousands of cheers and much applause, particularly from women in attendance.
The Smallbone brothers, who form the Christian pop duo for King & Country, are originally from Sydney, Australia but moved to Nashville, Tennessee in 1991.
Smallbone then informed the crowd about an upcoming movie he is both acting in and co-producing, called Priceless.
From its website describing the synopsis, Priceless is a drama that is based on true events that tells the story of James Stevens "who was a man who was, at one time, a good man with a great life – but that was then and this is now. After the tragic death of his wife and losing custody of his little girl, James is at the darkest crossroad of his life. Angry, desperate, and unable to hold down a steady job, he agrees to drive a box truck on a shady, one-time trip cross country for cash – no questions asked. But when he discovers what he is delivering is actually who, he is compelled to save two beautiful and frightened sisters who are unaware of the danger that awaits them."
David Smallbone and Luke Smallbone are the executive producers, and Jacob Fink is co-producer. Roadside Attractions is set to release the film in theatres nationwide on October 14.
Harvest SoCal will take place from Aug. 26-28 each night in Angel Stadium in Anaheim and is sponsored by Harvest Crusades, the outreach branch of Pastor Greg Laurie's Harvest Christian Fellowship.