Chris Brown Neck Tattoo Of Rihanna's Face? (PHOTO)
Chris Brown has reportedly denied that his new neck tattoo is in honor of Rihanna, despite it having an uncanny resemblance to the pop singer.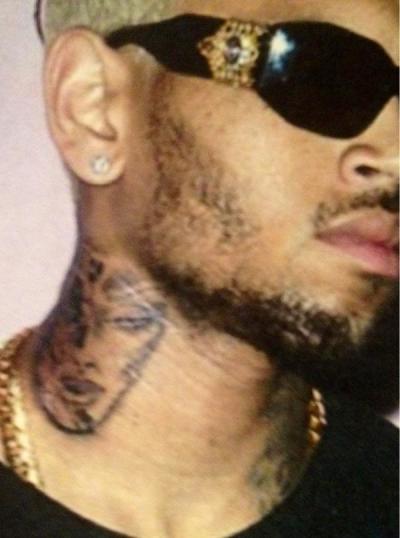 The singer was photographed on Sept. 1st showing off the new ink at an event where onlookers speculated whether the female face that Brown had tattooed was of his ex-girlfriend. Sources close to Brown reportedly insisted that the tattoo is not of Rihanna, telling TMZ.com that "it's [of] a random woman."
The tattoo speculation came just days before Brown, 23, and Rihanna, 24, shocked the public by sharing a kiss at the 2012 MTV Video Music awards on Thursday.
Brown, who has been romantically linked to 24-year-old model Karrueche Tran in recent months, allegedly decided to attend the event at the very last minute as per Rihanna's personal request. In an unexpected twist, Brown publicly congratulated the "Where Have You Been" singer with a kiss after she won the awards for Best Video Of The Year.
The exes have been faced with rumors of a reconciliation for several months, and the speculation was fueled in August when Rihanna professed her love for Brown in an interview with Oprah Winfrey.
The Bajan singer admitted that she and Brown have rebuilt trust, following their public split in 2009, and that they still spend quality time together despite his relationship with Tran.
"I still love him. We're very, very close friends. We built a trust again and that's it. We love each other and we probably always will," Rihanna openly told Winfrey on "Oprah's Next Chapter."
"I think he was the love of my life. He was the first love and I see that he loved me the same way. We were very young and very spontaneous. We ran free. We ran wild. We were falling in love going in at a really rapid pace and we forgot about ourselves as individuals," she went on.
Rihanna ended her 2-year relationship with and Brown in 2009 after he assaulted her during a dispute. The incident saw Brown convicted of domestic assault and surprisingly has not deterred Rihanna from associating with him.
Chris Brown and Rihanna Kiss On the Lips at VMA's 2012