Christian Aid Group to Combat US Poverty With Two-Year 'Convoy of Hope' Tour
Convoy of Hope Senior Director Explains Unprecedented, $50M Initiative
A new $50 million dollar initiative designed to help people and communities across the U.S. experience a day free of poverty is being launched this weekend by faith-based organization Convoy of Hope.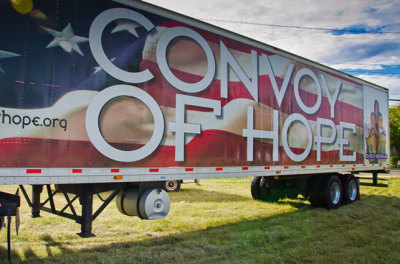 The initiative, called "The Convoy of Hope," is a two-year outreach tour across 50 states that seeks to unite churches, nonprofits, local governments, communities and others to assist individuals and families struggling to cope with economic hardship.
Convoy of Hope is a Christian nonprofit organization that has served over 50 million people in more than 100 countries around the world, but "The Convoy of Hope" tour was inspired by the growing levels of poverty at home – here in the United States.
"In this economy there are so many new faces of poverty – people who never thought they would need help," Hal Donaldson, founder and president of the organization, has said.
Today, 46 million Americans are living in poverty and some 50 million are without health insurance. In 2010, more Americans became dependent on government assistance for basic survival than at any other time in U.S. history and the national poverty rate rose to 15.1 percent, according to the U.S. Census Bureau.
Additionally, hunger-relief charity Feed America argues that food insecurity impacts families in every state across the nation, and a 2010 Hormel Hunger Survey found that 25 percent of Americans personally know someone who has been forced to choose between buying food or paying bills.
Thus, Convoy of Hope's new 50-state tour hopes to "shine a spotlight" on the growing levels of poverty in the U.S.
"We've been a best keep secret and we don't mind not getting a lot of attention ourselves, but what we do mind is people not understanding the level of poverty in the U.S. and that's the reason we've pledged to do this 50-state, $50 million dollar tour called 'The Convoy of Hope,' because we really want to bring hope to people," Jeff Nene, Senior Director of Convoy of Hope, told The Christian Post.
On average, $1 million worth of goods and services will be provided at the community outreach events and over 50,000 volunteers and thousands of churches will be involved in the two-year tour.
"We've been doing outreach events like this for 15 years or more and they are really designed to try to help people living in poverty. It's a real neighbors-helping-neighbors kind of event," Nene said.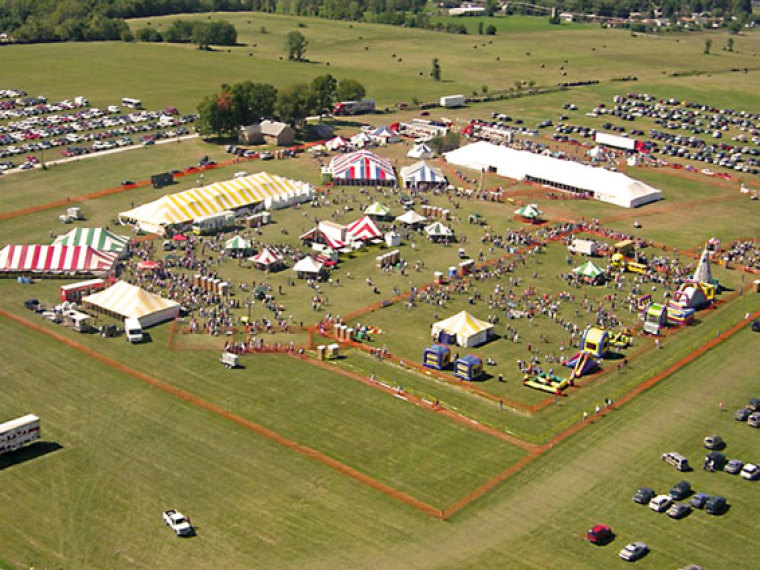 From the outside, "The Convoy of Hope" location site looks like a carnival bustling with games, bounce houses, and opportunities for young children to enjoy themselves. For thier parents, there are job counseling and hair cutting tents. Some outreach events also have professional photographers on hand to take free family portraits. All adults leave the event with two full bags of groceries – stocked with several days worth of food.
"We want to provide a day free from poverty and sometimes that one day is enough to give people hope," Nene told CP.
Beyond offering food and access to a day of fun-filled and potential life-changing activities, Convoy of Hope works with social service agencies and medical doctors in local communities to set up information tents to educate people about the various services available to them, and also offer various types of medical screenings.
This year, Convoy of Hope is particularly thrilled to be partnering with the National Breast Cancer Foundation who will be on hand during "The Convoy of Hope" tour at select cities to provide free breast health screenings and counseling.
"The statistics on women in poverty with breast cancer and women with means with breast cancer are astoundingly different," Nene said.
"We find that there's a lot of single moms that come to these outreach events. You can imagine if a mother can't afford to feed her children as much as she would like, she in most cases certainly is not going to spend money searching for a health problem that she doesn't know is there."
The services offered at each outreach event vary from city to city, but everything is absolutely free and Convoy of Hope welcomes anyone who attends – without question, according to Nene.
Church connections tents will also be onsite to give people the opportunity to explore churches in their community. Although Convoy of Hope is a faith-based organization, people of all faiths are welcome to participate in the outreach events and no one is required or forced to go into the church connections tent.
"Our faith is the reason we do what we do, we don't let it dictate who we work with," Nene told CP. "We reach out to people of all faiths and all are welcome, but we will not force someone to change their way of thinking in matters of faith. It's just about doing what we feel we are called to do and the Bible talks a great deal about helping the poor and that's why we do it."
The central purpose of "The Convoy of Hope" tour is to build partnerships among local governments, community members, churches, and nonprofit groups and to connect them to those in their communities who are struggling financially in hopes of enabling sustainable and lasting change.
"The real key to it all is the local involvement," Nene said.
"One of the best success stories we've had is in the city of Detroit where we've had for over 10 years now what they call the Detroit Partnership, which is those different entities, churches, businesses, and community agencies coming together and holding events and reaching out to people every year, whether Convoy of Hope is there or not."
"That's what we hope happens in every community," he added. "We hope that when we do this event it becomes a catalyst for an ongoing effort in each and every community."
"The Convoy of Hope" tour begins May 12 in Dallas, Texas. Visit Convoy of Hope's website for updates on future stops on the tour.