Christian Author Jefferson Bethke and Wife Expecting Second Child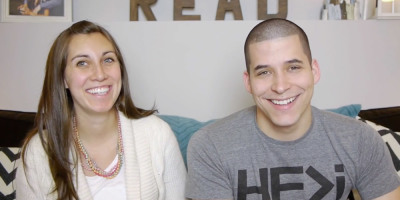 Inspirational speaker and Christian author Jefferson Bethke recently announced via social media that he and his wife, Alyssa Joy, are expecting their second child together.
Bethke, who is known for attracting viewers with his inspirational YouTube videos, recently announced via Instagram and he and Joy are expecting a boy.
The two, who recently moved to Maui, already have a two-year-old daughter named Kinsley.
The inspirational speaker recently shared a photo of himself, his wife and his two-year-old daughter walking on the beach in Maui with the caption: "I genuinely get giddy when I'm at the airport one flight away from being back home with these two ladies (oh and the little boy on the way. Did I mention that yet?)."
Bethke has long been outspoken about the importance of being a good husband and father. When his daughter was born in May 2014, he wrote an open letter to her and then read the letter in a video posted to his YouTube channel.
"Life is scary it's tough and it's hard — but the trade-off of life is also very awesome. Like you literally are a living and breathing human being with a heart, brain, creativity, intuition and more. How awesome and rad is that?" Bethke writes in the letter, adding "No matter what happens I'll always be there for you. I promise."
"I'll be there when you take your first step. I'll be there when you ride your first bike. I'll be there when your first boyfriend breaks up with you and you think the world is going to end. I'll be there even if you get to a point where you want nothing to do with your mom and I for a season. I hope that's never the case but even if it is I'll be here with open arms," he adds.
Bethke also said in a September 2014 interview with The Porch that fatherhood has taught him about God's love.
"The first one — what it's taught me about God — is just this idea that God's a Father," Bethke said when asked about how fatherhood has changed him. "There's nothing Kinsley had to do to get my love. When she was born I didn't have to put her under a contract or say 'you're on probation' or whatever. And what's crazy is when they're a baby they literally — not to say it kind of blunt — but they literally do nothing. They literally eat, poop, and sleep. But I'm still so in love with her. So what that teaches us about the heart of God is really beautiful," Bethke said,
"And then also when you're having full responsibility over someone like that, I think that is a huge part, too. Life doesn't exist for me. There's someone that really depends on me. There's Alyssa and Kinsley. So it's really making me very selfless," Bethke added.
Bethke's wife, Alyssa, has also spoken out on the importance of fatherhood on her personal blog.
"Fatherhood is a lost art in our culture today. So many kids grow up without their dads in their lives — whether they're physically absent or emotionally absent. Not available. Not truly present; not engaging," Alyssa wrote on her blog in October 2014.
"But with Jesus, that can flip upside down. There is a new rhythm in His Kingdom. A new standard. One way God has chosen to reveal Himself to us is through fathers. He is our Heavenly Father. He has a Father's heart and is all about restoring the family to what He originally designed," she continued, adding "Set a standard for their daughters in what to look for in a man. Live out forgiveness, mercy and grace. Speak truth over them. To reflect God's heart for their children."