Christian Baker Jack Phillips Responds to Being Compared to Nazis in the Holocaust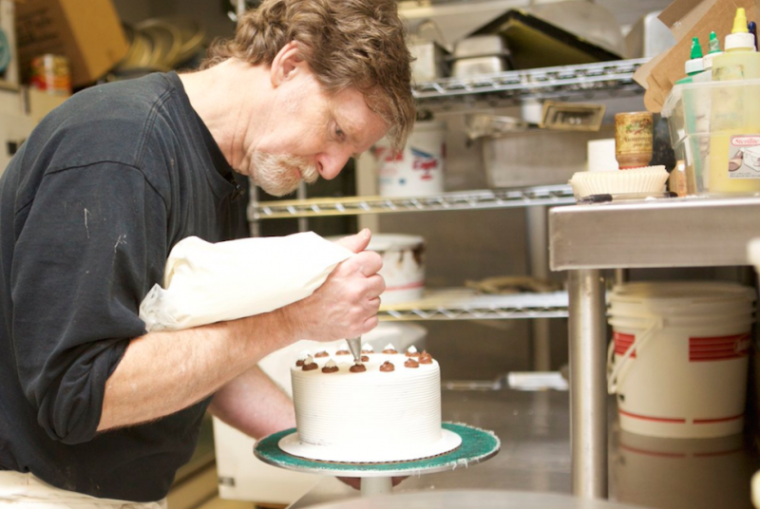 A Christian baker from Colorado is responding to a state government official who compared his argument for religious freedom to those who perpetrated the Holocaust.
In an interview with The Daily Signal on Tuesday, Jack Phillips, a Denver-area bakery owner whose case will be heard by the U.S. Supreme Court later this year, explained that many people have called him all kinds of ugly things because he declined to bake a cake for a same-sex wedding even though he serves gay customers.
Providing services for such a ceremony violates his conscience, given his theological views about marriage, and he maintains that it's a violation of the First Amendment's guarantee of religious freedom.
"I serve everybody," he explains in the video. "I just don't make cakes for every event."
In addition to not baking cakes for same-sex weddings, "Phillips will not design cakes that celebrate Halloween; express anti-family themes (such as a cake glorifying divorce); contain hateful, vulgar, or profane messages (such as a cake disparaging gays and lesbians); or promote atheism, racism, or indecency," notes Alliance Defending Freedom's opening brief in its appeal to the Supreme Court in the case Masterpiece Cakeshop v. Colorado Civil Rights Commission.
In 2014, Colorado's Civil Rights Commissioner Dianne Rice claimed that freedom of religion has been employed to justify atrocities such as slavery and the Holocaust, arguing that Phillips' words constitute "one of the most despicable pieces of rhetoric that people can use — to use their religion to hurt others."
Little did Rice know of Phillips' family history.
"That was particularly offensive to me," Phillips said of the commissioner's words, explaining that his dad was a soldier in World War II who landed in Omaha Beach at Normandy and ended up being part of the group that liberated Buchenwald, a Nazi concentration camp Germany.
"I don't have the vocabulary for it but for someone to compare trying to live by your faith to the person who brought on the Holocaust or to slave owners it's just — it's insulting. It's ridiculous. I don't have the word for it, but it's wrong," he told The Daily Signal.
He went on to explain that when he opened Masterpiece Cakeshop, his bakery since 1993, his dad came in every day. His father left Phillips with WWII books that included his personal notes about his experience fighting in the war, and the grisly scenes he saw firsthand.
Phillips added that he believes his father, who is deceased, would be proud of him for taking a stand but thinks "he would be upset with the way the government is treating the freedoms that he fought for."
"My situation has nothing to do with the Nazis. It has nothing to do with racism. I want to run my bakery in a way everyone who comes in is welcome. I don't care what their political persuasions are. God created lots of people. He created every one of them. And He wants us to show His love to them," he added.
In an interview with The Christian Post in 2014, Phillips said he felt as though his constitutional rights were being subverted.
"My First Amendment rights protect my freedom of religion and my freedom of speech. The Supreme Court generally rules that art is speech, and in that way they are trying to take away two of my primary constitutional rights," Phillips said.
He added, "My faith in Jesus Christ comes before my need to bake cakes for a living, and if I have to close down the bakery and pursue another line of work, I would do that before I would compromise my faith."