Christian Churches, Relief Groups Helping Thousands in Texas Floods Resembling 'War-Zone'
Various Christian churches, charities, and relief organizations are on the ground helping thousands of people affected by the historic flooding in Texas caused by Tropical Storm Harvey, which has left at least six people dead.
Convoy of Hope shared photos and updates of its disaster relief work with The Christian Post, stating in a note that it served "more than 1,000 families" at its distribution site in Victoria on Monday.
"The team is operating their distribution site from a 9,000-square-foot tent in Victoria, Texas, and will set up a drive-through point of distribution today," the group said on its website.
"The focus right now is on distributing food, water and hygiene items, as tens of thousands of people are without power and water, and could be for several days," it added.
"We are also distributing product to families in Aransas Pass and Ingleside. The team will continue operating from Victoria in the coming days and will move eastward into Houston as they safely can."
Pastor Gregg Matte of Houston's First Baptist Church delivered a live video update on Facebook on the situation in the city, which is one of the hardest hit in the region.
"It's like a war-zone in Houston, it's incredible. There's people rescuing people, which is amazing. I've heard of three or four boat rescues just from our own church members," Matte said.
"I've been trying to call every church member that has had their house flooded, and I cannot keep up anymore," he added.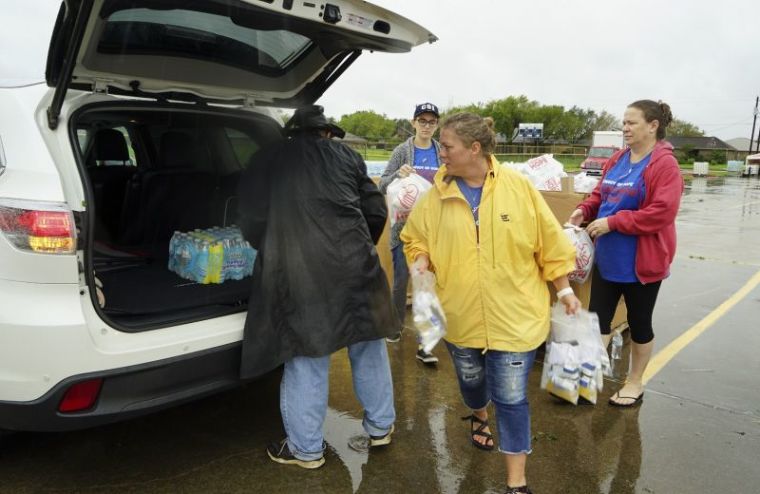 The pastor noted that his church is usually the one that sends help to people in other places, but they are the ones now that need help.
"It's a weird thing to be in a place where you're receiving rather than giving," Matte continued.
"We're humble enough. We need the help of the Lord, we need the help of [our] brothers in Christ."
He asked for people to pray that the rain stops and that the dams hold. For those wishing to help, he said that the church needs people to come; it needs supplies to be able to give to those in need; along with monetary resources to deal with everything that is happening.
The Associated Press reported that at least six deaths have been linked to the storm so far, which is the strongest to hit the U.S. in more than a decade.
Greg Postel, hurricane specialist for The Weather Channel, added that the flooding in the Houston area "could be the worst flooding disaster in U.S. history."
Houston has seen more than 3,000 people evacuated, but according to Mayor Sylvester Turner more than 100,000 remain without power.
Texas Gov. Greg Abbott has activated all 12,000 Texas National Guard members to respond to over 2 feet of rain in the Houston metro areas, with the National Weather Service calling it "beyond anything experienced before."
Weather.com senior meteorologist Jon Erdman warned that five waterways have already crested to their highest levels.
"The heaviest rain early Monday morning extended from near Beaumont/Port Arthur, Texas, into far southwestern Louisiana, with radar rain rates estimated over 4 inches per hour over in some spots," Erdman said.
"Rain is still falling over parts of the Houston metro area, mainly in Fort Bend and southern Harris Counties, but is much less intense than we saw during the weekend."
Chaplains and relief workers from the Billy Graham Rapid Response Team said people are in shock, and "full of fear."
"They're concerned whether or not they'll have a home to move back into. In some cases, they've left medications behind. In some cases, they've had to leave pets behind," said Jack Munday, international director of RRT.
"This is a terrible, terrible situation for people to have to live with," Munday added.
He added that people are asking questions about God in the midst of the tragedy.
"When we talk to people, it makes no difference who they are or their religious background," he continued. "They still need to know that God loves them, and that's our mission in a time like this: to help bring them comfort."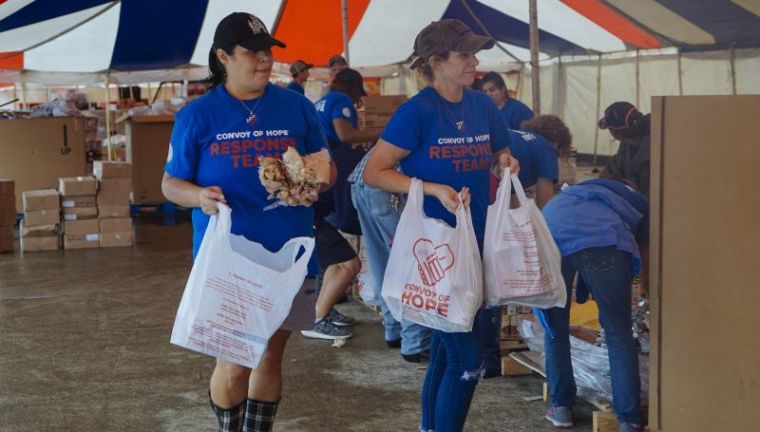 Several Roman Catholic groups, including the Society of St. Vincent de Paul Disaster Services and Catholic Charities USA, have also said that they've been mobilizing to help as many people as possible affected by Harvey, Catholic News Service reported.
"The effects of this storm continue to put people in harm's way, with horrific scenes playing out all around, such as those of people trapped on their rooftops as water continues to rise around them. Many dioceses of the Church in the United States have been affected; many others will be as the storm continues," said Cardinal Daniel N. DiNardo, president of the U.S. Conference of Catholic Bishops, who's also the head of the Archdiocese of Galveston-Houston, one of the hardest-hit areas.
DiNardo added that additional storm damage and flooding is expected in coming days, along with high winds and tornado warnings.
He asked for prayers for relief workers and volunteers who are out in the dangerous conditions, and asked God to "have mercy on those affected by Hurricane Harvey."