Christian Ex-Jakarta Governor Jailed on Blasphemy Charges Refuses Parole, Hopes for Early Release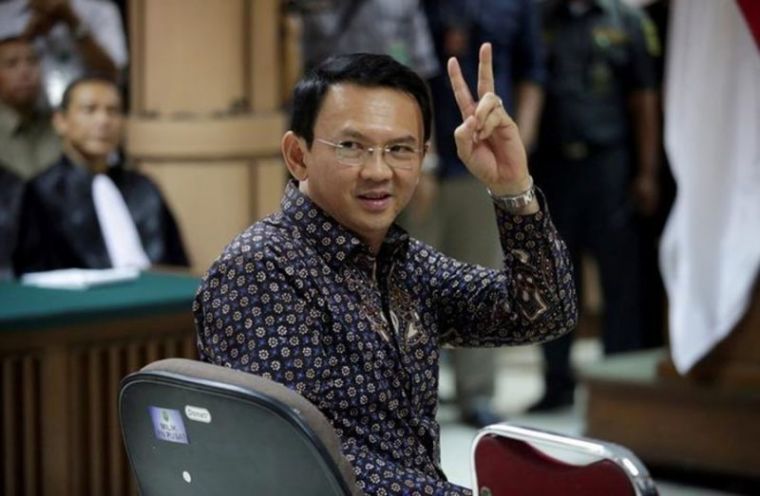 The former Christian governor of the capital of the world's largest Muslim country who was convicted and jailed on trumped-up blasphemy charges last year plans to refuse parole and is hoping to be granted an early release.
Fifi Lety Indra, the sister of Basuki Tjahaja Purnama, the former governor of Jakarta, Indonesia, posted on her Instagram account on Wednesday that her brother won't take parole when he's eligible in August because there's hope he might be released early from his two-year sentence.
Purnama, who's better known by the name "Ahok," was sentenced to prison last May after he was found guilty of blasphemy. The then-governor was put on trial after a doctored video emerged that purported to show him insulting Islam while speaking in September 2016 during his re-election campaign. 
"Today, many WhatsApp messages and phone calls asked me the same question: Is it true that Pak Ahok can actually be released on parole in August?" Purnama's sister said in her post, according to a translation from The Jakarta Post. "The answer is yes, but he @basukibtp decided not to take it and prefers to wait until he finishes his term."
Speculation about parole for Purnama occurred as Director General of Corrections Sri Puguh Budi Utami declared on Tuesday that Purnama was eligible for parole in August. Under the terms of parole, Purnama would be released for up to four hours a day.
"The main thing is that Ahok has served two-thirds of his incarceration and maintained to be cooperative nine months prior to serving two-thirds of his time in prison," Law and Human Rights Ministry's Directorate General of Correctional spokesman Ade Kusmanto explained on Wednesday.
Purnama is being held at the the Cipinang 1 detention center in East Jakarta. According to Kusmanto, the prison has not submitted Ahok's parole proposal.
According to the Straits Times, Purnama's sister explained in her post that there is a possibility that her brother could actually be granted early release as early as next month if he's awarded enough remission for good behavior.
"But rather than [speculate], let's wait for the exact count in August," Indra was quoted as writing.
Purnama was reportedly given remission for the Christmas holiday last year and could have more time scrubbed from his sentence for Independence Day celebrations on Aug. 17.
The charges against Purnama presented an obstacle for the former governor, who lost his re-election campaign weeks before being sentenced.
The accusation of blasphemy stemmed from a comment he made during a September 2016 speech at the Thousand Islands Regency where he accused his opponents of misusing the Quran to discourage people from voting for a Christian. However, a fabricated video of the remark posted online made it appear as though he was saying that the Quran is wrong.
The video enraged tens of thousands of hardline Muslims who protested in the streets and called for the governor to be prosecuted.
The man who admitted to doctoring the video — a communications professor at the London School in Central Jakarta — was sentenced to 18 months in prison in November 2017 for violating the electronic communications law.
"Buni Yani created chaos," one of Ahok's lawyers, I Wayan Sudirta, was quoted as saying at the time. "With this sentence, Pak Ahok shouldn't have been punished at all."
It has been a rough few years for Purnama. In addition to losing his re-election campaign and being sentenced to prison, the former governor also filed for divorce from his wife, who he accused of having an affair.
Indonesia ranks as the 38th-worst country in the world when it comes to Christian persecution, according to Open Doors USA's 2018 World Watch List.
Earlier this year, an Indonesian pastor was sentenced to four years in prison for sharing his faith with a taxi driver after a judge ruled that he violated a law by spreading information intended to incite hatred on the basis of religion.