Christian group praises Biden for 'standing up' to Turkey in recognizing Armenian genocide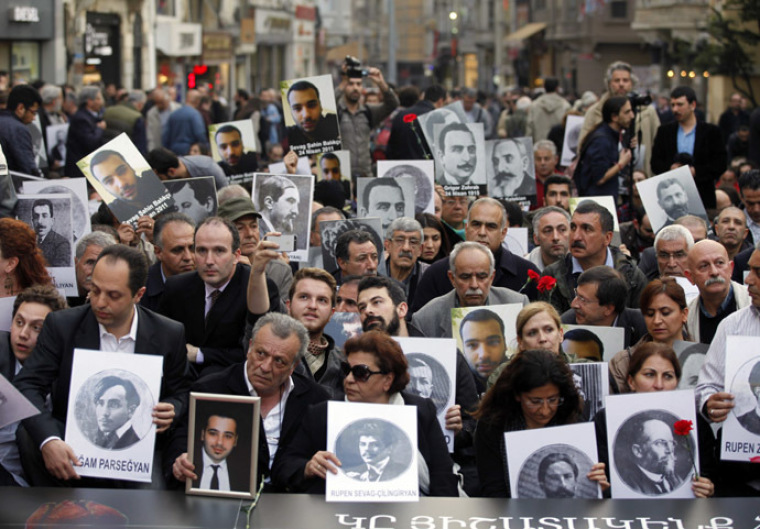 A U.S.-based Christian group has commended President Joe Biden for "standing up" to Turkey and becoming the first president since Ronald Reagan to recognize the 1915 Armenian genocide on Saturday, the 106th anniversary of when the Ottoman Empire (modern Turkey) began to massacre its Armenian Christian minority, resulting in 1.5 million deaths.
"President Biden is the only president since Ronald Reagan to refer to this mass atrocity perpetuated by Ottoman-era Turkish authorities against Armenian Christians as a genocide," persecution watchdog group International Christian Concern said in a statement. 
Biden's predecessors have chosen not to use the word genocide in annual statements on Armenian Genocide Remembrance Day "due to pressure from the Turkish government," ICC charged.
Biden, ICC said, discussed his decision to make the designation on a call with Turkish President Recep Tayyip Erdogan on Friday, the first call between the two since Biden took office in January.
The designation is significant, ICC suggested, because the "Turkish government has failed to take responsibility and has actively denied their role in this, allowing them to pursue genocidal policies against Armenians such as in Nagorno-Karabakh," a conflict that started in the 1980s when the Soviet Union began to fall apart.
The Nagorno-Karabakh region, a landlocked region in the South Caucasus, is recognized internationally as part of Muslim-majority Azerbaijan even though it has a majority Armenian population and is controlled by ethnic Armenians. Turkey supported Azerbaijan's aggressions against Armenians living in Nagorno-Karabakh, ICC noted.
"Azerbaijani troops alongside Turkish-paid Syrian mercenaries invaded the region and took control after a Russian-brokered ceasefire agreement in December," ICC added. "Evidence of violence against Armenian civilians and destruction of religious sites during this conflict suggests some religious and ethnic hatred towards Armenian Christians still held by many, reminiscent of the genocide over a century ago."
While Russia brokered a ceasefire in 1994, clashes reignited last September, with both sides accusing each other of targeting civilian communities. The fighting ended in November with Armenia agreeing to a peace deal brokered by Russia.
Speaking to PBS, Alex Hinton, director of Rutgers University's Center for the Study of Genocide and Human Rights, called the recognition "absolutely momentous for the victims."
He added, "But I think more broadly, it's something that's momentous for all of us, you know, in terms of human rights. One of the principles that guides us and guides our countries, it's centered around respect for the dignity of the person."
The United States Commission on International Religious Freedom also welcomed Biden's move.
"As we remember and commemorate the many lives lost, we also recognize the tireless efforts of survivors, their descendants, and so many others to finally and firmly place the United States on the right side of that terrible history," USCIRF Chair Gayle Manchin said in a statement.
USCIRF Vice Chair Tony Perkins added, "While we hope that this brings some solace and consolation to Armenians around the world who have fought for this day, we also hope that it will portend greater reflection and a renewed commitment to speak up and stand against the perpetration of crimes against humanity everywhere."
ICC's Advocacy Director, Matias Perttula, explained that "Armenian Christians continue to suffer because of the systematic Ottoman campaign of 1915, and the United States owes it to the Armenian community to stand with them in solidarity by recognizing their suffering."
"As heirs to the oldest Christian nation, Armenians are an integral part of the global community of Christians and ought to enjoy freedom from persecution," Perttula added.
Turkish officials condemned Biden's statement.
"We have nothing to learn from anybody on our own past. Political opportunism is the greatest betrayal to peace and justice. We entirely reject this statement based solely on populism," Turkey's Minister of Foreign Affairs tweeted.
Turkey's Foreign Minister Mevlut Cavusoglu had said in a television interview Tuesday that such a declaration by Biden would only harm ties, The Wall Street Journal reported.