Christian Groups Respond to LGBT-Themed Public Schools 'Day of Silence' With Christ-Centered 'Day of Dialogue'
Various conservative groups are offering diverse responses to the LGBT-themed public schools event on Friday known as the "Day of Silence," by either urging parents to keep their children home from school or by participating in the "Day of Dialogue" that encourages Christian students to share biblical views on sexual ethics.
Held every April, the Day of Silence is championed by the LGBT advocacy group GLSEN and boasts a participation rate in the hundreds of thousands.
"GLSEN's Day of Silence is one of the largest student-led actions in the country, with students from more than 8,000 middle and high schools, colleges and universities ... This quiet but powerful, student-led action raises awareness about the silencing effect of anti-LGBT bullying, harassment and discrimination," GLSEN notes in a press release shared with The Christian Post.
While the Day of Silence will be observed on Friday, the conservative Christian group Focus on the Family will hold a "Day of Dialogue" in response to GLSEN's public schools event.
Thursday's Day of Dialogue observance focuses on Christian students speaking up for what they believe, including biblical views on sexual ethics.
Candi Cushman, education analyst for Focus on the Family and facilitator for the Day of Dialogue, told CP that the event is meant to bring a Christian perspective to current hot button issues.
"Whether it's the Day of Silence — or another of the many, and increasing, efforts to endorse a form of sexual activism in classrooms — too often, these issues are promoted in a one-sided manner that leaves Christian students feeling like their deeply held beliefs are being marginalized," Cushman said.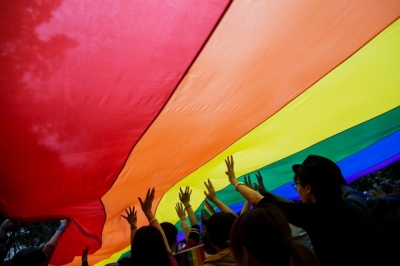 "So it's a response in the sense that Day of Dialogue wants to ensure Christian students have a place at the table and an equal opportunity to share their perspective in a loving and respectful manner."
Cushman also told CP that instead of students engaging in silence "we believe it's important to encourage open dialogue."
"We wholeheartedly believe that the truth rises to the surface when honest conversations and a free exchange of ideas are allowed to happen," Cushman said.
The first Day of Silence was held at the University of Virginia in 1996, with organizers estimating that as many as 8,000 schools have students who take part.
Other conservative groups, including Concerned Women for America CEO and President Penny Nance, have been critical of the motives behind the Day of Silence.
In a column for Breitbart published last week, Nance argued that if anyone is being shamed into silence it is critics of the "gay rights" movement, not LGBT youths.
"In light of all we know today, how the pro-LGBT radicals are bullying Christians into silence, it is almost comical to hear this propaganda still being peddled to our children," Nance wrote.
"How about the silencing of Mozilla's former CEO, Brendan Eich? Or the bullying of Barronelle Stutzman, the florist who is at risk of losing everything she has, including her home, her family business, and her life savings, because of her religious beliefs on marriage?"
In keeping with this viewpoint, the Illinois Family Institute is coordinating with organizations across the nation, including various CWA chapters, to have a walkout on the Day of Silence.
Laurie Higgins, cultural analyst with the Illinois Family Institute, told CP that the walkout was being held because "GLSEN is exploiting legitimate anti-bullying sentiment and captive audiences in public schools to advance leftist assumptions about the nature of homosexuality and the morality of volitional homoerotic activity."
"The ultimate goal of GLSEN is to use public education to eradicate conservative ontological and moral beliefs or make it socially and politically impossible to express them," Higgins asserted.
"GLSEN and its supporters within public schools seek to indoctrinate other people's children with homosexuality-affirming dogma, conflating conservative moral beliefs with hatred. In so doing, they actually foment hatred."
Higgins added that the IFI and its allies have been encouraging walkouts on the Day of Silence for the past eight years.
"We have no way of tracking numbers of students who are called out. That said, we have more coalition partners this year than any previous year," Higgins said.
The Day of Silence and the events being held in response come as debates over homosexual marriage and the extent of religious liberty garner national headlines.