Christian Ministry Worker and Father of 9 Is Among Those Killed by Arkansas Tornado
An employee of a Christian ministry and two of his daughters were among the dozens killed in a series of tornadoes that ravaged the South and parts of the Midwest earlier this week.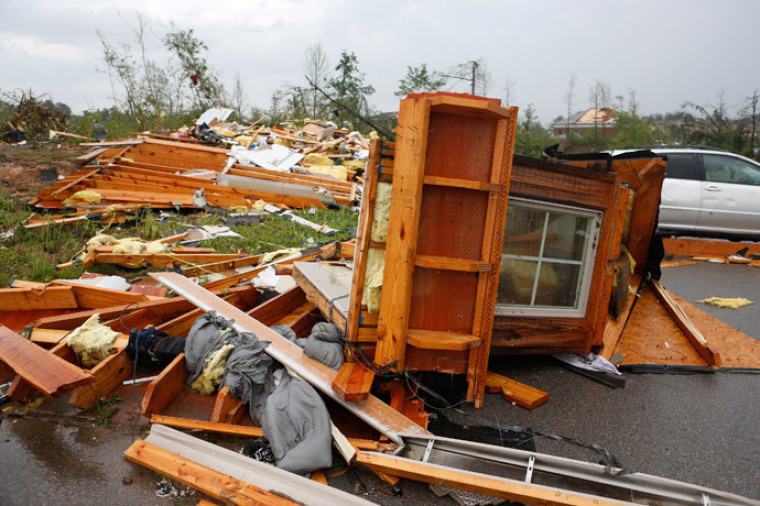 Rob Tittle, who worked at the Little Rock, Arkansas-based FamilyLife, was killed Sunday night along with two his daughters, Tori, 20, and Rebekah, 14.
Tittle, 48, left behind his wife, Kerry, and seven of the couple's other children. According to a statement from FamilyLife, Rob was in the process of leading his children to a stairwell when the tornado descended on their house. The Tittle's home was completely destroyed, only leaving behind a "grim grey slab of concrete."
In the aftermath of the storm, the Tittles' 19-year-old daughter wrote on Facebook that "my mom, and my six brothers/sisters are alright. We have lost three of our family. … Dad, Tori and Rebekah, prayers would be appreciated. The house is gone, stripped from the foundation. The Lord gives and the Lord takes away. Blessed be the Name of the Lord."
The Tittles' are not the only family from FamilyLife that the storm affected. The home of Dan and Nancy Butkowski, who also work for the Christian organization, "suffered roof and window damage and the tornado scattered more than 100 trees like matchsticks."
Another couple on staff, Dan and Kristin, lost their home and two vehicles, although the family's "six children, two dogs, a bunny rabbit, and a lizard" were unharmed after the father urged everyone into the master bedroom closet, which had been designed as a storm shelter.
After Dan exhorted any previously unrepentant family members to accept "Jesus Christ as your Lord and Savior," the storm passed. From the shelter the family was able to see that their home had been completely destroyed, and remained trapped in the room for 30 minutes until an emergency team arrived to release them.
"We mourn the loss of a good man and coworker and his two daughters, and at the same time we celebrate the survival of so many children and family members. The news could have been much worse. We are 'giving thanks always and for everything,'" FamilyLife founder Dennis Rainey wrote in a statement.
Rainey also shared advice posted by Tittles' 19-year-old daughter, who asked readers to appreciate the good around them while they still have it.
"Dear friends, Do one thing for me: hug your dad. Hold him tight and don't let go. That man is the greatest gift God gave to you. Tell him you love him; tell him you will always Love him," she wrote.
At least 34 people have died in Arkansas, Mississippi, Oklahoma, Iowa, Alabama and Tennessee, though Arkansas and Mississippi have received the brunt of the damage. President Barack Obama has declared Arkansas a major disaster area, which will allow federal funds to supplement state and local dollars.