Christian neighbor attempts to slay dragon Christmas yard display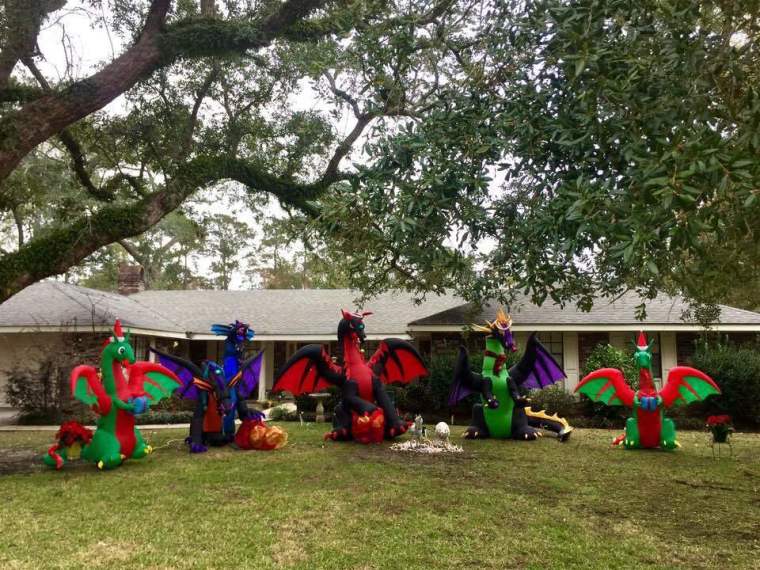 A Louisiana woman took to Twitter with a letter she received from an anonymous neighbor concerning her inflatable dragons Christmas decorations, which her neighbor claimed did not represent the "true meaning of Christmas."
Diana Rowland, an author whose books specialize in zombies and demons, has made it a yearly tradition to decorate her front yard with dragons for both Halloween and Christmas. This year, however, one of her neighbors decided to leave her a note that has since gone viral.
"Your dragon display is only marginally acceptable at Halloween," the note from the neighbor read. "It is totally inappropriate at Christmas. It makes your neighbors wonder if you are involved in a demonic cult."
Rowland "chortled" at the letter, according to BuzzFeed News. She then responded to the "hate mail" by adding halos and additional Christmas decor to her dragons.
"I did consider removing them for about a nanosecond, and then went, 'Nope,'" she said.
In the letter, the neighbor wrote that Rowland may need help understanding "the true meaning of Christmas," which is widely known to celebrate the birth of Jesus Christ, but the former detective turned fantasy author believes she is doing her part to spread delight this Christmas season.
"I think [the person who sent the note] misses the point about what Christmas is. Christmas is about joy. That's what it boils down to," she added. "If you're a Christian, you're feeling joy about the birth of Christ. We should all be looking for things to be joyful about."
Rowland pegged the note "judgemental" and posted it on social media for her followers. But to her surprise, it went viral and she received thousands of responses from people celebrating her choice of Christmas decorations.
"It's got more reactions than I ever expected," she maintained. "I think this obviously resonated with a lot of people. I think there are a lot of people who have experiences with bad neighbors."
Several people on Twitter vowed to send Rowland money through a crowdfunding site to help buy additional dragons as a response to her neighbor. While Rowland did update her lawn from three to now five festive dragons, she does not want people to send her money.
"I've been getting a lot of messages about fundraisers/collections to buy me MORE DRAGONS, but I would much rather any Dragon Army money be donated to a worthy charity of your choice. Let's make this holiday season about joy and charity for all. Thanks!!" she Tweeted.