Christian persecution expected to increase in 2019; believers facing 'modern-day jihad'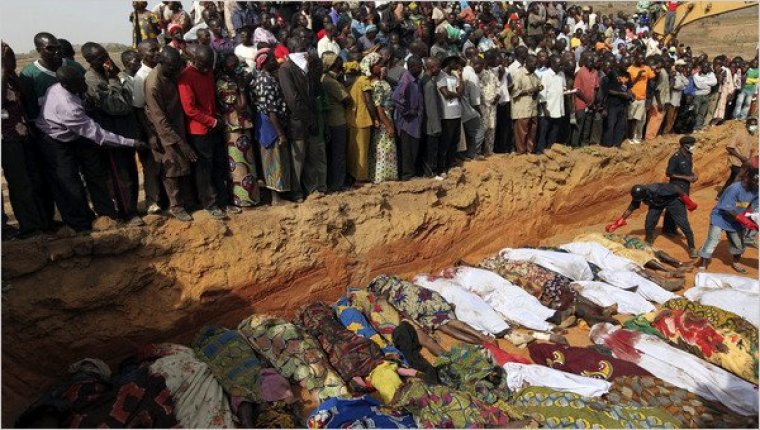 The persecution of Christians around the world is expected to increase in 2019, with a watchdog group sharing particular concern for believers in Nigeria, China, and India.
Release International, which is celebrating its 50th anniversary, said in a press release that 215 million believers face violence and discrimination for their faith.
"In Nigeria, Fulani militants look set to continue devastating attacks against Christians in the north and central Nigeria. In the first six months of 2018 alone, they killed up to 6,000 and drove 50,000 from their homes," the group said of the situation in the African country.
A Release partner, who wasn't named, said that there is a "deliberate plan to destroy and take over the predominantly Christian communities in the region." The source added that Christians are facing a "strategic modern-day jihad."
In June, the Christian Association of Nigeria and church denominational heads in Plateau State said that what is happening Nigeria is "pure genocide and must be stopped immediately."
Watchdogs, such as the International Society for Civil Liberties & the Rule of Law, separately warned that the Fulani attacks on Christians should not be confused for decades-long clashes between cattle herders and farmers.
Emeka Umeagbalasi, Board Chairman of Intersociety, told The Christian Post in August that believers have seen their churches burned down, and have been driven out en masse.
"How many Muslim farmers are being killed by Fulani herdsmen? How many Muslim homes have been destroyed or burned? The answer is in the negative. It has nothing to do with herdsmen-farmer clashes. It is false," Umeagbalasi told CP at the time.
The Communist government of China was also mentioned among the highest causes for concern, with new rules on regulating religion cracking down on churches, pastors and congregations throughout the country.
"The government wants to reduce Christianity to just a minor activity by unimportant older people," another Release partner warned.
In India, Release pointed to violent radical mobs that have stormed prayer meetings, ransacked churches, and beaten believers.
"Release is providing Bibles in local languages to replace those the militants destroy and is giving vital legal aid and support to pastors who have been arrested," the group revealed.
Other countries of particular concern for 2019 were listed as North Korea, Eritrea, and Pakistan.
Release's outlook for 2019 comes in the heels of U.K. Foreign Secretary Jeremy Hunt announcing that the British government will carry out a review of Christian persecution around the world.
Hunt said last week that while the U.K. has long championed international religious freedom, much more can be done to help Christians in troublesome regions in the world, such as in the Middle East.
"I am not convinced that our response to the threats facing this particular group has always matched the scale of the problem, nor taken account of the hard evidence that Christians often endure a disproportionate burden of persecution. Perhaps this is borne out of the very British sense of awkwardness at 'doing God,'" the foreign secretary suggested.
"Perhaps it's an awareness of our colonial history, or because Britain is a traditionally Christian country some are fearful of being seen to help Christians in desperate need," he added.
"Whatever the cause, we must never allow a misguided political correctness to inhibit our response to the persecution of any religious community."
Hunt shared that he has appointed the Bishop of Truro, the Rt. Rev. Philip Mounstephen, to lead a global review of the persecution of Christians.
"With Christianity on the verge of extinction in its birthplace, it is time for concerted action that begins to turn the tide," he added, referring to Middle East Christians.
"It is not in our national character to turn a blind eye to suffering. All religious minorities must be protected and the evidence demonstrates that in some countries, Christians face the greatest risk."
Paul Robinson, the CEO of Release International, welcomed the planned review.
"We back the call for the U.K. to do more to support the suffering Church worldwide," Robinson said.