Christian Secular Artists Dominate 2016 Grammy Award Nominations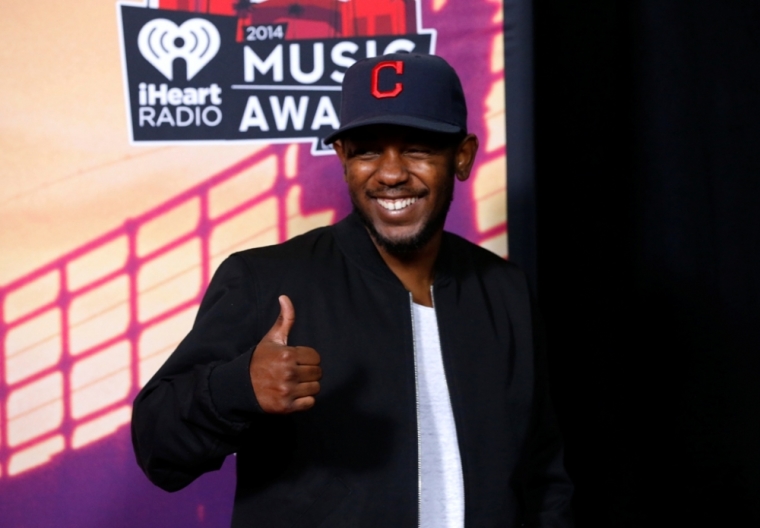 Outside of the gospel and contemporary Christian music categories, secular Christian recording artists who glorified God this year are dominating the list of Grammy Award nominations for one of the music industry's highest honors.
The 2016 Grammy nominations were announced Monday and rapper Kendrick Lamar led the pack of nominees in 11 categories, including "Album of the Year" and "Song of the Year." While the 28-year-old rapper may use profanity in his hard hitting rhymes, he also revealed that he believes in the rapture described in the Bible.
"We're in the last days, man — I truly in my heart believe that. It's written," Lamar revealed to Billboard earlier this year. "I could go on with biblical situations and things my grandma told me."
Songwriter and producer Pharrell Williams received two Grammy nominations for his work with Lamar on the song, "Alright." While he was nominated for three awards in all, the "Freedom" singer has also been vocal about his Christian beliefs and even performed at Emanuel AME Church in Charleston, South Carolina, five months after nine parishioners were brutally murdered by a white supremacist.
"We are grateful to be here in this place, in this building, and to be able to feel the spirit of resilience," the 42-year-old Grammy Award-winner told worshippers Nov. 1, according to The Post and Courier. "You've been hit by fire, rain, wind ... but it's still standing."
Nicki Minaj is another rapper who identifies as Christian and has recevied nominations for the 2016 Grammy Awards. Before her three nominations were announced, the 33-year-old hip-hop artist spoke about being in love with God's mercy.
"Blessed. Highly favored. Grateful," Minaj wrote on Twitter. "Thankful. In love. In love with the Lord's mercy."
Pop singer Tori Kelly has also expressed her faith in Jesus Christ and was recognized by the Grammys in the form of a nomination for "Best New Artist." In a Q&A session with her Twitter followers in October, Kelly was questioned if her song "Hollow" was about God.
"Absolutely," Kelly simply responded.
Tamar Braxton is another Christian singer who was nominated for one Grammy. The R&B singer-songwriter nominated for "Best R&B Performance" previously spoke about her relationship with Jesus being more important than her album sales.
"I'll take whatever you have for ME Jesus! It is good enough for me. ... GOD is good enough for me ... and you make it that I'm GOOD enough for ME," the 38-year-old singer wrote on Instagram. "Cause only YOU know what the end result is!! Thank you so much God and #tamartianfriends I'm just Grateful this album came out (if u only knew).
And Country singer Carrie Underwood, who frequently speaks about her family's Christian faith, has been nominated for a "Best Country Solo Performance" award for the song "Little Toy Guns." Earlier this year, the country music star won the Billboard Music Award for Top Christian Song with "Something in the Water."
The singer belts out faithful themes like baptism with the lyrics, "couldn't fight back the tears so I fell on my knees / Saying 'God if you're there come and rescue me.' Felt love pouring down from above / got washed in the water, washed in the blood and now I'm changed / now I'm stronger."
While secular Christian artists have been nominated in a variety of categories, contemporary Christian and gospel music artists were also recognized in the list of nominations below:
Best Gospel Performance/Song
• Worth [Live]
Anthony Brown & Group Therapy
Anthony Brown & Group Therapy; Anthony Brown, songwriter
Track from: Everyday Jesus [Live]
[Tyscot Records; Publisher(s): Key Of A Music/Tyscot Music]
• Wanna Be Happy?
Kirk Franklin
Kirk Franklin; Kirk Franklin, songwriter
[RCA Records/Fo Yo Soul Recordings; Publisher(s): Aunt Gertrude Music Publishing admin. by Universal Music-Brentwood Benson Songs and Irving Music, Inc. admin. by Universal Music Publishing]
• Intentional
Travis Greene
Travis Greene; Travis Greene, songwriter
[RCA Inspiration; Publisher(s): Greenlight InternationalVNavidavi Music]
• How Awesome Is Our God [Live]
Israel & Newbreed Featuring Yolanda Adams
Israel & Newbreed Featuring Yolanda Adams; Neville Diedericks, Israel Houghton & Meleasa Houghton, songwriters
Track from: Covered: Alive In Asia [Live] (Deluxe)
[RGM Newbreed/RCA Inspiration; Publisher(s): Integrity's Praise! Music, RGM-Newbreed Publishing, Sound Of The New Breed, Aaron Lindsey Publishing, CCMG Publishing, Neville D. Publishing]
• Worth Fighting For [Live]
Brian Courtney Wilson
Brian Courtney Wilson; Aaron Lindsey & Brian Courtney Wilson, songwriters
Track from: Worth Fighting For [Live]
[Motown Gospel; Publisher(s): ACER/Aaron Lindsey Music/Capitol Christian Music Publishing admin. by Capitol CMG]
Best Contemporary Christian Music Performance/Song
• Holy Spirit
Francesca Battistelli
Francesca Battistelli
Track from: If We're Honest (Deluxe Edition)
[Fervent/Curb/Word]
• Lift Your Head Weary Sinner (Chains)
Crowder
Crowder; Ed Cash, David Crowder & Seth Philpott, songwriters
Track from: Neon Steeple (Deluxe Edition)
[sixstepsrecords/Sparrow Records; Publisher(s): sixsteps Music/worshiptogether.com Songs/sixsteps Songs/Worship Together Music admin. at CapitolCMGPublishing.com/Alletrop Music]
• Because He Lives (Amen)
Matt Maher
Matt Maher
Track from: Saints And Sinners
[Essential Records/Provident Label Group]
• Soul On Fire
Third Day Featuring All Sons & Daughters
Third Day Featuring All Sons & Daughters; Tai Anderson, Brenton Brown, David Carr, Mark Lee, Matt Maher & Mac Powell, songwriters
Track from: Lead Us Back: Songs Of Worship (Deluxe)
[Essential Records/Provident Label Group; Publisher(s): DATAMAMA MUSIC, Thankyou Music, Sony/ATV Tree Publishing, I Am A Pilgrim Songs]
• Feel It
Tobymac Featuring Mr. Talkbox
Tobymac Featuring Mr. Talkbox; Cary Barlowe, David Arthur Garcia & Toby McKeehan, songwriters
[ForeFront Records; Publisher(s): Achtober Songs/Universal Music - Brentwood Benson Publishing/D Soul Music admin. by CapitolCMGPublishing.com/Castle Bound Music, Inc./We Be Pawtying]
Best Gospel Album
• Destined To Win [Live]
Karen Clark Sheard
[Karew Records/Entertainment One]
• Living It
Dorinda Clark-Cole
[Entertainment One/Light Records]
• One Place Live
Tasha Cobbs
[Motown Gospel]
• Covered: Alive In Asia [Live] (Deluxe)
Israel & Newbreed
[RGM Newbreed/RCA Inspiration]
• Life Music: Stage Two
Jonathan McReynolds
[Entertainment One/Tehillah Music]
Best Contemporary Christian Music Album
• Whatever The Road
Jason Crabb
[Reunion Records/Provident Label Group]
• How Can It Be
Lauren Daigle
[Centricity Music]
• Saints And Sinners
Matt Maher
[Essential Records/Provident Label Group]
• This Is Not A Test
Tobymac
[ForeFront Records]
• Love Ran Red
Chris Tomlin
[sixstepsrecords/Sparrow Records]
Best Roots Gospel Album
• Still Rockin' My Soul
The Fairfield Four
The Fairfield Four
[Fairfield Four Records]
• Pray Now
Karen Peck & New River
Karen Peck & New River
[Daywind Records]
• Directions Home (Songs We Love, Songs You Know)
Point Of Grace
Point Of Grace
[Word/Curb]