Christian Singer Carman Reflects on Surviving Painful Cancer Treatment, Winning Health Battle Through 'God's Grace'
Carman Licciardello, popular Christian recording artist and actor, has shared in an online post how he believes God's grace helped him endure the painful journey of cancer treatment, to eventually find himself "cancer-free."
The singer, who goes professionally by just Carman, captioned the below double-photo with the phrase "The Difference One Year Can Make" on Tuesday. The image on the left is of Carman "deep in chemo," while the one on the right is of him "nine months later before walking on stage."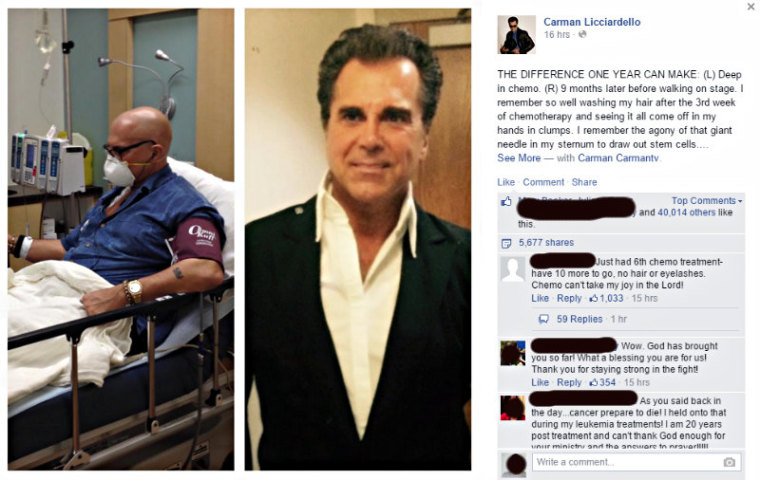 He went on to share with his 383,000-plus Facebook followers: "I remember so well washing my hair after the 3rd week of chemotherapy and seeing it all come off in my hands in clumps. I remember the agony of that giant needle in my sternum to draw out stem cells. The ports they planted in my chest to daily inject drugs. The mind numbing pain of my bones expanding to produce stem cells."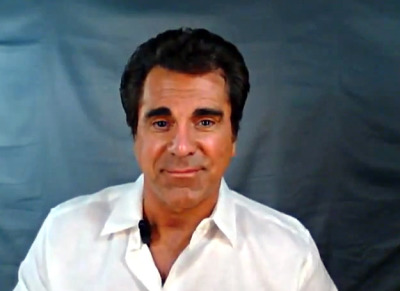 Carman related how he would sleep in the bathroom "for days" because he threw up often. He also spoke of experiencing "violent stomach cramps," gaining and losing weight, and feeling like he was going to die after catching pneumonia due to an obliterated immune system. But the award-winning Christian singer remembers a few other things, according to his post.
"I remember never getting angry or depressed. Never feeling abandoned or hopeless," he wrote, after first pointing to recalling "God's grace."
"It was the valley of the shadow of death but I feared no evil," he wrote.
Carman also attributed his fight to regain his health to the "commitment" he had made to his Facebook and Kickstarter supporters. He had promised to embark on a "No Plan B Tour" across America to "sing the Gospel" once he was well again.
"I remember the belief you all had in me that held my mind together, kept me strong, focused and peaceful," he wrote.
"Today I'm strong and cancer-free," the singer added.
Carman went on to note his full-time trainer who holds him accountable and his commitment to maintaining a healthy lifestyle. The singer encouraged supporters who may be experiencing any health crisis to see their doctor, "call for the prayers of the saints, exercise and please eat right."
"God can turn anything around," Carman added near the end of his Facebook testimony. "He can keep you through the (worst) of times. Restore the years the locusts have eaten away. Give you peace and confidence when everyone else is (losing their) minds. I've been through it. I know."
It was in February 2014 that Carman revealed that, after a series of tests, doctors "could find NO trace of cancer." That news came a year after the singer disclosed his diagnosis of "incurable multiple myeloma," a type of cancer that affects the bone marrow but that is treatable, according to the Mayo Clinic. The 59-year-old said at the time that he was told that he had no more than perhaps four years to live.
Months later, as word spread of his deadly diagnosis and he began undergoing treatment, Carman declared that he would record a new album and embark on a national tour. He launched a Kickstarter campaign to help finance this great ambition. His management team suggested at the time that his "terminal cancer diagnosis had paradoxically revived Carman's creative spirit."
He had vowed in the same 2013 post disclosing his cancer diagnosis that he would "not leave this world quietly."Carman also said he wanted the devil to know "that he put cancer on absolutely the wrong Italian."
"I have a few good years and before it's too late I want to see your faces, shake your hands and hug your necks," the New Jersey native wrote at the time. "But mostly I want to see one of you get healed of what threatens your future and I really want to see someone you love come to Christ. Now lets get back to business, we have to work while (it's) day for soon the night comes."
Today, Carman is preparing for the second leg of his "No Plan B Tour" (because "Jesus is (his) A") that is set to kick off Feb. 12 in Alabama.
Carman rose to fame in the '80s and early '90s, before his career started to wane. He has sold over 10 million contemporary Christian music albums, won several GMA Dove Awards, and was nominated for at least three Grammys. His work also included producing and starring in several films.