Christian Stockdale Family Band Member Fatally Shoots Mother, Brother on Family Farm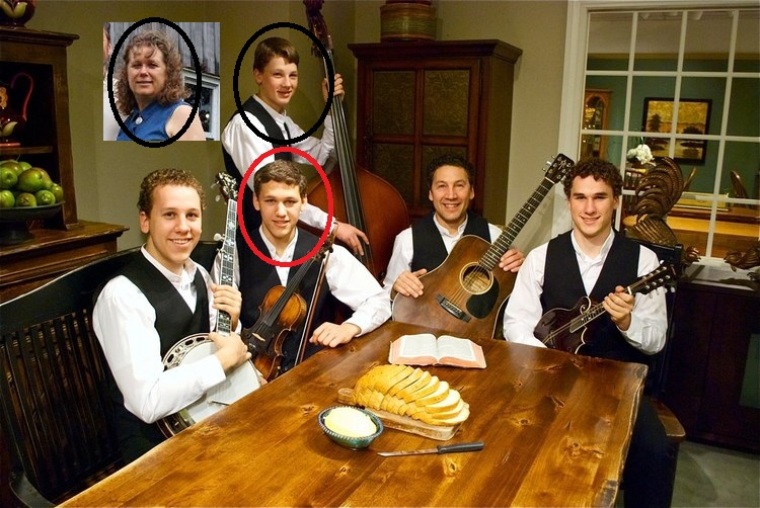 Tragic gun violence shattered the wholesome image of the ultra-conservative Christian Stockdale Family Band made up of a father and his four sons, in Stark County, Ohio, Thursday when one of the sons allegedly shot his younger brother and mother dead then turned the gun on himself, local authorities say.
The Stark County Sheriff's Office told The Columbus Dispatch that tragedy struck the Stockdale Family Farm Thursday when the alleged shooter, Jacob T. Stockdale, 25, used a shotgun to fatally shoot his brother, James W. Stockdale, 21, and mother, Kathryn B. Stockdale, before shooting himself. He was transported to Cleveland Metro Hospital where he is currently in critical condition, according to Cantonrep.com.
"We didn't see anything that would raise suspicion (indicating an intruder or drug or alcohol use). It's another tragedy in our community," Sheriff George T. Maier told the Dispatch on Thursday.
Maier explained that a 911 call came in to the Sheriff's Office at 4:36 p.m. as a hang up call as storms raged outside. Two deputies were sent to the home to investigate and they discovered the tragic crime scene when they entered the home.
At a press conference on Friday, Maier said deputies heard a shot and they believe it was Jacob shooting himself in the head as they approached. His body was found near the door of the family home.
The family patriarch, Tim Stockdale, was said to be at work when the shooting occurred but was floored by the news shortly after he arrived home at 6 p.m.
The Dispatch said he wailed on his knees along the driveway leading to the farmhouse and was interviewed by authorities for about an hour.
"Kathy has been my beloved wife of 32 years and a wonderful mother to our four sons. She loved nothing more than being a mother and grandmother. She had a strong love of learning and was passionate about her Christian faith, natural health, and organic farming," Tim Stockdale said in a statement on his wife's death Friday.
There is no clear indication yet about what triggered the shooting as local authorities continue to investigate.
Maier noted at the press conference that Tim Stockdale "indicated no issues leading up to" the incident.
"It's hard to surmise what the motive may have been. There's some speculation. ... We'll continue to investigate this case and try to determine the motive," Maier noted.
"It's really early in the investigation. There are a lot of unanswered questions for us yet," he added. "This is a tragedy for the family. It is a tragedy for the community."
Several years ago the devoutly religious family appeared on ABC's "Wife Swap" where Kathryn Stockdale revealed they had banned television and video games in their home.
"We do not allow any cussin'. I think that dating has physical dangers like pregnancy," the late family matriarch said in a clip from that episode. The boys were also homeschooled to help them "control their impulses."
"It's important that we have control over their character and education," Kathryn said.
Since that clip the four brothers in the family band have grown up. Charles Stockdale and Calvin Stockdale, the oldest of the Stockdale brothers, were living separate lives outside the family home.
Calvin in commenting on the tragedy Friday tried to balance his comments on his brothers.
"James, our youngest brother, has always been a catalyst of family fun. Aside from being a gifted musician, James enjoyed dancing and had an innate love of people. James was working on a business degree and hoped to go into the business side of entertainment. He leaves behind many friends and a family that love him dearly," Calvin said.
"My brother, Jacob, is still in critical condition and we are praying for his physical recovery as our family makes funeral plans and begins the healing process," he added.
In an earlier statement, he thanked supporters for their prayers and asked for privacy.
"My family appreciates the prayers and support we are receiving from our friends and the community," he said. "While support is appreciated we ask for privacy while our family deals with this tragic loss."
James and Jacob, the two brothers involved in the fatal shooting incident, appear to have been the most involved of the four brothers in the family business according to promotions from the band's profile.
In 2015, Jacob, who plays the fiddle, created a new duet album, Farm Fresh, with James. In 2016, Jacob's fiddling and singing was also featured at the Tuscarawas Philharmonic Classic Country Concert along with James as well, according to the band's website.
Neighbors were left in shock when they heard about the shootings.
"They are a religious family and conservative and this seems out of place," Michael Fuller, a next-door neighbor told the Dispatch as he tried to reconcile what happened with what he thought he knew of the family.