Why Is ISIS Slaughtering, Targeting Children? Open Doors Breaks Down Radical Ideology (Interview)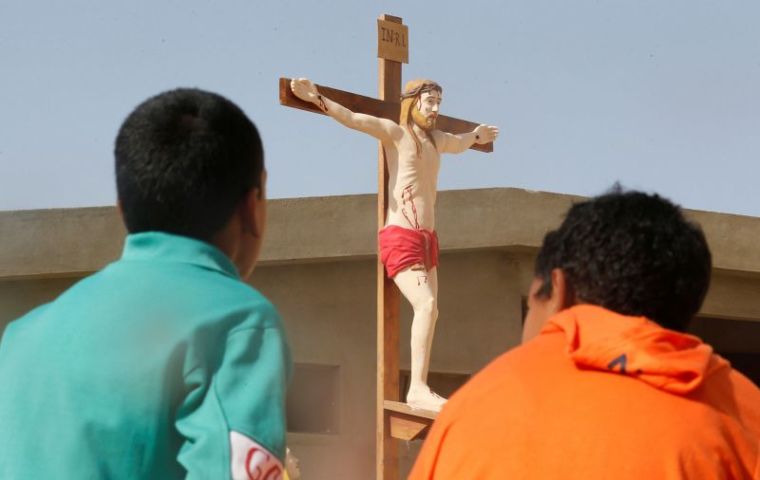 Children and families have seemingly become major targets in recent attacks by the Islamic State terror group. A major persecution watchdog group broke down the radical ideology behind this slaughter.
Emily Fuentes, communications director at Open Doors USA, also spoke with The Christian Post on Tuesday about the number one thing that U.S. President Donald Trump can do to help persecuted Christians and other minorities that are being killed.
Several children were among the 22 people murdered in last Monday's bombing at an Ariana Grande concert in Manchester, England. The singer is known to attract children and teenage audiences at her shows.
Then on Friday, Coptic Christian children and families on their way to a monastery on buses were attacked by IS in Egypt. The militants reportedly tried to force the victims, including the children, to renounce their faith in Jesus Christ, before shooting 29 of them to death.
Most recently, on Monday evening, at least 31 people were killed outside a popular ice cream shop in Baghdad, Iraq, again targeting children and families.
Those are only a few of the major attacks carried out by IS in recent weeks, and Fuentes told CP that there is a clear pattern in who IS targets.
"It is especially heartbreaking whenever children are involved," she said, noting that IS has "no regard" for either its child or adult victims.
She pointed out that Boko Haram in Nigeria and other radical groups that have pledged allegiance to IS have also been targeting children, such as the mass kidnapping of over 200 Chibok Christian girls three years ago.
Fuentes said that radicals are waging "warfare against Western ideology, and Christians are often lumped into the West."
The Open Doors communications director said that radical ideology takes no regard for the lives of children, and often specifically goes after them since they tend to be involved in Western institutions, such as education and non-Islamic religion.
"Children are usually the participants in education, so they are targeted," she said. "They are participants in church services," which also provokes anger from groups like IS and Boko Haram. The latter group's name translates to Western education is forbidden.
Fuentes said that the number one thing Open Doors is calling Trump to do is to appoint a new Ambassador-at-Large for International Religious Freedom within the U.S. State Department.
"From a political, governmental standpoint, it's one of the most vital roles that can exist currently right now to help Christians," she said, while encouraging believers to sign a petition to Trump on the issue available on the Open Doors website.
Fuentes noted that the persecution watchdog group successfully pushed former President Barack Obama to fill the role, and is now calling on Trump to do the same.
"This vital role monitors religious freedom in hotspot areas like Egypt or Nigeria, Pakistan, [and others]; it holds the governments accountable; it helps provide resources that are needed, an makes suggestions and recommendations" for combating the persecution faced by Christian and other religious minorities in those regions, she added.
The letter to the U.S. president also calls for the appointment or re-appointment of the special advisor for Religious Minorities in the Near East and South/Central Asia.
"I am encouraging you to not only prioritize religious freedom within U.S. foreign policy but to also take the relationship between religious freedom and economic freedom to a new level," the letter urges Trump.
"I am encouraging you to do all that you can to alleviate the plight of persecuted Christians and other religious minorities, while upholding the great importance of religious freedom within the context of U.S. foreign policy."
As Open Doors' 2017 World Watch List points out, in many of the most violent countries in the world, it is Christians that find themselves a minority of the population.
Violence against Christians is heightened during certain times of the year, including Christmas, Easter and Ramadan — the Islamic holy month, Fuentes noted.  
"The start of Ramadan is another time when Christians have to be especially alert. The latest attack happened on the eve of Ramadan, which sets the precedent for the rest of the month, causing concern for Christians in the area," she continued, referring to the slaughter of Christians who were riding buses last weekend.
Fuentes argued that the spread of IS remains a "very complex" issue and is "unlike anything we have seen before."
Even though reports have suggested that the terror group is being pushed out of some of its captured territory in Iraq, including the key city of Mosul, the terror group continues carrying out mass scale terror attacks in other parts of the region, including Egypt and in the West.
Fuentes said that more than 30 radical groups have sworn allegiance to IS, with the number growing every year.
With such a wide-spread network of influence, even if some countries experience a relative slowdown in attacks for a certain period of time, the assaults continue in other places, preventing people from safely returning to their homes, she noted.
"It is vital for us to be praying for our brothers and sisters," Fuentes concluded, but also to be taking action, such as signing the letter to Trump.