Christian Woman Set on Fire for Refusing Muslim Man's Marriage Proposal Dies in Pakistan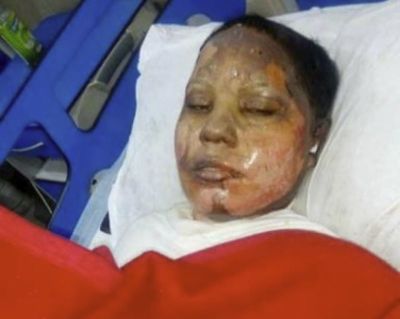 A Pakistani Christian woman has died after she was set on fire for refusing a Muslim man's marriage proposal, reports indicate.
Twenty-five-year-old Asma Yaqoob from the Punjab city of Sialkot passed away Sunday as burns covered as much as 90 percent of her body following a mid-April attack that was believed to be carried out by a 30-year-old Muslim friend of the family named Rizwan Gujjar.
Pakistan Today reports that Asma was taken to a specialty burn unit over three hours away in Lahore's Mayo Hospital for treatment.
Her father, Yaqoob Masih, filed a report with local police. According to the newspaper, her father explained that his daughter was working at the house of Saeeduz Zaman in Mohalla Pakpura area of Sialkot when the attack occured.
"On April 17, my son Maqsood and I went to Zaman's house ... to meet Asma and to inquire after the health of Zaman's mother," Masih was quoted as writing in the police report. "We were sitting in a room when there was a knock on the front gate. Asma went out to see who had come when after some time we heard her screaming in pain. Zaman, Maqsood and I rushed outside to see what had happened and saw the accused Rizwan Gujjar fleeing from the scene while Asma was engulfed in flames."
Police sub-inspector Muhammad Riaz confirmed Gujjar's arrest and told Pakistan Today that Gujjar confessed to the crime.
"We have prepared the charge sheet and sent him to jail," Riaz told the outlet.
According to the London-based charity British Pakistani Christian Association, Gujjar had worked with Asma's brother, Nabeel, and became a regular visitor of the Yaqoob household. During that time, he began to take a liking to Asma.
The charity reports that about three months ago, Gujjar asked Asma to marry him. However, she reportedly declined and began distancing herself from Gujjar.
BPCA reports that Gujjar carried out the attack by knocking on the door of the house, pretending to be one of Asma's brothers and then asking for Asma to come to the door.
According to BPCA, Gujjar covered Asma in a flammable liquid and lit her on fire when she went outside.
"Asma's family were persistent in getting her the best treatment they could find, and traveled hundreds of miles to a hospital equipped with a burn unit," BPCA officer Mehwish Bhatti said in a statement. "They did everything they could possibly do. This family will have a lot of trauma to work through and they are in shock. It is hard for anyone to see the life of a loved one so young and full of talent snuffed out."
Police official Ijaz Shahid told the Associated Press that Gujjar threw gasoline on Asma before setting her on fire.
The attack comes as the minority Christian community in Pakistan, especially in the Punjab province, is especially vulnerable to persecution. Pakistan ranks as the fifth-worst nation in the world when it comes to Christian persecution, according to Open Doors USA's 2018 World Watch List.
According to a 2014 report from the NGO Movement of Solidarity and Peace, between 100 to 700 Christians girls are abducted, raped and forced into Islamic marriages every year.
There have been other instances in which Christian women in Pakistan have been attacked for refusing Muslim men's advances. In 2015, Sonia Bibi from the Punjab town of Multan suffered burns of up to 50 percent of her body after she declined a former boyfriend's proposal.