Christians: Let's Turn the World Upside Down!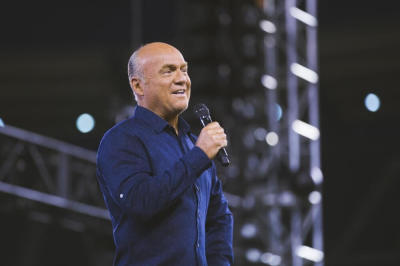 The church of the first century made its impact on the world through prayer and through preaching. It was said of the early church that they turned the world upside down. And that, by the way, was offered as a criticism, not as a compliment (see Acts 17:6).
May God enable us to earn more "criticisms" like this, because it seems today the opposite is happening in the church. We have double standards and moral compromise and little to no power.
British evangelist and preacher G. Campbell Morgan said, "Organized Christianity which fails to make a disturbance is dead."
What concerns me is that we are not making a disturbance anymore. We are so worried about fitting in. We are so worried about relating. We are so worried about being cool that we have forgotten what it is to make a stand for what is true. My fear is that instead of the church turning the world upside down, the world is turning the church upside down.
Preacher Vance Havner said, "We are not going to move this world by criticism of it nor conformity to it, but by the combustion within it of lives ignited by the Spirit of God."
That is why we need to get back to what the early church experienced, because they turned their world upside down. And in this crazy, topsy-turvy world where wrong is right and right is wrong, we need to do the same.
How can Christians turn the world upside down? By unabashedly declaring the truth of the gospel. Sharing this truth is a serious matter — a matter of life and death.
The apostle Paul saw himself as a watchman, someone who would be positioned on the wall of a city to keep watch for the enemy or any other danger that was approaching. A watchman would then run and warn people about what he saw.
Paul told the Ephesian elders, "I declare today that I have been faithful. If anyone suffers eternal death, it's not my fault, for I didn't shrink from declaring all that God wants you to know. So guard yourselves and God's people . . ." (Acts 20:26–28 NLT).
Paul was drawing on the words of Ezekiel 3:17–18, where God said, "Son of man, I have appointed you as a watchman for Israel. Whenever you receive a message from me, warn people immediately. If I warn the wicked, saying, 'You are under the penalty of death,' but you fail to deliver the warning, they will die in their sins. And I will hold you responsible for their deaths" (NLT).
Declaring the Good News of Jesus Christ is of utmost importance. We have a responsibility as watchmen to warn people of what could potentially happen if they reject Christ. We don't do this out of hate, but out of love, because we want to help. We want to protect them.
The job of watchmen is not unlike that of lifeguards, who constantly scan the water to ensure that everyone is safe. Because lives are at stake, it is crucial they do their job well.
Are you doing your part to save lives? To turn your world "upside down"? There's a great opportunity coming up for you to introduce people to Jesus Christ. It's called Harvest America and it's happening on June 11. Offer to bring a friend to a host location near you, or better yet, become a host location — you can hold the event in your home, church, or business.
Together, let's earn the reputation that the early church had — as world changers for Christ!
Pastor Greg Laurie serves as the senior pastor of Harvest Christian Fellowship in Riverside, California, one of the largest churches in America; is the author of more than 70 books; hosts the nationally syndicated radio broadcast, A New Beginning; and is the founder of Harvest Crusades, a large-scale evangelistic ministry whose next event,
Harvest America
, will be held June 11 in Phoenix at the University of Phoenix Stadium and broadcast live nationwide. His next book "Steve McQueen: The Salvation of an American Icon" releases on June 13.