Activists vandalize church hosting Sean Feucht 'Let Us Worship' New Year's Eve event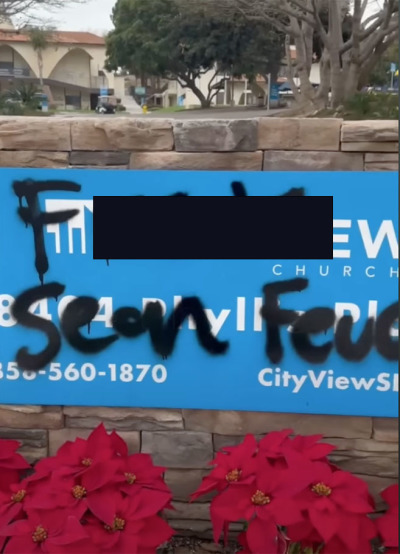 Worship leader and songwriter Sean Feucht has shared photos on social media that show the California church where he was to perform on New Year's Eve was defaced with explicit graffiti, including "F*** Sean Feucht" and "Queers Bash Back."
"Last night, bigots spread hate and violence at a church where we are holding a New Year's Eve event (at City View Church) in San Diego," the Christian musician who's well-known for leading outdoor revivals nationwide told his followers on Instagram.
On the wall and property around the church, vandals spray-painted hateful words. "Christofascists not Welcome," "Sean Feucht Kindly F*** Off," "Separate Church & State," "Trans Rights Are Human Rights," "No Safe Space for Bigots," "Transphobes out of SD," "God Loves LGTBQ," "F*** Christian Nationalists," and more.
A glass window was also found broken spray painted.
"The police are investigating it as a hate crime," Feucht wrote, adding, "The enemy making the age old mistake. Persecuting the Church won't stop the Gospel, it'll spark a wildfire."
Feucht spoke to Church Leaders about the vandalism, saying it's "a fear tactic, it's intimidation, and you know, we don't get discouraged when fear comes, we actually get emboldened and this is a chance for the church of California to take a stand to rise up in unity and to say, 'We're not going to let persecution, bigotry, hatred, vandalism, stop us from worshiping.'" 
"The church isn't a building. We're the bride of Christ and in 2023 we're rising up like never before," he added.
The father of four is the founder of the Let Us Worship movement, which was birthed during the height of the COVID-19 lockdowns, in response to state and local governments across the U.S. banning and restricting in-person worship through policies aimed at mitigating the spread of the coronavirus.
Last January, Feucht shared with his followers that book publisher HarperCollins dropped his book deal over his "political views."
"Signed an agreement with the second-largest publisher in the world, HarperCollins. We've been working on it for three months together. [I] have an agreement, had it signed, pretty far into this process, and was just notified today. They're canceling it," he noted at the time.
Last March, Feucht spoke to The Christian Post about the amount of hatred he and his family had received for sharing the message of freedom in Christ.
While Feucht came in third place in his bid for U.S. Congress in 2020 as a Republican in California's third Congressional District, he has since been at the center of several large health mandate-defying Christian revival gatherings in major cities across the nation.
"It is more controversial than I ever imagined," he admitted. "Jesus was right when He warned the disciples, 'You will be hated by everyone because of me. But the one who stands firm to the end will be saved,' (Matthew 10:22).'" 
Feucht told CP that he and his family have "endured the most intense resistance, hate, harassment and even death threats to our home and family that we've ever experienced."
"But yet the glory has been incredible, and the testimony of breakthrough has sustained us," Feucht added. 
The minister has been accused of being too political with his Gospel approach, but he believes ministry, politics and everything overlap.
"The Church needs to wake up!" he maintained. "Christ calls us to be salt and light. He wants us to [put] His Love and truth to every facet of our life, not just our families and church, but schools, work, and politics too!"