Church-State Playground Battle: Liberal Supreme Court Justices Appear to Side With Church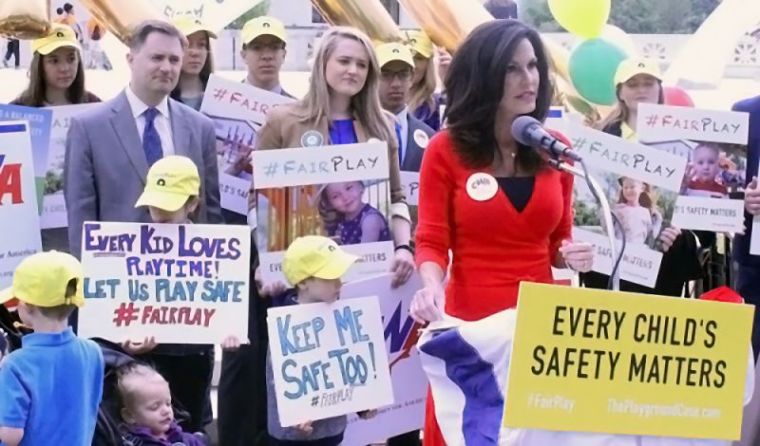 WASHINGTON — The state of Missouri rejecting a Christian preschool from accessing its scrap tire program to resurface its playground is religious discrimination, religious liberty advocates said outside the Supreme Court Wednesday. And the court's liberal justices reportedly seemed to concur with that during oral arguments in what some consider this cycle's marquee case, Trinity Lutheran Church v. Comer.
At a press conference on the steps of the Supreme Court Wednesday while oral arguments occurred inside, Penny Nance, president of Concerned Women for America, told The Christian Post that this case was an unfortunate reminder that religious bigotry still exists today.
"And unfortunately there have been provisions within state constitutions that sadly were targeted at Catholic schools in the 1800s that have been used as a means to discriminate against people of faith today," Nance said.
This case provides the court with an opportunity to strike down such provisions that remain on the books including in Missouri, she explained.
The use of scrap tires to make playgrounds safer for children should be considered a widely available public service similar to the fire department or the police in the event of a fire or burglary at a church, Nance argued.
"This was clear discrimination based on their faith," she said.
Nonprofit organizations that applied for this grant were required to meet a list of criteria and out of the 44 groups that applied, Trinity Lutheran was ranked fifth. But their application was nevertheless rejected simply because they are a faith-based group, a move the church considers discriminatory.
According to the National Pulse, even a few of the court's liberal justices appeared to agree during oral arguments.
Justice Steven Breyer reportedly asked "what's the difference?" between the scrap tire program and fire department services. Likewise, Justice Elena Kagan suggested that Missouri's decision to deny the church the grant seemed to be "a clear burden on a Constitutional right."
Meanwhile, groups like the ACLU and Americans United for Separation of Church and State claim that the church should not receive state funds because it comes too close to violating the establishment clause of the first amendment.
CP asked Ralph Reed, president of the Faith and Freedom Coalition, who also spoke at the press conference, why the ACLU and other left leaning groups are concerned that something as neutral as a grant for the use of old tires amounts to the government promoting religion.
"The reason is very simple." Reed said. "They are hostile to religious faith and particularly expressions of faith in the public square."
"They take a view of the constitution that is contrary to the view of the founders and contrary to the spirit of the First Amendment."
The purpose of this case was a secular one, involving the safety of playgrounds, and not religious teaching or theology of any kind, Reed noted.
"And to exclude religious institutions or schools, Christian schools, Catholic schools, or Jewish schools, from that program is ipso facto discriminatory against religion.
"We don't tell people who serve in the military that when they come back from their service and they get a GI bill to go to college that they can't go to Notre Dame or they can't go to Yeshiva University. We don't tell students who apply for a Pell grant that they can't use that Pell grant if they go to Liberty University or Patrick Henry College or Regent University," Reed said.