Church to Honor Waffle House Hero James Shaw Jr. Amid Calls for President Trump's Recognition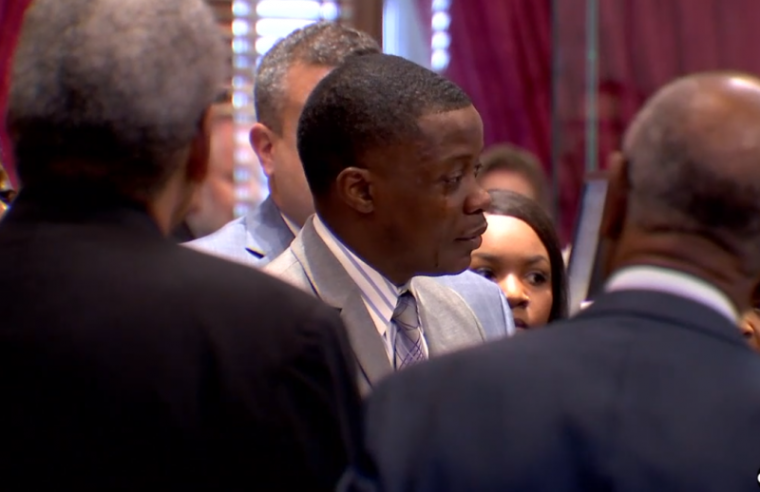 Oakwood University Church in Huntsville, Alabama, is set to honor community hero James Shaw Jr. on Saturday for taking down a gunman who killed four people and injured three others at a Waffle House restaurant in Antioch, Tennessee.
Shaw, 29, who has been fielding praise this week for disarming the gunman, Travis Reinking, also 29, will be honored during the church's 11:00 a.m. service where his family has ties, Fox 17 reported.
The brave father of a 4-year-old girl named Brooklyn has repeatedly rejected the hero moniker, stating that he was only acting out of self-interest when he fought back against Reinking. He said he was thinking of no other life except his own — not even his 4-year-old daughter, Brooklyn.
"I know I saved other people. I have a 4-year-old daughter: I didn't even think about her. In the midst of it, I was just trying to save myself," Shaw told The New York Times. "I acted in a blink of a second. When he reloaded his clip, that felt like 30 minutes. I looked at him, and he wasn't looking at me. He just had the barrel down. It was like, 'Do it now. Go now.' I just took off."
Despite Shaw's view of what happened, however, law enforcement officers say if it had not been for his actions, they believe more people would have been killed.
Wearing nothing but a green jacket and naked from the waist down at about 3:25 a.m., Sunday, Reinking attacked the Waffle House just outside of Nashville, with an AR-15 rifle starting in the parking lot, authorities said. He killed 29-year-old restaurant employee Taurean C. Sanderlin of Goodlettsville, Tennessee, who was shot while standing outside, according to The Washington Post. Three Waffle House customers were also killed: Joe R. Perez, 20, of Nashville; Deebony Groves, 21, of Gallatin; and Akilah Dasilva, 23, of Antioch.
On Tuesday during an emotional ceremony at the Tennessee Capitol, state lawmakers lauded Shaw and his best friend, Brandon McMurry, who was also at the Waffle House on Sunday.
"You were confronted with the most unspeakable evil imaginable and you acted with the utmost honor, heroism, imaginable," state Rep. Jason Powell told Shaw, according to ABC News. "And I want to say, James Shaw Jr., you are my hero and you are Tennessee's hero."
Shaw told the lawmakers that he was just grateful to be alive and apologized to the families of the victims he was unable to save.
"I never thought I would be in a room with all the eyes on me but, you know, I am very grateful to be here," Shaw told the lawmakers. "All I can say is ... this was a true test of a man. I do, once again, apologize to the people that lost loved ones, friends or family."
McMurry, also praised Shaw as not only his best friend but "a great man."
He explained that during Reinking's rampage at the Waffle House, he had tried to get Shaw to hide in a bathroom with other patrons as there was no other way out of the restaurant from where they were except the front door.
"But he sometimes doesn't listen to me, and this is by far the best time that you didn't listen to me and I appreciate that," McMurry told his friend.
As many others have praised Shaw for his bravery, some have also criticized President Trump for his silence on the 29-year-old's heroism.
"President Trump, who, after the Florida school shooting in February said he would confront a mass shooter 'even if I didn't have a weapon,' has yet to utter a public peep about someone who actually did," wrote Leonard Greene in a New York Daily News op-ed.
Since the shooting, Shaw has gone on to start a GoFundMe campaign to help the families of the shooting victims which has raised more than $160,000 as of Thursday evening. He has also visited survivors at the Vanderbilt University Medical Center.
Responding to Shaw's actions, Yashar Ali of New York said he was inspired to start another GoFundMe campaign to help the hero's young daughter. As of Thursday evening, the campaign had surpassed $175,000.
"I normally don't get involved directly in these matters, but James' grace has inspired me to start this page and give him the support I feel he deserves," wrote Ali.
"According to news reports, James has a 4-year-old daughter. Perhaps this money can be used for her college fund or some other education-related expense," Ali wrote. "But I'd be just as happy if James used some of this money to take his family on a nice vacation."