Churches, pastors respond to Nashville Christian School shooting: 'May our merciful God be somehow glorified'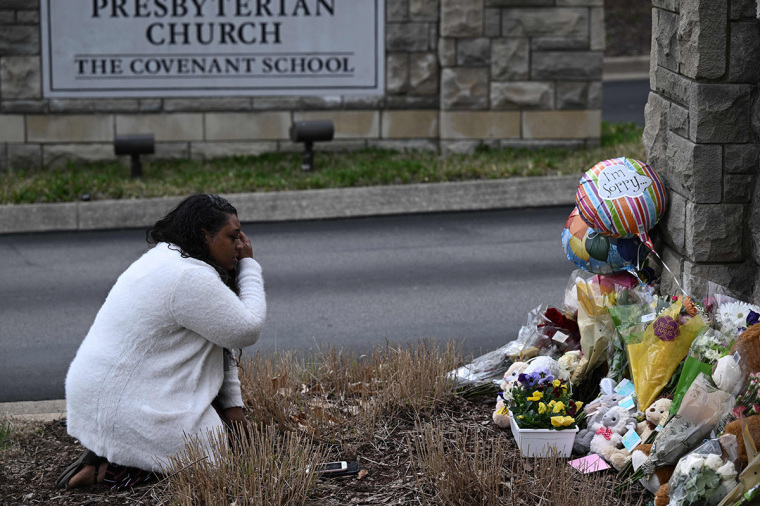 Churches and pastors within the Presbyterian Church of America lifted up The Covenant School in Nashville, Tennessee, in prayer after a 28-year-old trans-identified shooter shot and killed three children and three adults at an elementary school affiliated with the denomination on Monday morning. 
Police identified the shooter as a former student at the school: Audrey Hale from Nashville, who had recently chosen a new sexual identity as a man. They said the shooter was armed with "at least" two assault rifles and a handgun during the attack.
Authorities identified the children as Evelyn Dieckhaus, Hallie Scruggs and William Kinney, two of whom were 9 years old and one who was eight and soon to turn 9, and Cynthia Peak, 61, Katherine Koonce, 60, and Mike Hill, 61.
"Our community is heartbroken," the Covenant School, a ministry of Covenant Presbyterian Church, said in a statement. "We are grieving tremendous loss and are in shock coming out of the terror that shattered our school and church. We are focused on loving our students, our families, our faculty and staff and beginning the process of healing. …
"We appreciate the outpouring of support we have received, and we are tremendously grateful to the first responders who acted quickly to protect our students, faculty and staff. We ask for privacy as our community grapples with this terrible tragedy – for our students, parents, faculty and staff."
Koonce was the head of the school, according to the school website. The Nashville Presbytery confirmed to CBS News that 9-year-old Scruggs was the daughter of Chad Scruggs, the senior pastor at Covenant Presbyterian Church and former pastor at Park Cities Presbyterian Church in Dallas.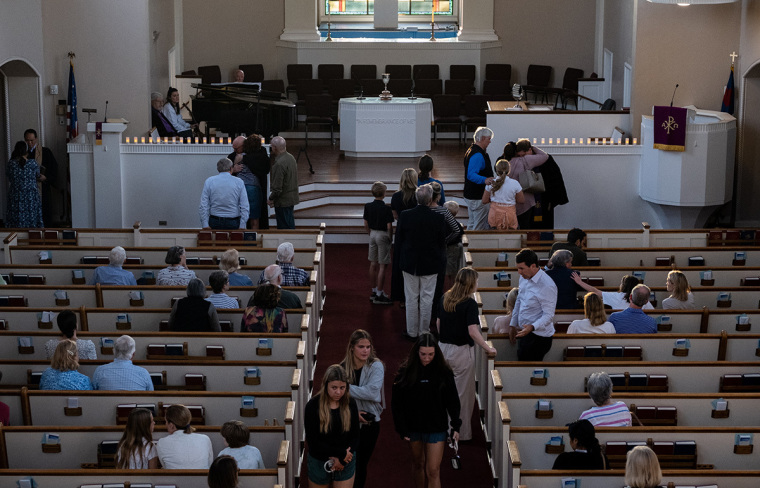 "We love the Scruggs family and mourn with them over their precious daughter, Hallie. Together, we trust in the power of Christ to draw near and give us the comfort and hope we desperately need," Park Cities Presbyterian Church Senior Pastor Mark Davis told the outlet.
Paul Goebel, associate pastor of Park Cities Presbyterian Church Dallas, said his congregation was weeping "deeply for the unimaginable sorrow that our friends at Covenant Presbyterian Church and School are suffering and will continue to suffer."
"As brothers and sisters in Christ, we will suffer alongside our friends and grieve together, but not as those without the hope of Jesus," he said.
Mark Davis, senior pastor of Park Cities, told ABC News affiliate WFAA in Dallas that members of Park Cities have flown to Nashville to offer comfort to the Scruggs family, who have three other children, as they grieve.
"They are so deeply connected to this [church] body," Davis said. "Even now, members of our church are flying to Nashville to be with them. The impact they had here was enormous."
"All four of their children had that radiance; we talk about the radiance of Christ, even at a young age," he said. "They're gifted children, they really are. But they're godly children."
Nashville Police Chief John Drake said the attack was targeted, and police had found writings and detailed maps of the school and its security protocols.
Hale was "prepared for a confrontation with law enforcement" and "prepared to do more harm" before being killed, Drake said. Police are also carrying out an ongoing search of Hale's home where they seized "a sawed-off shotgun, a second shotgun and other evidence." 
On Tuesday morning, Nashville police released body camera footage from two officers who shot at the shooter. The video shows the officers entering the Covenant School Monday morning before going up to the second floor, where they found Hale.
Hale was shot dead about 14 minutes after the initial 911 call came in, according to police.
"They didn't hesitate at all," Drake said of the officers on "Good Morning America" Tuesday. 
"Yesterday was just a tragic event," he said. "I've done this job for 35 years and I prayed that this would never, never be a day that we would have to deal with."
On Facebook, Ken Klett, senior pastor of Covenant Presbyterian Church in Hollan, Michigan, voiced his devastation at the tragic event and said his congregation was praying for those impacted. 
"Covenant Church in Holland, MI, through the bond of fellowship and love we share in the Lord Jesus Christ, embraces our dear brothers and sisters at Covenant PCA in Nashville through the communion of saints and the power of prayer," he wrote.
"While we may not have regular interaction with the body of Christ there, we carry your burden as our own and mourn with those who are mourning. We pray that the grace of God will abound to the students and faculty of the school, the church, and all the families affected by the horrific tragedy you have experienced. May our merciful God be somehow glorified in the Nashville community in the midst of this indescribably horrific incident. Lord, have mercy. Amen."
Scott Sauls, senior pastor of Christ Presbyterian Church in Nashville, Tennessee, offered a reminder of the hope found in Christ amid tragedy. 
"Even as we wait in grief, the text of Scripture whispers hope. 'We grieve … with hope.' (1 Thessalonians 4:13) It's a good thing that in times like this, hope doesn't have to be a feeling. It is more of an inescapable, resurrection-sealed fact than it is a feeling, to be sure," he wrote in a lengthy blog post. 
"This is not okay. Easter is coming, but everything right now feels like Good Friday. But because this is not okay, we know this is not the end."
The Covenant School is a private Christian school with 33 teachers and up to 210 students starting in preschool through sixth grade, according to the school website.
"As we capture our children's attention and their minds for learning, we also want to capture their hearts in relationships that challenge their thinking and help them learn critical skills. Our graduates attend the finest schools in the Nashville area, where they not only excel academically, but also act with character that comes from authentic faith in Jesus," the school website notes.