'Evil atrocity': Christian leaders, politicians react to Nashville Christian school shooting
Shooter self-identified as transgender; pastor's daughter killed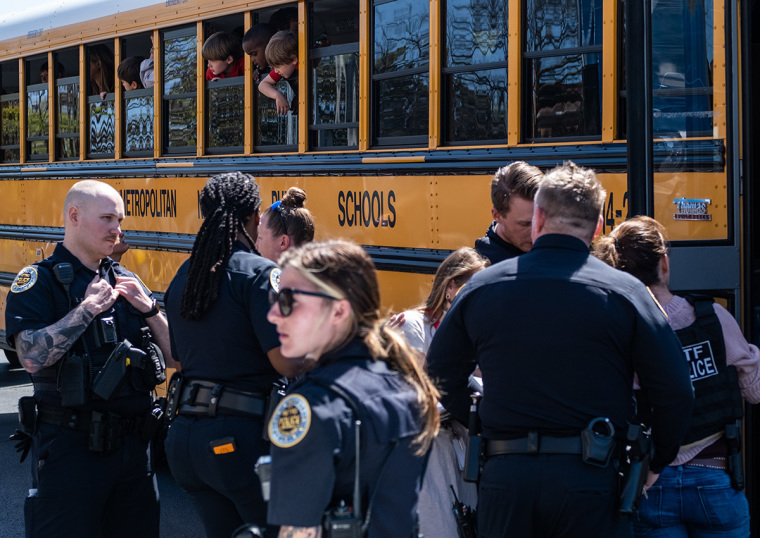 Updated 5:30 p.m. ET
Christian leaders and politicians voiced their devastation after a shooting at a Christian school in Nashville, Tennessee, left three children and three adults dead. 
The shooting occurred at The Covenant School, which serves preschool students through sixth graders, on Burton Hills Boulevard on Monday morning, according to the Metropolitan Nashville Police Department.
The police department identified the victims as Evelyn Dieckhaus, Hallie Scruggs and William Kinney, two of whom were age 9 and one age 8 about to be 9, and Cynthia Peak, 61, Katherine Koonce, 60, and Mike Hill, 61.
Koonce was the head of the Covenant School. Hallie Scruggs was the daughter of Chad Scruggs, the senior pastor at Covenant Presbyterian Church.
The shooter was identified as Audrey Hale, 28, of Nashville, according to Metropolitan Nashville Police Chief John Drake. Hale was a former student at the school and self-identified as trans. The suspect was also killed and found with a detailed drawn map of the school with entry points noted. Drake said the suspect had also carried out surveillance of the building before committing the murders. 
Drake said investigations are ongoing at the shooter's home where the suspect's father also resided. Hale gained entry into the school by shooting through one of the school doors, the police chief added: "We have a manifesto. We have some writings that we're going over that pertain to this day, the actual incident. We have a map drawn out about how this was all going to take place."
Hale, who was heavily armed, had two "assault-type rifles and a handgun" and was killed by police on the school's second floor, authorities said. 
Drake said he was moved to tears watching the young students run from the school in a single-file line and toward the trees near the property for protection from the shooter.
"I was literally moved to tears to see children being ushered out of the building," Drake said during one of three daytime news conferences on Monday.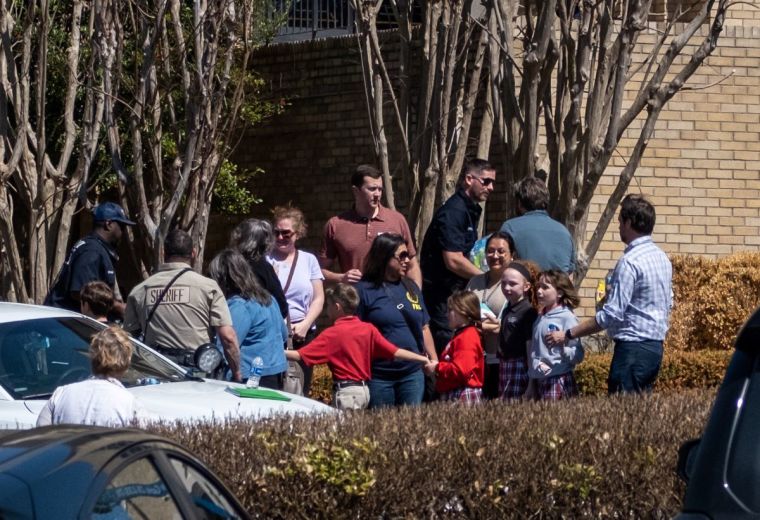 Police said they first got calls about the shooter at 10:13 a.m. and the shooter "was deceased" by 10:27 a.m.
"The police department response was swift," police spokesperson Don Aaron told reporters.
"They heard shots coming from the second level. They immediately went to the gunfire. When the officers got to the second level, they saw a shooter, a female, who was firing. The officers engaged her. She was fatally shot by responding police officers."
On its website, the Covenant School is described as a ministry of the Covenant Presbyterian Church, with both located in southern Nashville. The school was "created to assist Christian parents and the Church by providing an exceptional academic experience founded upon and informed by the Word of God."
Following news of the shooting, numerous Christian leaders, pastors and political figureheads took to social media to express their shock and devastation. Here are seven reactions to the shooting at The Covenant School.