'Come Out in Jesus Name' reaches top 5 at box office; moviegoers post stories of deliverance in theaters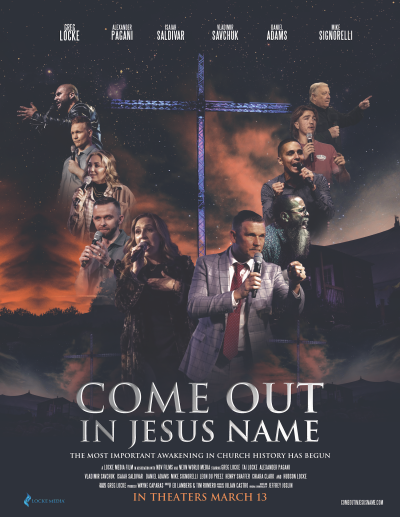 The encore showings of "Come Out in Jesus Name" soared to No. 5 at the box office for the highest-grossing films on Monday as accounts of deliverances in movie theaters after the showing flooded social media. 
Along with coming in the top five movies, following "AIR," "Dungeons & Dragons," "John Wick: Chapter 4," and "The Super Mario Bros.," the film scored the second-highest box office per-screen average.
"Come Out in Jesus Name" first debuted in theaters nationwide in March and shows the deliverance ministry work of Pastors Greg Locke and Alexander Pagani, YouTube preacher Isaiah Saldivar, Pastor Mike Signorelli, Vladimir Savchuck and Daniel Adams.  
Once a self-described cessationist, Locke said he now fully embraces the gifts of the Holy Spirit and encourages Christians to embrace their authority in Jesus to free themselves and others of demonic oppression or possession.
After the film's initial release last month, moviegoers flooded social media with footage of and posts about deliverances occurring in theaters. Similar accounts have been shared following the encore showing on Monday.
Pagani said he attended a showing in Danbury, Connecticut, writing on Facebook: "DANBURY MOVIE THEATER WAS CRAZY! Tonight we led the whole theater in renouncing and all Heaven broke loose! They called the police but deliverance broke out in [the] parking lot." 
Locke said the film's release has turned into a movement that is bringing people closer to Christ.
"What started as a movie to bring attention to the workings of God, has become a legitimate move of God, as salvation stories and deliverance testimonies are pouring onto social media by the thousands. More than 200,000 souls have already seen the film and folks are pleading for a chance to return with their friends and family," said Locke in a statement shared with The Christian Post on Monday.
Since moviegoers have shown an interest in the film, Locke said he's making plans for a third showing later this month.
"We look forward to our third theatrical release this month and due to overwhelming requests, this release will also include my 30-minute deliverance prayer session as bonus content," he continued. "We are truly humbled by the success of this film, and believe this movement is a crucial part of the awakening that the body of Christ has been waiting for."
Locke shot to internet fame in 2016 after he posted a video on Facebook criticizing Target for its policy that allows men who identify as female to enter girls' and women's dressing rooms and bathrooms. He later became very outspoken in favor of former President Donald Trump and then spoke out against ongoing government restrictions on houses of worship, which in some states lasted for more than a year. 
The pastor has since changed his focus and believes he was misdirected by focusing on things that are not in the spiritual realm, as the Bible instructs. 
For more information about the film, click here.