Confidence for an Uncertain Future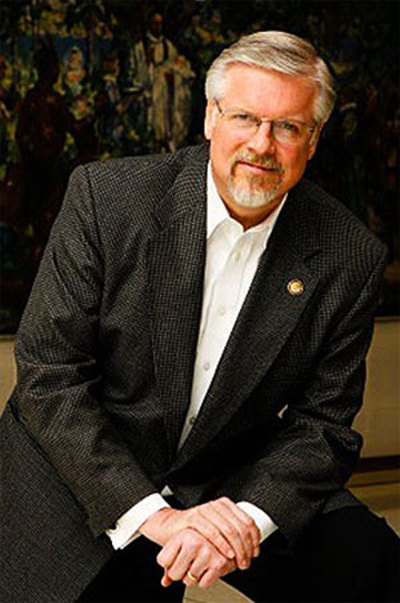 I once read a story about a preacher whose car broke down on a country road, far away from everything but a small tavern. It was long before the days of cell phones, so he had to go inside to use the phone. While he was inside, he saw his old friend Hank. Hank was shabbily dressed and drunk, bellied up to the bar.
"Hank, for heaven's sake, what happened to you?" the preacher asked. "You used to be such a prosperous man."
Hank told the preacher about all of his financial woes and the bad investments he had made, and then asked the pastor's advice.
"Hank, I want you to go home," the preacher said. "And when you get there, open your Bible and put your finger down on the page. God will give you the answer."
A year later, the preacher saw Hank again. This time Hank was wearing a new and expensive suit and getting into a shiny Mercedes. "I'm so glad to see that things turned out well for you," the preacher said.
"They certainly have, and I owe it all to you, pastor," Hank said. "I went home, like you told me, opened my Bible; put my finger down on the page, and there was the answer, plain as day: Chapter 11." [1]
As we enter into the New Year, a lot of people may be suffering from the fear of want – fearing they will lose their job – afraid that they will lose their health and can't work – fearing they'll lose their home - fearing their debts will outstrip their income – fearing their business will fail and they'll have to declare Chapter 11.
All of these fears certainly strike at our sense of security in life, and for many placing an ominous cloud over their future.
Allow me to share a few experiences of my own in recent weeks that, I believe, tend to place matters in perspective.
Five days before Christmas, thieves broke into the home of me and my wife. This was the second home invasion that we had experienced in thirteen months, robbing us of many of our possessions. Our new and expensive security door that we purchased after the last break-in was shattered. The door did its job. The perpetrators didn't get in through the door, but they still wouldn't be deterred and knocked out the entire back window.
They ransacked our home. Drawers were scattered across the rooms with their contents poured out on the floor. Jewelry boxes and their jewelry were gone. Cabinet doors were left wide-open. Closet doors were also open with clothes and other items tossed about. It's hard to know at this point just exactly how much was taken from us.
If you have ever gone through a home invasion, you know how oppressive it feels – the sadness of it – the bewilderment you experience – the profound sense of being violated – the anxiety it creates.
The whole circumstance is a powerful assault on one's sense of security.
Now allow me to change gears for just a moment.
The very next day after the break-in, I was at Trinity United Methodist Church in Kinston, North Carolina, to participate in the Memorial Service of a long-time friend of the family, Karen Pearce.
Karen, 44 years old, was an incredibly beautiful and compassionate young woman, and a follower of Jesus Christ. She was murdered late in in the evening after having dinner with her friends in Decatur, Georgia. Karen was walking back to her car, when an unknown assailant at the time shot and left her for dead in the driveway of the parking deck.
Law enforcement apprehended her murderer recently and reported that the man who senselessly took her life is a serial killer. He is allegedly connected to three other murders and may be responsible for multiple unsolved killings in the Atlanta area.
The Memorial service of Karen Pearce served as a great reminder to me and my wife that the things we had lost in the burglary of our home were only stuff – just stuff. It reminded us of something Jesus said, "A man's life consist not in the abundance of the things that he possesses" (Luke 12:15).
Moreover, it reminded us of another even more powerful truth delineated by the apostle Paul, who argued, "Who shall separate us from the love of Christ? Shall tribulation, or distress, or persecution, or famine, or nakedness, or danger, or sword?...No, in all these things we are more than conquerors through Him who loved us. For I am sure that neither death nor life, nor angels nor rulers, nor things present nor things to come, nor powers, nor height nor depth, nor anything else in creation will be able to separate us from the love of God in Christ Jesus our Lord" (Romans 8:35; 37-39).
Things are just that – things. What's really important in life are the people you love. They're priceless. Better still, when you know Jesus, when your family members and friends know him too, nothing can ever separate you from God's love or the ones you love from Him. Therefore, nothing, nothing, nothing, can separate us from Him or each other.
Now let me tell you something – that's security!!! Whether we're facing a Chapter 11 bankruptcy, a complete failure of health, no matter the loss, no matter what the future holds; Christ is sufficient for every need and there is safety in Him.
Losses are inevitable. But with Christ, we may move into an uncertain future abounding with confidence.
Resources:
[1] Samra, Cal, and Rose Samra. More Holy Humor. Nashville, TN: Thomas Nelson, 1997. Pg. 2